4 Tips for Newly Engaged Couples
Congrats you're engaged! So….now what?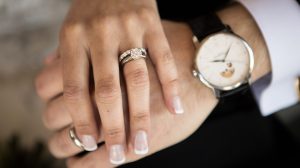 Photo By: Dave Bigler Photography
Tis the season for endless engagement posts! If you're one of those lucky people who gets engaged this year, pop a bottle of champagne and get ready for the wild ride ahead of you. We've got all the best tips for a soon-to-be bride or groom.
Tip 1: CELEBRATE
You just got engaged!! The first thing you need to do is get a manicure, tell everyone you know (Instagram a ring selfie, no shame), and get together with your friends and family and cheers to your future! There's no need to start worrying about planning the wedding, regardless of the endless questions your well-meaning relatives will be asking about details. Give yourself a week or more to take a breather, savor the moment and let it sink in that you just got engaged!!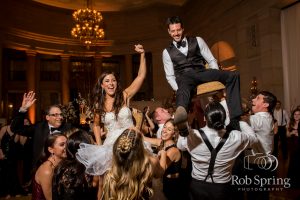 We do suggest in the midst of celebrating to get your ring insured and sized; you finally got the bling, so keep it protected!
Tip 2: Start the discussion
Before you start planning, you and your fiance should start discussing what you both envision for your big day. Start by thinking about a date, don't get your heart set on one specific date in case it won't work with your venue and vendors availability. Instead, pick a range, or a couple dates you both like. Guest size is an important thing to consider early on; big weddings mean a bigger budget. Try to make a list of the people you wouldn't dream of getting married without, and go from there.
Now for the fun stuff! Talk about who you want in your bridal party. This is going to be the most memorable day of your lives, make sure your bridal party is full of the people you love the most; they will be in all your pictures after all!

This next task is arguably the most important (maybe an exaggeration, but important nonetheless)! START LOOKING FOR YOUR DRESS!! I cannot stress this enough. Start looking early, dress shopping takes time, and so do alterations, and shipping if you're ordering or having it made. A bride on her wedding day without something to wear…..an absolute NIGHTMARE! So grab some of your besties and start hunting; your big day will be here before you know it.
Tip 3: Do your homework
When it comes time to start planning, picking your vendors is a majorly important; having the right vendors can make or break your night. Our planners suggest bringing a list of question and ideas to your meetings so you and your planner can be on the same page. Pinterest is a great way to gather some to-die-for trendy ideas. Pulling together photos, colors, and fabrics and sharing with your planner will help them understand your vision. Don't forget to tell them your do not want list as well….from here your planner should be able to suggest some vendors that will make your dreams come true!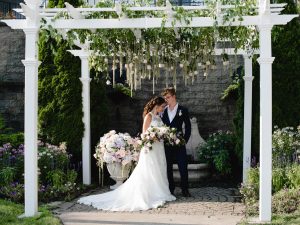 Photo by Kimberly Schofield
Take your planners advice, but also stay involved throughout the process. Communicate your timeline and expectations for the day with your vendors to avoid some much-unneeded stress as it gets closer to your date. When your big day comes, leave it to your vendors and planner to manage the show, so all you have to do is dance and say I do!
Tip 4: Budgeting
We know your wedding is a big deal, but the price tag certainly doesn't need to reflect that too! An important part of wedding planning is discussing your budget. Talk to your vendors about any discounts they may offer, every bit you can save helps.
You may want to think about having an off-season wedding; you got engaged during this magical season, why not get married during it too? Winter wedding's have some amazing perks, but the biggest one is deals, deals and more deals! Winter is a slower season for wedding venues and vendors, so many offer very special discounts for winter brides and grooms. Saving on wedding essentials will allow you to splurge on fun things (like a s'mores station) to make your wedding unforgettable! Not to mention, saving on your winter wedding gives you more to spend on your honeymoon. Doesn't a romantic escape from the cold to a tropical island sound divine?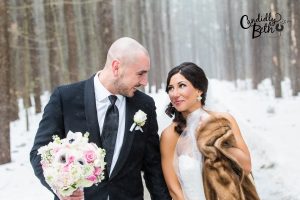 To all our brides and grooms to be, you're about to embark on the most amazing adventure of your life! We wish you all the luck and happiness in the world ~ Mazzone is here for you every step of the way.