5 Reasons to Love Winter Weddings
We know we know…..winter in August?! It's early, but it's never too early to start planning! If you and your future hubby are planning on getting married this year, start looking forward to a winter wedding. Summer is coming to a close, and fall is quickly approaching. Choosing a winter date will give you plenty of time to plan every spectacular detail of your winter wonderland wedding!
1: Bring on the Bling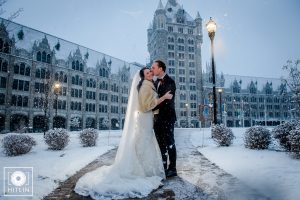 The best part of a winter wedding is you don't have to worry about sweating in your dress. This opens you to a whole world of possibility for the type of dress you choose. Winter is the time of year to pick that extravagant dress with a long gorgeous train. Long sleeve is definitely recommended; sleeves add extra detail that you don't see in summer dresses – think intricate lace detailing. Not to mention it'll keep you cozy throughout the day. If your dream is a strapless dress then you can still have your way, because you can always cover up! For your cover up Fur is the only option (faux of course) – it's fashion forward, and functional. A fur cover up will be the perfect weight for you to brave the cold outdoors when you're taking photos. If you don't want to choose a fur, make sure you at least have a coat – there's nothing worse than a blue bride in her wedding photos!
For those of you who love glitter, you're in luck. Bling, glitz and glam are a must for a winter wedding dress. When the light catches the sparkle as you're walking down the aisle, you'll look like a winter queen!
2: The Most Wonderful Time of the Year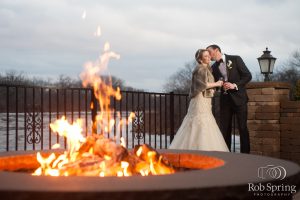 There's a certain magic that's only in the air during winter – when it's cold out and the snow starts falling there's nothing cozier than being wrapped up with your hubby by a fire (in your new fur coat). Especially after a long, but amazing day, you and your guests will love having a fire to curl up next to and unwind after the craziness beings to die down. For some added fun, ask your venue about setting up a s'mores station as a treat for you and your guests! S'mores at a winter wedding will be a unique and unforgettable experience for you, your family and friends.
If you don't have access to a fire pit, it's easy to incorporate the warmth of a fire throughout your reception area by adding candles to each of the tables. The warm light will set the perfect romantic mood for your night.
Pictured above is our newly renovated Glen Sanders Mansion fire pit on the outdoor patio, the perfect place for s'mores and relaxing!
3: 'Tis the Season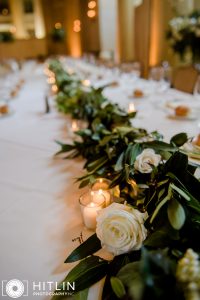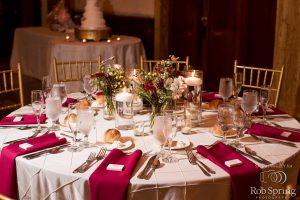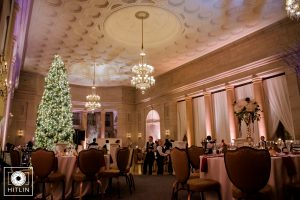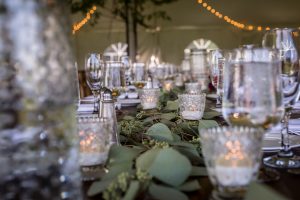 Winter wedding themes are BOLD. We love seeing rich, warm tones like burgundy, gold and black; and also silvers as accent pieces. Think about adding some greenery, or maybe even a Christmas tree for extra wintery romance. As mentioned before, lots of warm lights should be incorporated into your decorations for a romantic and cozy feel. This theme is a classic look for a winter wedding and we cannot get enough. The best part of this theme is that it's timeless, you'll love looking back at photos from your wedding.
If you want to bring some extra holiday cheer into your wedding, think about wrapping your guests favors in little present boxes!
4: Treat Yourself
  
Food; indisputably the most important part of a wedding…maybe that's a bit of an exaggeration but it's important. The best food for a winter wedding is comfort food. I'm talking chicken, gravy, potatoes, pastas and more; the bigger the serving the better. Anything to fill you up, warm you up and make you smile. For those of you who love the late night munchies (we sure do), we definitely recommend asking your venue to add a late night nosh station. Pizza, grilled cheese, burgers and fries….that sounds like the perfect late night snack before you and your guests head back into the cold!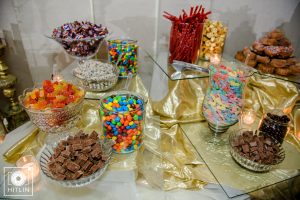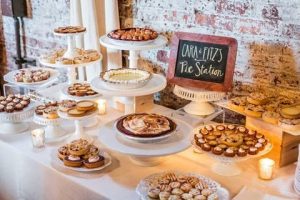 On to desserts; being that its winter you have tons of different options for sweets. If you're a pie lover, instead of a cake you could opt for a couple of your favorite pies. You can't get away with pies instead of cake as easy during the summer months, so take advantage while you can. You'll love the variety and your wallet will thank you too! Another fun idea is setting up a candy station, you can make this as simple or as extravagant as you want. Include some of your favorite sweets, specialty chocolates and candy canes to honor your winter theme. You can make this station even more of a treat by providing your guests with goodie bag stockings to stuff with sweets for their ride home!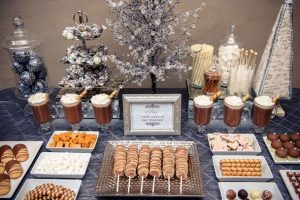 Something else that will put a smile on your guests face is a hot chocolate station. There's nothing like a tall cup of rich hot chocolate with marshmallows to warm you up on a frigid winter night.
5: A Present for You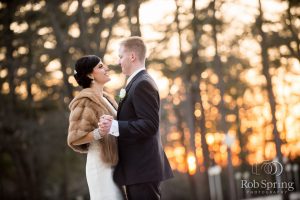 A little secret you might not be in on yet……with winter weddings come BIG savings. Everyone is usually scrambling to get married during the hot months, so that leaves a lot of open dates in the winter for you to choose from (for a discounted price). Winter weddings really have it all, fashion, your favorite comfort foods, bold romantic themes and the deals. Also for an added bonus, who wouldn't love to take a tropical honeymoon during winter? Getting married and escaping to a beach vacation in the dead of winter….sign me up!
Our venues offer some amazing discounts for your Winter Wonderland Wedding. Check out our Dream Dates page to find some amazing deals!