The Holiday Wedding Guide
When planning your wedding, you may find that it is actually pretty hard to pick a date that all your guests will be available; no matter the season. Something special about a holiday wedding is; people will already have the days off from work and school, and they'll mostly likely be travelling to spend the holidays with family. Its hard to get your family and friends in one place at one time, so take advantage of the times its a guarantee!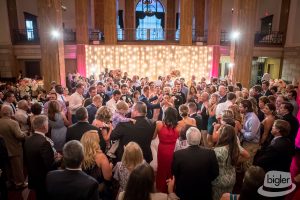 Long Weekends
A lot of preferred holiday wedding dates fall on long weekends; the majority of people are already travelling and ready to party! This is the perfect opportunity to embrace holiday themes and traditions; use this as a base for your theme. From blue and red center pieces, to fireworks at your reception – use the holiday spirit to your advantage. Most of the warmer long weekend holidays are celebrated with cookouts. Make your reception into an all american BBQ reception – a giant grill buffet style will pay homage to the holiday parties your guests would be attending that weekend. Its fun, looks great and the food and good times won't stop coming!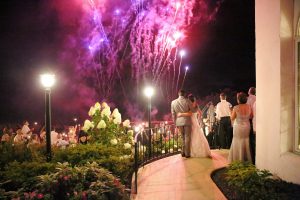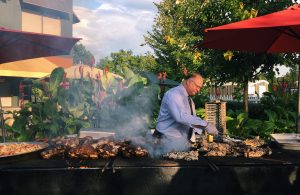 Labor Day – This is the most popular holiday wedding weekend; its the perfect time between summer and fall so you and your guests can enjoy beautiful weather and a long weekend full of celebration. Couples can get married on a Sunday without worrying about their guests having work the next day.
Columbus Day – A three day fall weekend for wedding festivities….sign me up! Fall is one of the best, and most popular times of the year to get married. Choosing this weekend almost guarantees your guests will have time off, so give them a festive fall wedding to put on their calendar.
Memorial Day – The unofficial, official kick-off to summer. The weather is starting to warm up and people are ready for a party. What better way to kick off the summer season than with a fabulous long weekend wedding!
Fourth of July – Talk about a party! Want to watch fireworks on your wedding night? Chances are you'll see them from…..pretty much anywhere you go that night. The fourth may not always fall on a weekend, but its that time in summer where lots of people are taking their vacation time; so no need to worry about your guests getting time off.
Veterans Day – Getting married on this weekend is a great way to have a colorful fall wedding, while avoiding the busyness other holiday weekends hold. Your guests will be happy to make the trip for a long, relaxing, celebratory weekend.
Popular Holidays
Bigger Holiday's are a little trickier to plan for a wedding; holiday traditions are important so you may have difficulty with attendance. However, you may find this to be the opposite in your case; holiday's are a time for travel after all, hopefully your guests will be travelling towards you!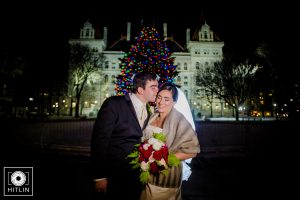 Having a holiday wedding allows you to embrace that theme without being cheesy. Use some of the colors associated with the holiday, and incorporate a signature cocktail that relates. A holiday wedding gives you the potential to make your wedding as extravagant as the holiday. Although you may want to avoid playing holiday music at your reception; it is your wedding after all, not a big holiday party.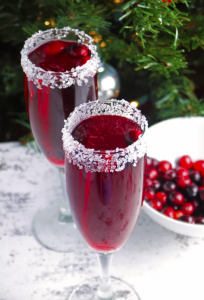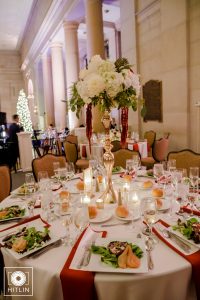 New Years – This is one of the best dates to pick if you want a big holiday wedding. Most place give off work for Christmas and New Years, so your guests will be in a relaxed, ready to party mode. Think glitz and glam; if your wedding is on New Years, it needs to live up to the hype of the holiday. We're talking champagne poppers, noisemakers and a ball drop at midnight. Make your wedding the best party of the (new) year!
Thanksgiving weekend – Thanksgiving traditions are important, and most families will be unwilling to change plans to attend your wedding. If you have it on the weekend following, this may just be the perfect time for your celebration. Your guests will already be in town for Thanksgiving, or coming back from wherever they spent their holiday. Ask your guests to stay in town just a day or two longer to celebrate your wedding that weekend. This will give everyone some time to relax after their Thanksgiving festivities (and do some cardio). Not to mention you won't have to ask your family to travel back for your wedding on a different weekend!
Valentines Day – This is the most romantic day of the year….why not tie the knot?! What better way to celebrate a day of love than to see two people pronounce their love in the most special and sacred way. Since Valentine's doesn't always fall on a weekend, plan for a smaller but intimate wedding.
Christmas – I cannot lie, this is one of the most unpopular days to hold your wedding; Christmas traditions are not to be interfered with. However, having a wedding a few days before or after Christmas – that's not unheard of. This gives you the perfect theme, and allows you to tie in some holiday goodies for your guests. A hot cocoa station and thoughtful take home gifts are a must.
Unconventional Holidays to Consider
For the couples who really LOVE themes, considering some unconventional holiday dates gives you the opportunity to go all out! One of our couples did just that by having a Halloween wedding inspired by Ghost Busters. We just have one question;  who you gonna call….to come to your holiday wedding?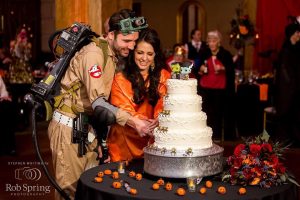 St. Patrick's Day – A day of celebrating, parading and boozing; I don't know about you but that sounds like the perfect wedding day to me. Greens and golds, sparkling shamrock cocktails and an Irish buffet of goodies – Irish or not, who doesn't love St. Patty's day?!
May the 4th – This is the day for all you die-hard Star Wars fans out there. From light saber ceremony exit tunnels to R2-D2 cakes, there are so many brilliant ideas out there for this theme, and I'm sure you have a few up your sleeve too. May the 4th be with you.
Halloween – If you can pull of orange, kudos to you this is your holiday. A wedding on October 31st opens the door to so many possibilities. Have your guests show up in costumes, use a favorite Halloween movie as your theme and throw the biggest monster mash of the year!
11/11 – Everyone knows when its 11:11 you make a wish, so why not have your wedding on the luckiest day of the year? Create a whimsically romantic celestial theme. Your guests will be wishing upon a star that they thought of this for their wedding!
There will always be naysayers for a holiday wedding, but in the end its your day so its up to you. Make sure you plan a holiday wedding far in advance, the more notice you give your guests, the more likely they'll attend!