2019 Wedding Trends
To all those newly engaged couples ready to start planning, we have all the hottest 2019 wedding trends to make your wedding a day to remember!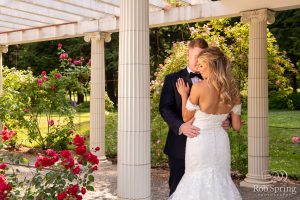 Trend 1: To tech or not to tech
Want a high tech approach to capturing your wedding day? Ask your photographer about using drones to record your entire ceremony from the sky! You'll see the lay of the land, and the expression on everyone's faces, in a way that was never possible before. One of our favorite photographers, Dave Bigler, can make your drone dream come true. As an after wedding gift to your guests, send them a copy of the movie starring you and your groom. All your guests will love this beautifully unique gift; and will want to steal it for their own wedding! This also gives you an excuse to make your ceremony a cell-free zone; no guest pictures are needed when a drone is watching it all go down.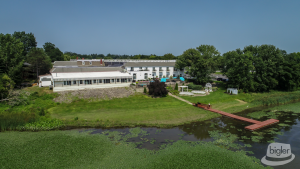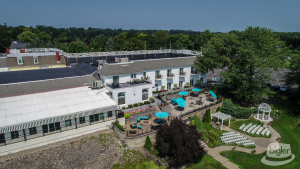 Now that you've captured the day, what if you could capture how you feel? Wear your fit-bit during your ceremony to see your heartbeat as you walk down the aisle, and finally become Mr. & Mrs.
Trend 2: It's all in the details
Want to wow your guests from start to finish? Go the extra mile and pay some close attention to your invitations, and decor – your guests will appreciate the effort. Couples are loving hand illustrated invitations, like this original Jenny C Designs map invitation, to share their love story. Your invitation will set the tone for your wedding; personalize your wedding by adding special details of your journey to your decor.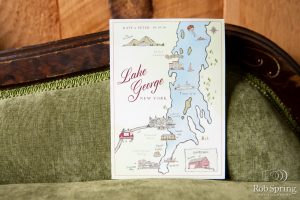 For an extra touch, customize your menus with your guest's name. Your menus can double as place cards, and your guests will appreciate this simple added touch. Not to mention they can save their menu and always remember the amazing meal they had at your wedding.
Trend 3: Simply beautiful
It's time to rejoice because the return of simple, classic wedding dress styles has returned. For some inspiration look to Duchess Meghan Markle, the newest member to marry into the royal family. On her wedding day, she wore a simple but stunning halter neck gown. Brides are saying adios to the fuss of an extravagantly embellished gown and trading in for clean lines, simple silhouettes and lace accents – a timeless look. Follow this style and we guarantee you'll be looking like a princess on your special day.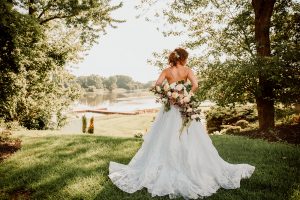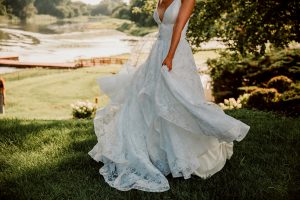 Photos by Cassandra Daye
Trend 4: Colorful thoughts
The 2019 Pantone Color of the Year has just been announced and the word on the street is…….its coral! Coral is the most gorgeous mix of orange and pink to make your summer wedding POP. For those of you tying the knot in the chillier months, this is the perfect color to bring a warm summer glow to your winter decor.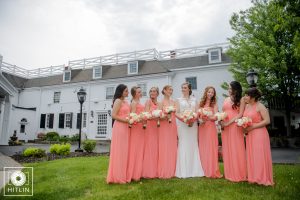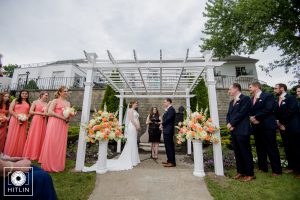 For those of you with a different look in mind…..be bold! Use a variety of colors and textures to create a unique look that's all your own! Floral arrangements are a great way to add color and variety (like these gorgeous arrangements below by Renaissance Floral Design). Whether it be your bridesmaids dresses, flower arrangements or linens. Have fun with it! All your hard work will pay off when your big day comes.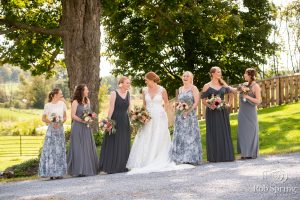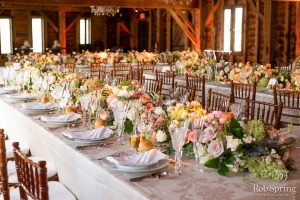 Trend 5: Flower power
Couples everywhere are swapping round tables and tall centerpieces for long banquet tables with rows of low flowers. No longer will your guests have to talk over a giant centerpiece to converse with someone across the table. Low floral runners are simple, practical and well….gorgeous! We're still seeing that same push like last year for lush greenery decor; we're talking floral galore, trees and moss walls. Bring a taste of the outside – in!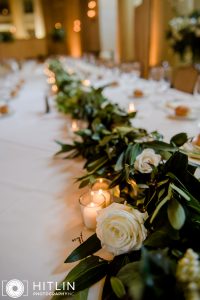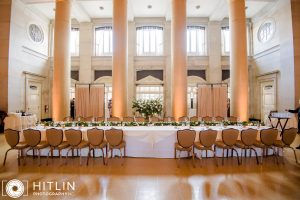 These trends are just a place to begin, make your wedding special for you and your fiance, everything else with fall into place!