Christmas Themed vs. Winter Wonderland Weddings
Happy Holidays Everyone! In honor of it being the most wonderful time of the year we decided to highlight two certain styles that brides & grooms choose when it comes to how they want their wedding ceremony and reception to look: Christmas themed or Winter Wonderland. There is a multitude of reasons why someone getting married during the snowy season may not want their winter wedding to have an ounce of Christmas in it, it's just a matter of preference. Either way, both themes look amazing when they come to life. We wanted to highlight the best aspects of each, whether that be colors, decor, wedding favors, and other little details you'll love.
For all you with the month of December as your "Save the Date," this might be the perfect article to help you decide which theme is right for your wedding. And for all of you having your big day on the New Year and throughout the rest of the chilly months and who need some winter inspiration ideas, we recommend you bookmark this page for safe keeping 🙂
C

o

l

o

r

s
If you're going to go with a Christmas-themed wedding, it's pretty much a given that your wedding will be have red and green somewhere in it, if not be the main colors in your palette. If you want to spice up the traditional combo, add some metallic accents to give it that glamorous edge. Patterned tartan is also a unique option with it's various shades of greens and reds, which can be your starting point in deciding what hues you want.
While you can still have red and green colors in your wedding without giving off that Christmas feel, here are some other color palette options fit right in with right in this winter and the next couple ones as well. From pretty pastels to rich shades the options really are endless, especially if you want to mix and match.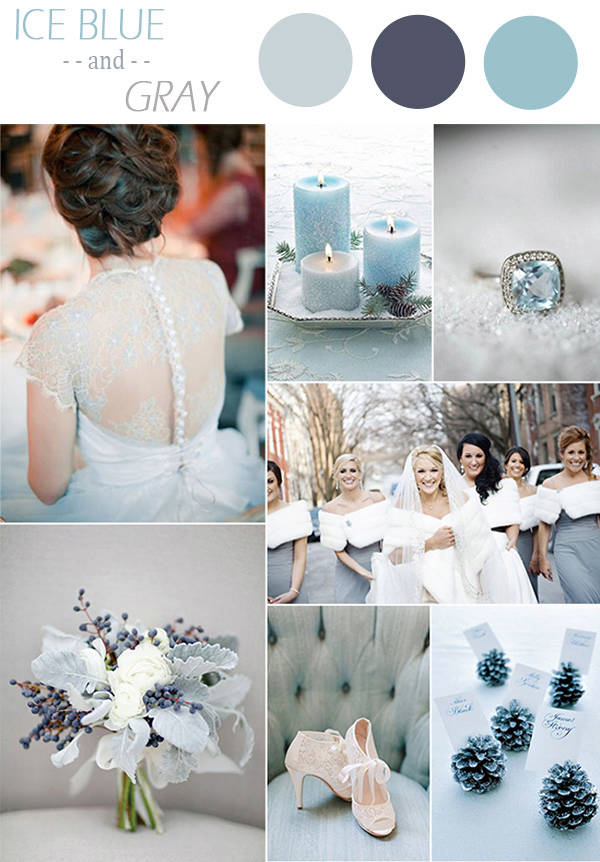 Here's a little ice blue for you. This color palette is going to look like Elsa from Frozen crashed your wedding and turned everything into ice. The mix of light blue hues and angelic white definitely give off a feel of winter elegance. Add a little lace and you'll be golden.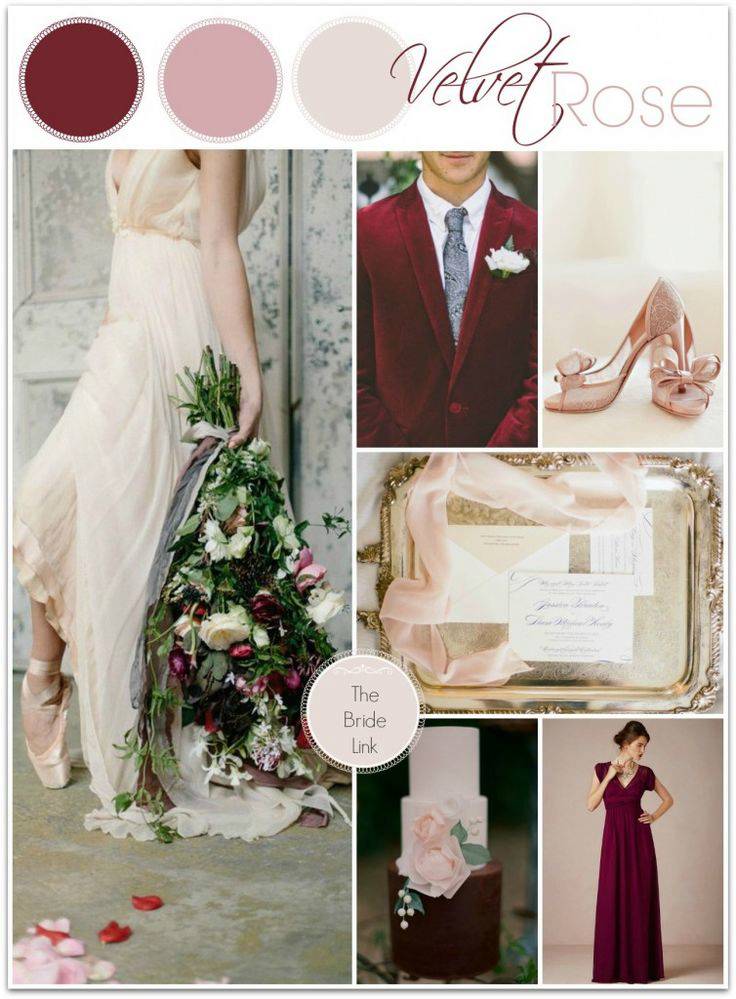 It's usually taboo to mix red and pink together, but with the Velvet Rose color palette, it looks like these two colors should always stick together. Named after the soft, textured fabric, you can even use velvet itself like the groom did in the photo above as he donned a tux made of the material.
The rich reds and light pinks of Velvet Rose make us think of Valentine's Day, which also occurs during the winter months. This palette would for ideal lovebirds who choose to tie the knot around the time Cupid strikes.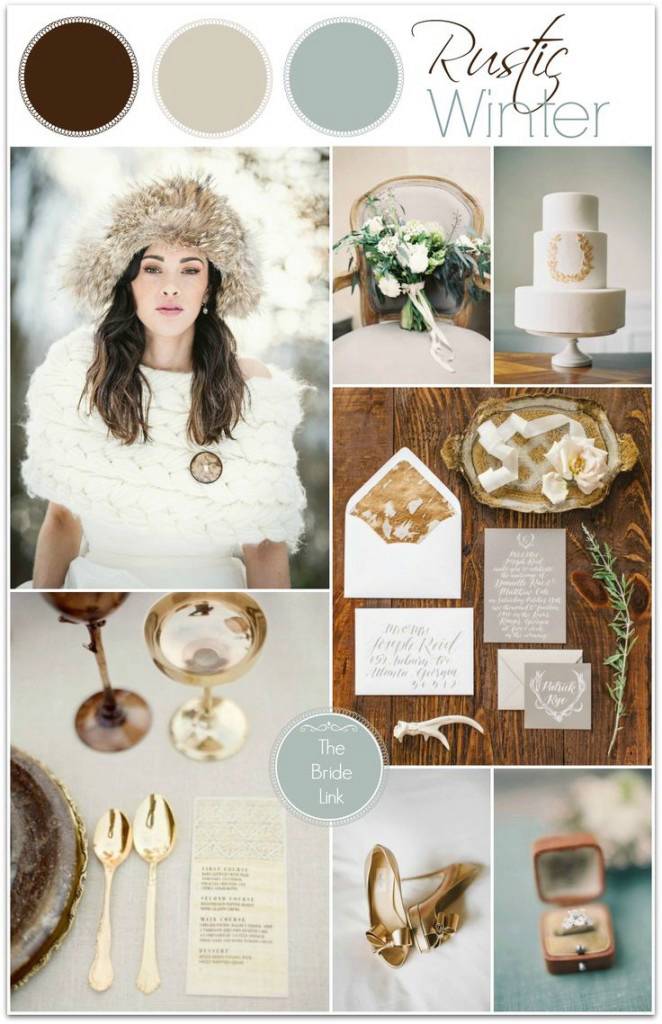 You may think rustic style weddings may be a Summer/Fall thing, but think again. Rustic chic is now taking over all four seasons, including Winter. The idea is to create a personal and intimate atmosphere. The brown in this palette can be utilized  through the wood tables & chairs you and your guests sit at. The taupe also will match well with metallics embellishments if you want to add a little sparkle to your big day.
Centerpieces 
Centerpieces are the easiest way to show off your creativity and personality. We found so many inspiring centerpiece ideas for both Christmas and just the Winter season itself that it was so hard to pick which ones to feature. If you want to see all 90 centerpieces that were showcased, head on over to Happy Wedd and get inspired too!
The traditional use the candles, flowers, and vases get the Christmas treatment for these centerpiece ideas. Not only does mixing red and green give it that holiday spirit, but the using Christmas props helps too. How clever is that decorated mini-Christmas tree!?
With these centerpieces, the usual suspects are still shown on the tables, but a little creative licensing has taken place. We spy some trendy color palettes like "Rustic Winter" being used in some of them!
Flowers aren't the only piece of centerpiece that's known for giving off a pleasant scent. Those candles wrapped in cinnamon sticks seen in the slideshow above are going to smell better than anything you buy at Yankee Candle.
Wedding Favors
Every couple wants to thank their guests for not only coming to the wedding, but supporting them and their love over the years. There's always a fine line in trying to find a wedding favor that's meaningful yet something your guests will actually want. We rounded up our favorite seasonal favors, that Christmas and Winter couples alike, plus your guests, will rave over.  A lot of these wedding favors are straight DIY and the instructions on how to make them can be found here.
The ornaments on a Christmas tree usually have some sentimental value to them, so why not play into that during the holidays and give your guests some fun ornaments to remember the great memories they had on your big day? Talk about DIY! It's a chance to get creative and come up with your own design and show what you love most about Christmastime.
The ornaments containing hot chocolate ingredients lets your guests to choose what flavor of the yummy treat they want to take home with them.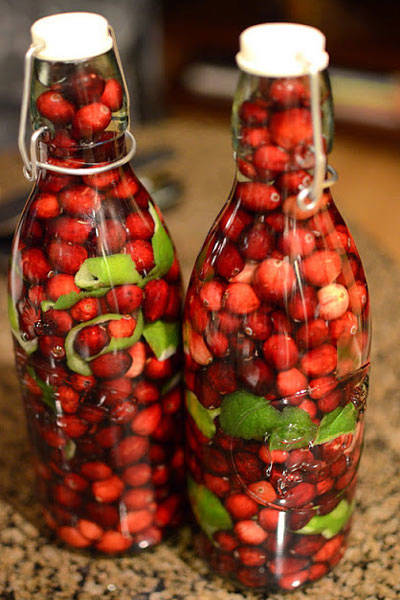 Warning: this wedding favor is for the adults only! This wedding favor is all about getting festive with a twist! Mix some vodka with winter-esque fruits like cranberries in a glass bottle and voila!
Here are some miscellaneous Christmas wedding favors that are equally as creative as they are cute. From mini trees that every guest can take home to candy cane sugar scrubs that double as gifts to your trusted bridesmaids, the best scents of Christmas can turn into a gift. We personally love the personalized tea cones that resemble Santa's hat!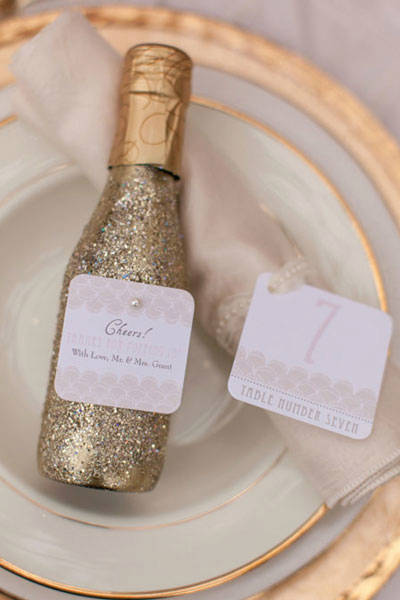 For all of you having your wedding day (or should we say night?) on New Year's Eve, here's a favor for guests to not only celebrate your wedding but the new year as well! Think of these sparkly, mini champagne bottles extension of the open bar.
You know that saying where the closest way to a man's heart is through his stomach? Well count women in too because food brings everyone together. The most favorable wedding favors are always delicious food items that guests can take home. From sweet to salty, from soup to s'mores, Winter has a wide range of options for you to select from. You can even make up a tag and put a your wedding date and a sweet message on it.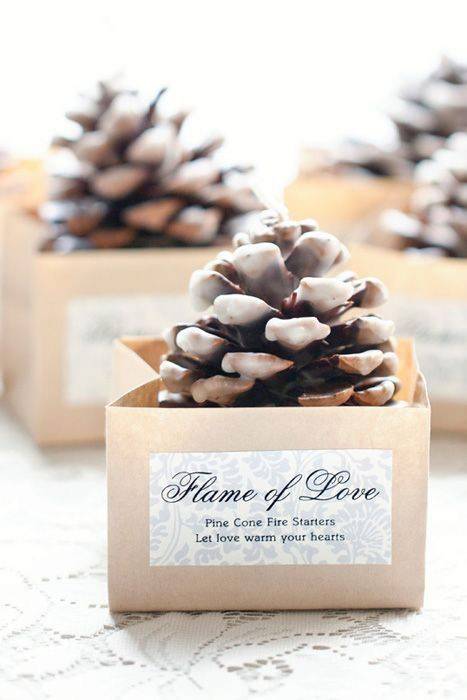 How AWESOME is this!? Pine Cone Fire Starters that you can just lite up on those cold winter nights!
As we said before, Winter is cold, especially if you live in Upstate NY. For all you couples looking at any of our properties for a Winter wedding here's some wedding favor inspiration on what to give your guests so they won't mind they cold so much and warm them up!
Mazzone Takes Christmas & Winter White Weddings
Here are some past weddings at our venues that chose to decorate both Christmas and Winter style. If you're interested in a Winter Wedding at one of our exclusive properties, contact one of our event planners and ask about our Winter White Packages!
· Follow us on Instagram for latest wedding scoop at @AisleFilesBlog ·