A Special Wedding Spolight – Jaimie & Nate
Here's a special wedding spotlight close to our hearts! Mazzone Hospitality's very own, Jaimie got married to her now-husband, Nate, in a stunning, black tie affair at the Hall of Spring this October and to say this wedding was epic is an understatement. Working for Mazzone means that Jaimie knows how to throw a party and has a great eye for detail, so it's safe to say every aspect of this wedding was on point. Thanks to Elario Photography, we have some exclusive photos just for you all to feast your eyes on.
Meet Jaimie & Nate….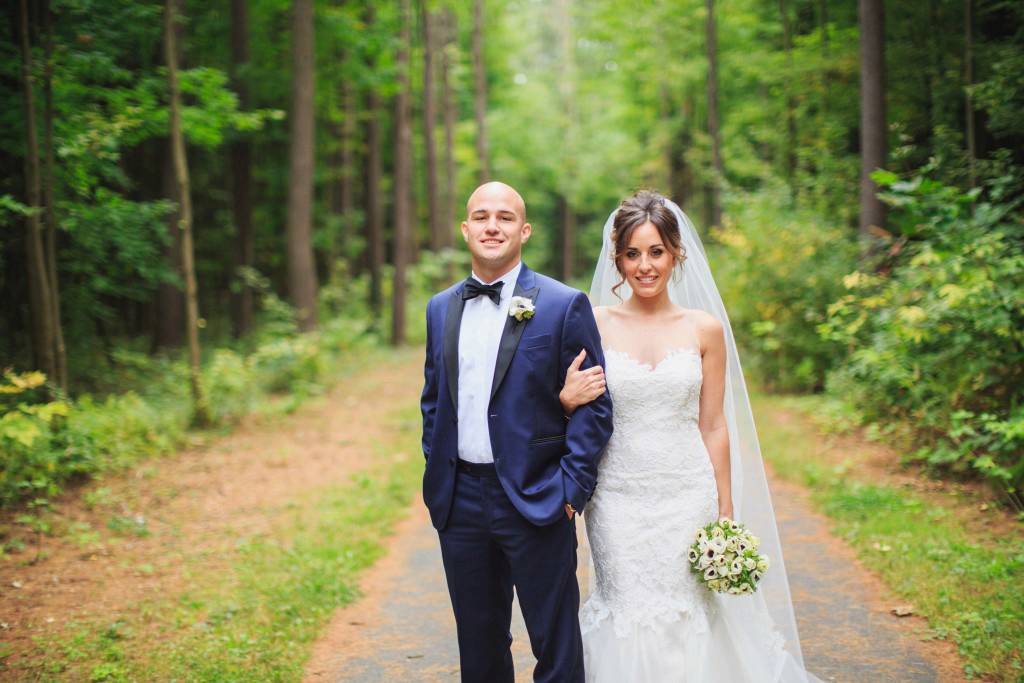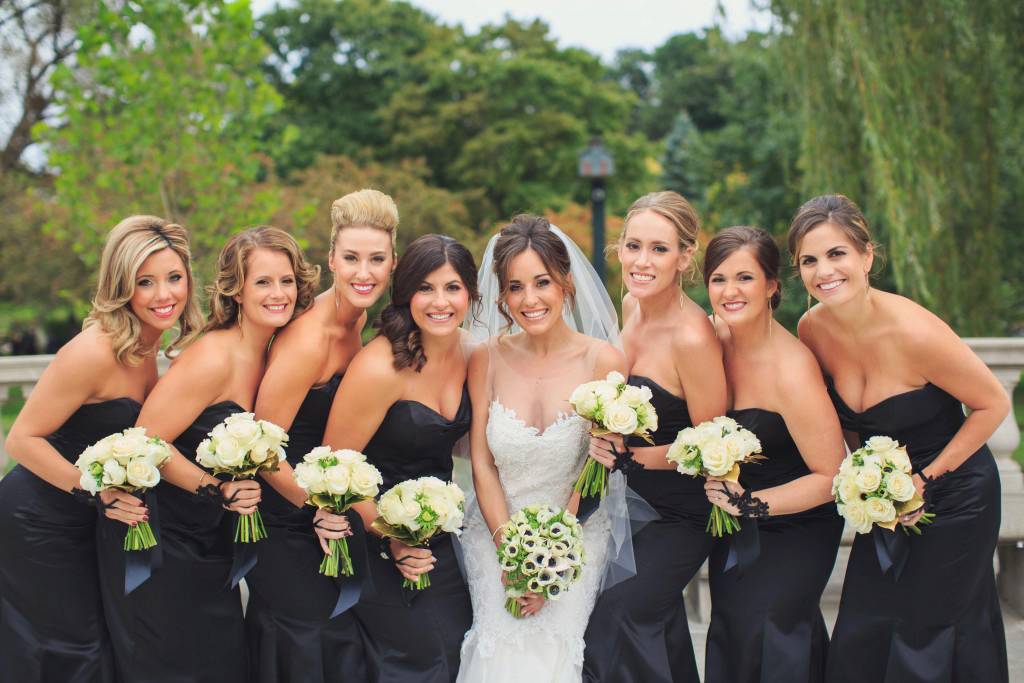 Jaimie and her bridesmaids looking fabulous as they pose for pre-wedding photos in Congress Park.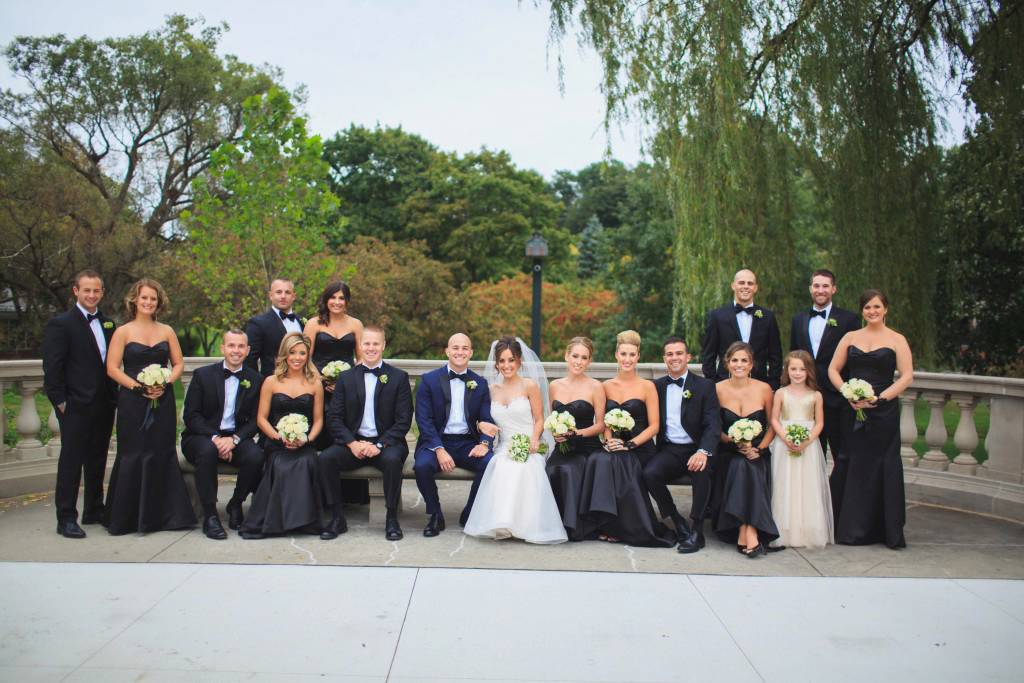 We love this formal shot of the bridal party!
Now to the Hall of Springs for the Ceremony…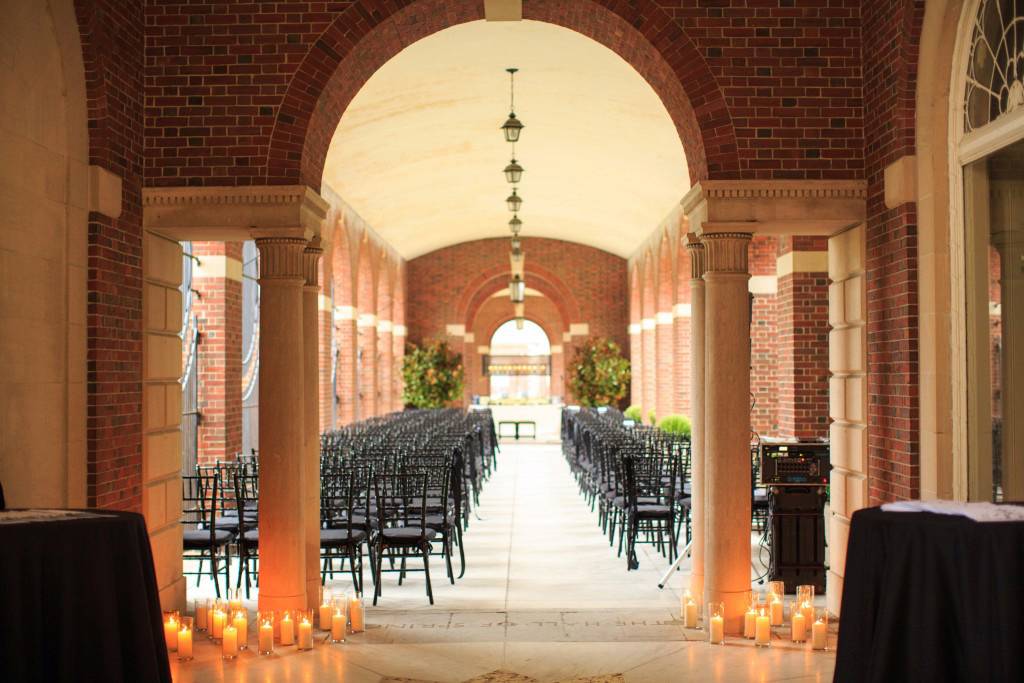 A little before & after shot of the prepping for the wedding ceremony in the South Portico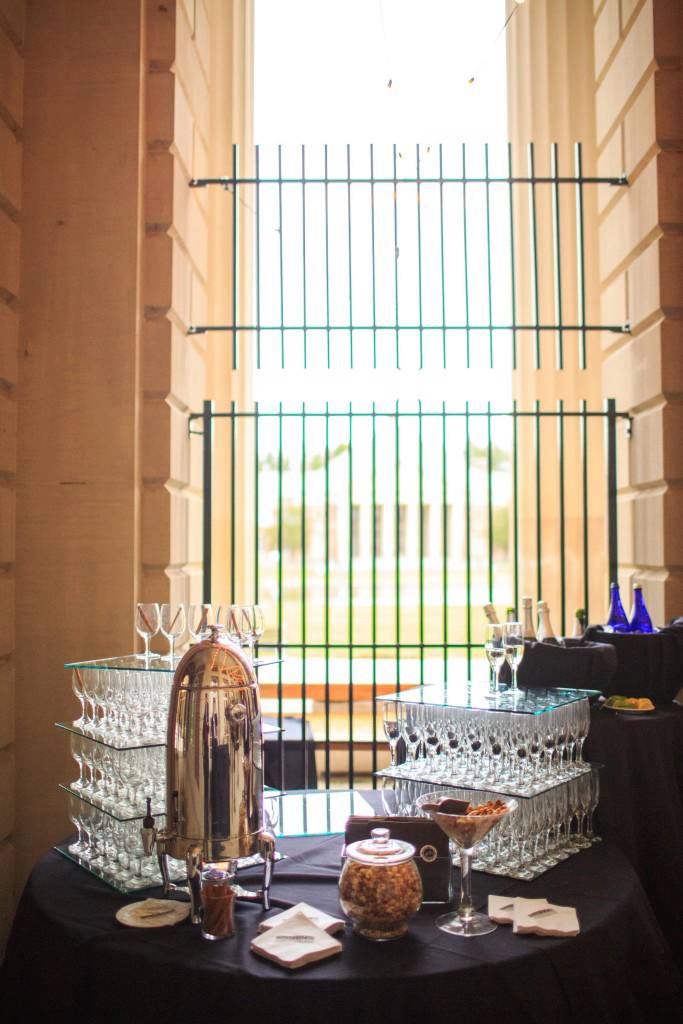 To warm up their guests during their outdoor ceremony, the bride & groom set up their own custom Greeting Station, which served: Hot Apple Cider Cocktail, Champagne and some Warm Nuts. Perfect for a Fall wedding!
The South Portico at the Hall of Spring is such a great spot to hold a ceremony. Between the beautiful, European architecture and being both inside/outside you truly get the best of both wolds!
Following the ceremony, guests were greeted to a tented cocktail reception opening to the Jazz Bar. Between the Seafood Bar, Fresh Mozzarella and Small Plate Stations, the options were endless!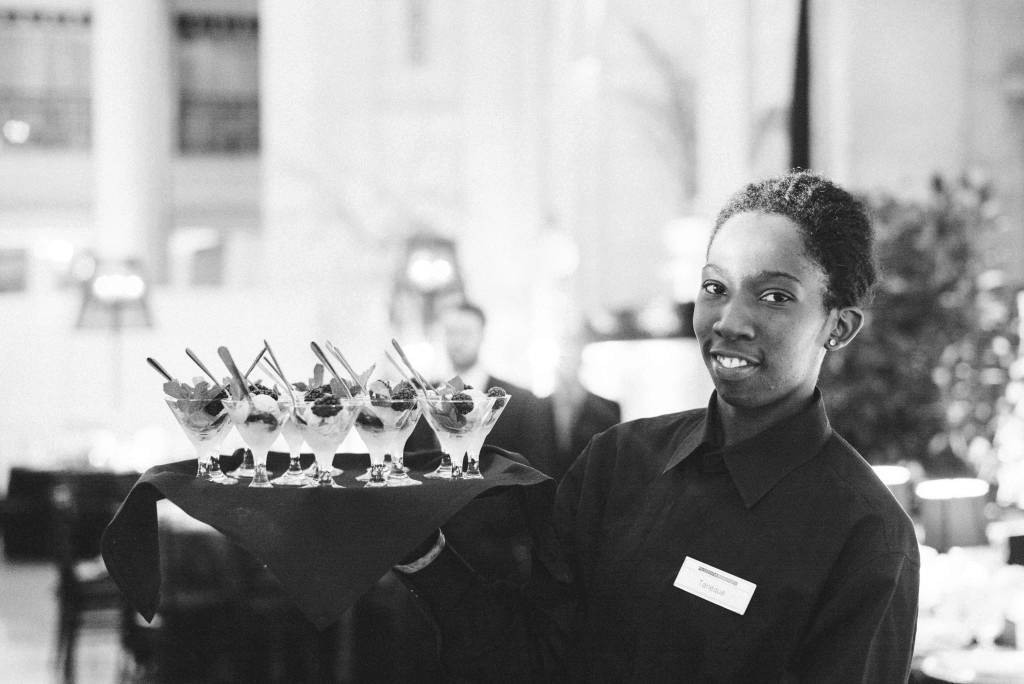 As guests entered the ballroom from cocktail hour a blackberry sorbet amuse – bouche was butler passed. With all the different types of food being served at cocktail hour, this is definitely a trend to try, it also give the guest a little bite to enjoy as they find their seat!
Jaimie & Nate  wanted their wedding to be unique, modern and sexy. With the help of the amazing Deryck DeMatas from Designs by Deryck, their vision of chic elegance was brought to life.
 His & Her signature cocktails are a great way to incorporate your personality in your big day, plus who wouldn't love to have their own cocktail named after them!? Jaimie also carried her custom monogram throughout the wedding, from the invitation to the gobo to  dinner menus.
While guests enjoyed their salad & main course, which was a classic Caesar Salad followed by a Surf & Turf Entree duet of Steak & Crab Cake and family style Butternut Squash Ravioli they were entertained with music by Grand Central Station!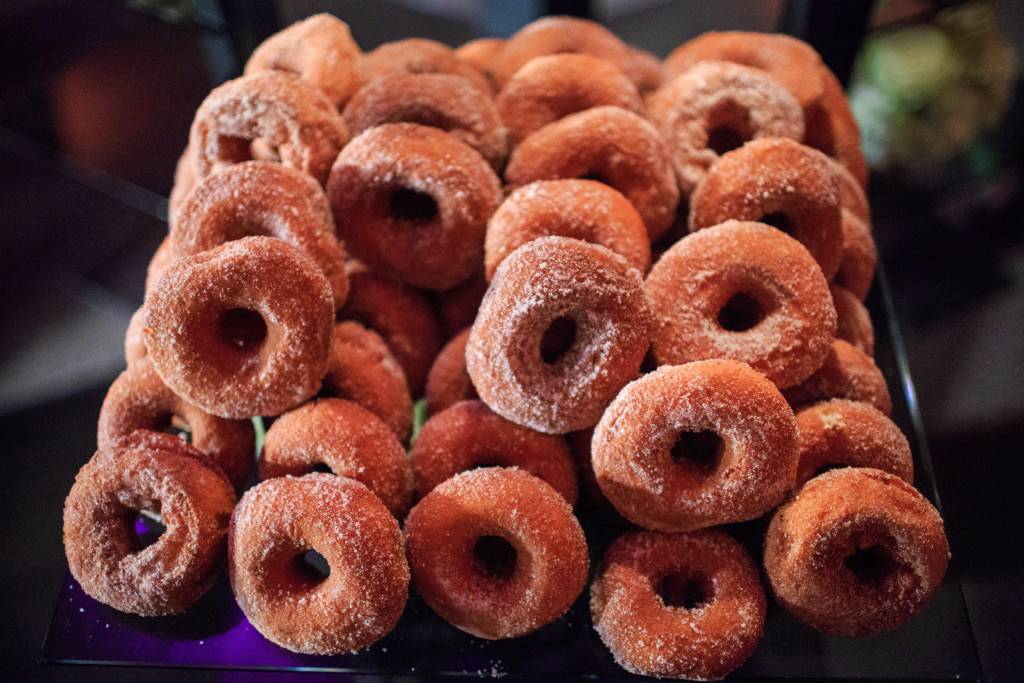 Apple Cider Donuts were brought in from Jaimie & Nates favorite apple orchard, Gould Orchards in Castleton!
A great personal touch.
The newlyweds didn't mess around with dessert either. It was heaven for all those who have  a major sweet tooth as Cider Donuts, Black & White Cookies, Assorted Crème Brûlées, Hot Chocolate Chip Cookies in Mini Skillets were all on the menu.
The best part was that they all were in mini form, meaning you could try each and every one, obviously to see which one you liked best!
With the drinks flowing and the beats going thanks to DJ Trumaster, the dance floor was packed well past midnight!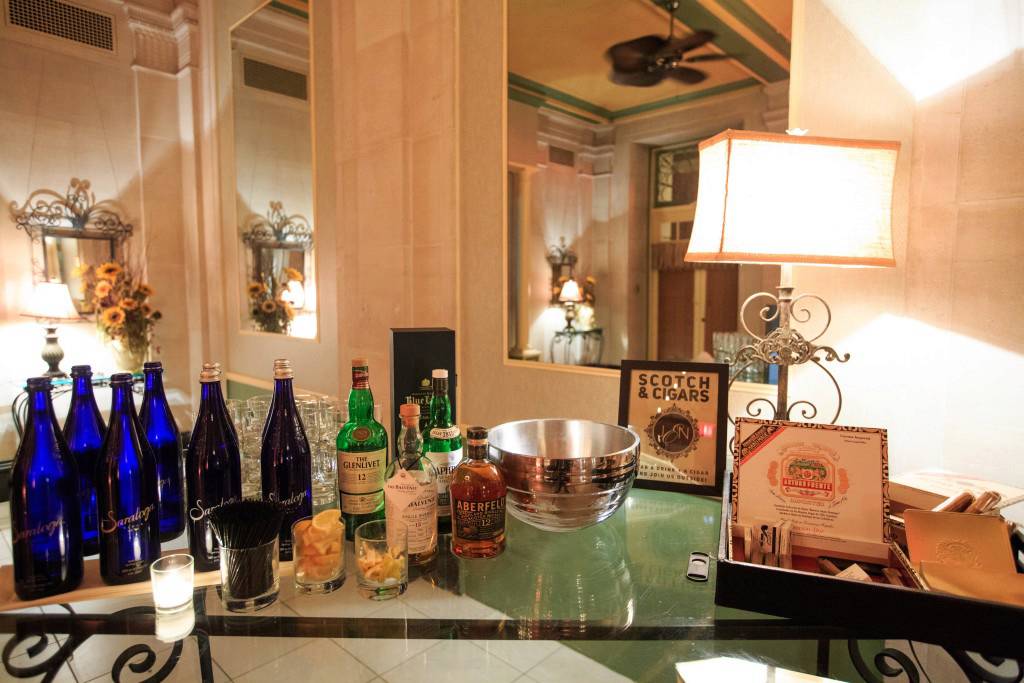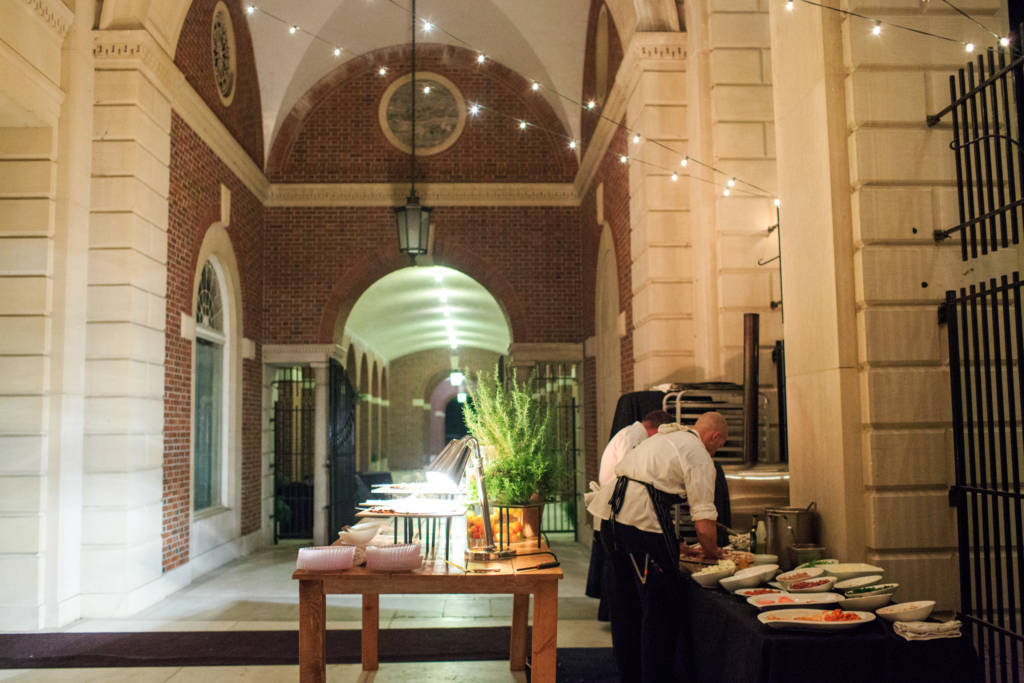 All that dancing definitely worked up an appetite, luckily Jaimie & Nate had a Wood Fired Pizza Late Night Station  as well as a Scotch and Cigar Tasting Table all to be enjoyed outside next to the fire pits!
How can you resist? A cocktail and a slice of pizza under those lights next to a fire pit!
That's the way to end a party…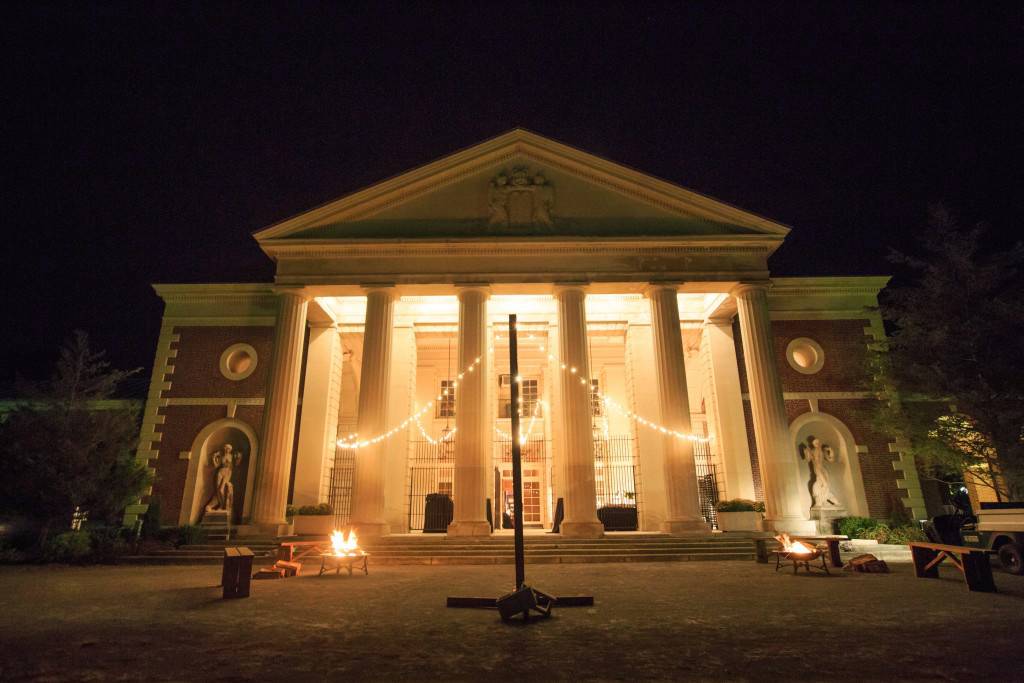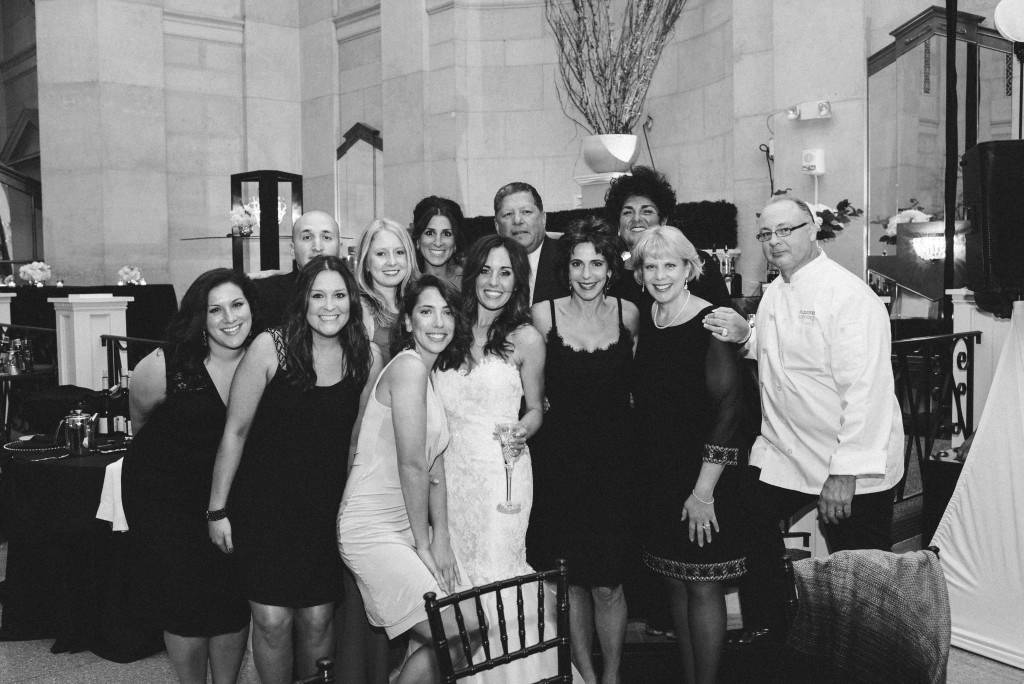 A great photo of the Mazzone team supporting Jaimie on her big day! Somebody get a frame!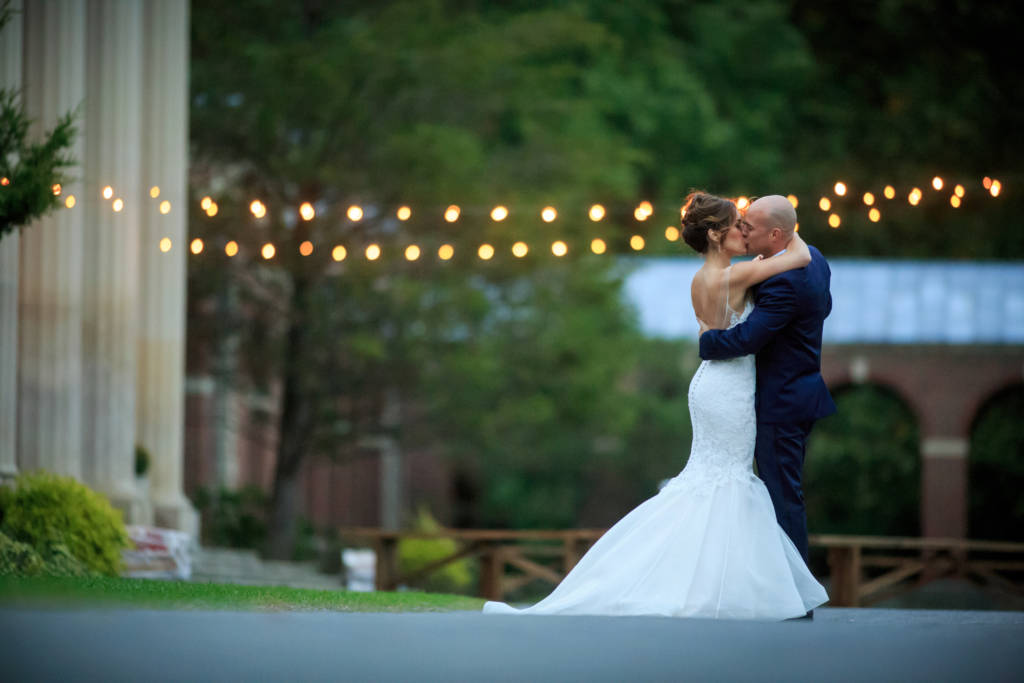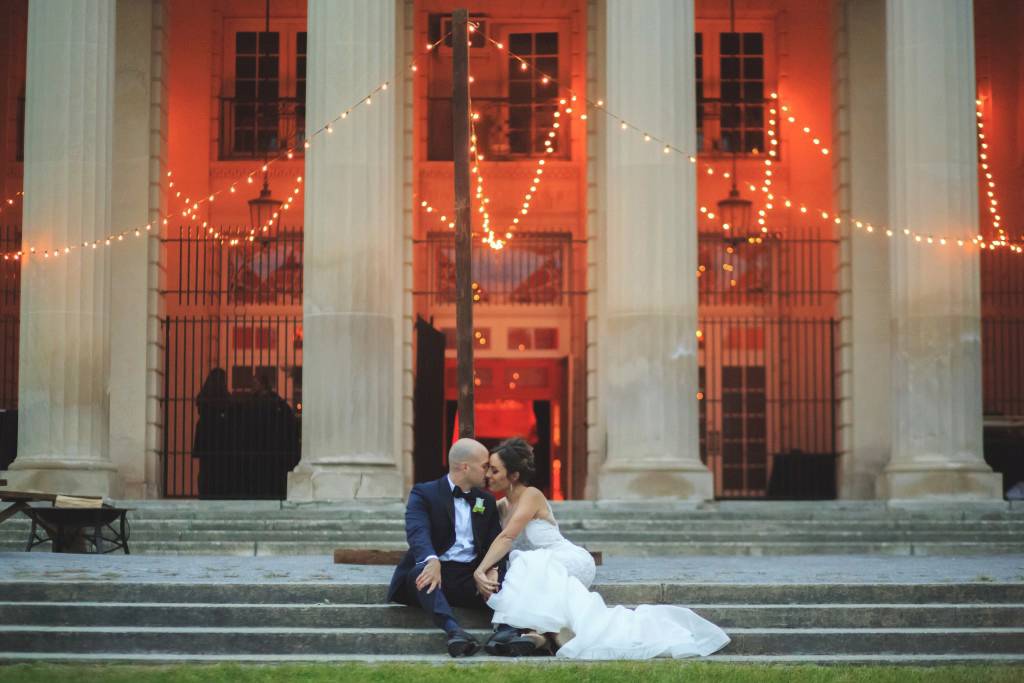 Congrats again to Jaimie & Nate! We wish you both a lifetime of love & happiness!
—-
Special Thanks To:
Venue – Hall of Springs
Caterer – Mazzone Hospitality
Photography – Elario Photography
Florist – Deryck DeMatas Designs
Inivations – Jenny C Design
Bridal Salon – Something Bleu Bridal
Wedding Coordinator – Katie O Weddings & Events
Party Rentals – Rain or Shine
Menswear – Tallia Orange
Cake – Crisan Bakery 
Bridesmaid Dress Shop – Angela's Bridal
DJ – DJ Trumaster
Band – Grand Central Station
—–
· Follow us on Instagram for latest wedding scoop at @AisleFilesBlog ·