VOW Magazine Real Wedding: Pearl & Sean
Beach lovers Pearl and Sean wanted to incorporate the water into their romantic wedding at the Courtyard by Marriott. From their color scheme to the centerpieces and tabletop décor, it felt as if they brought Lake George right into the ballroom!
You can find their Real Wedding in the 2021 issue of VOW Magazine or by visiting https://storystudio.timesunion.com/vow-2021/.
We recently caught up with the couple to hear about their wedding day….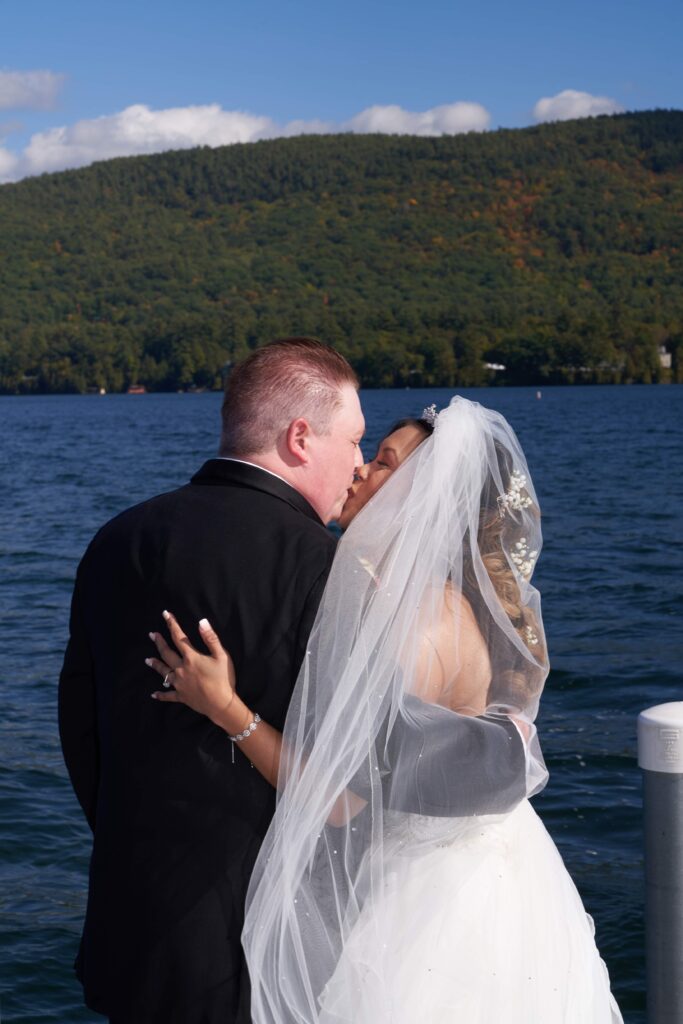 Why did you select Courtyard by Marriott Lake George as your wedding venue?
We originally wanted a beach wedding since we got engaged down in the Outer Banks but as time got close, we decided it was too much to plan a destination wedding. We started looking at waterfront venues around the area with lodging for our guests and discovered the Courtyard Marriott. I work for Mazzone Hospitality and thought, why not do it through them since I've always heard how great their catering service is. When we went up to tour the venue, it was exactly what we wanted and that same day set up a date and the rest followed!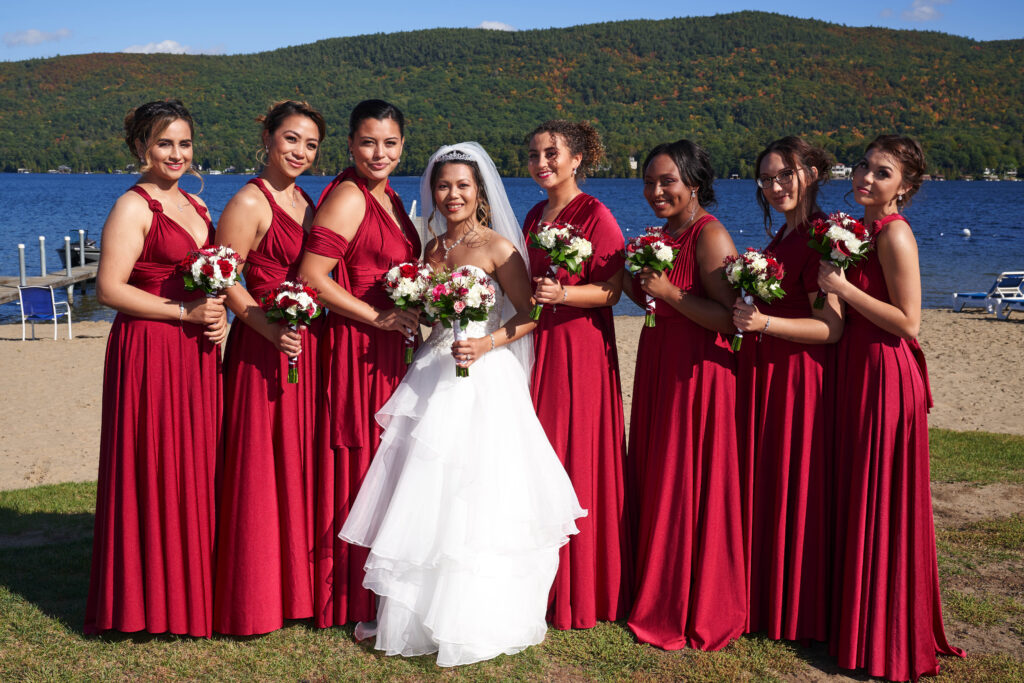 How did you make your day unique / special / personal?
I'd say we really took our time and personalized everything with the theme, like our centerpieces and decorations, so it all fell into place and meant something. I really liked that we also incorporated the shells that were used when we got engaged. We placed them on a table for guests to take with them and we also put some on the center of our head table.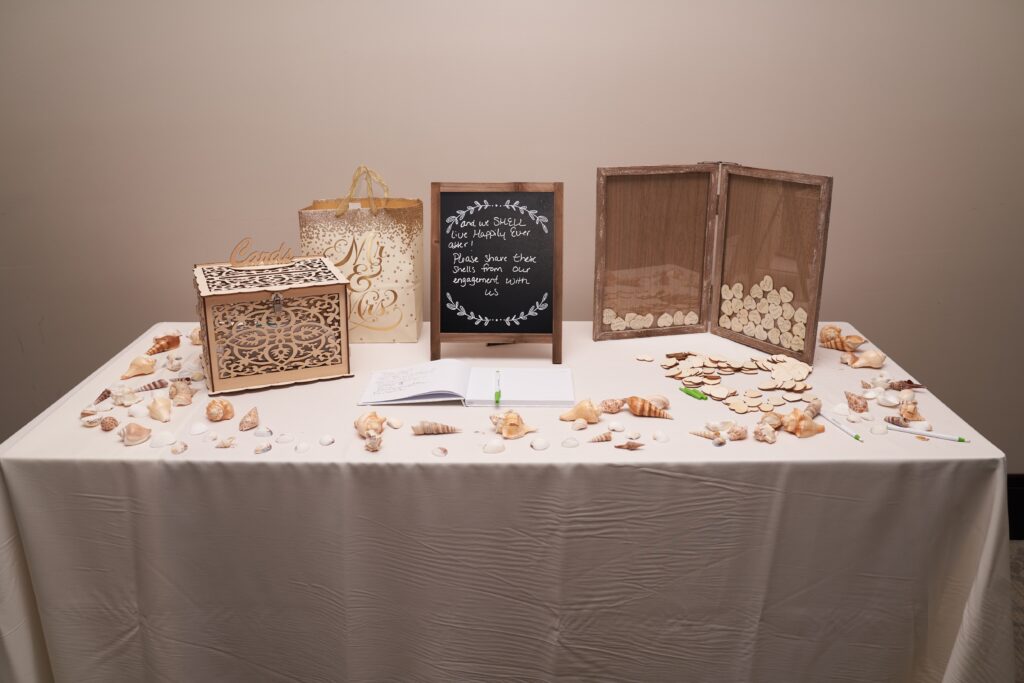 What was your most memorable moment?
Honestly, the whole day was memorable! I'd say the most memorable though was our first look. We did it on the dock across the street and everything was just so perfect – the weather, the view, and everyone overlooking us. I remember when we went back to the hotel, a random guest came up to me and said, "We saw you guys do your first look from our balcony. That was awesome!" I'll never forget that.
What was your favorite food or beverage item? Or How did you customize your wedding?
Our favorite item was definitely the Prime Rib. When we got our meal, we were very surprised to see all three options that the guests could choose from on our plate (Prime Rib, Chicken Francaise, and Eggplant Parmesan). That was such a great idea for us to be able to try all the options and of course everything was great as expected! We also can't leave out the wonderful hors d'oeuvres that were served during cocktail hour. Mazzone was also very accommodating with being able to adjust items on the menu as well.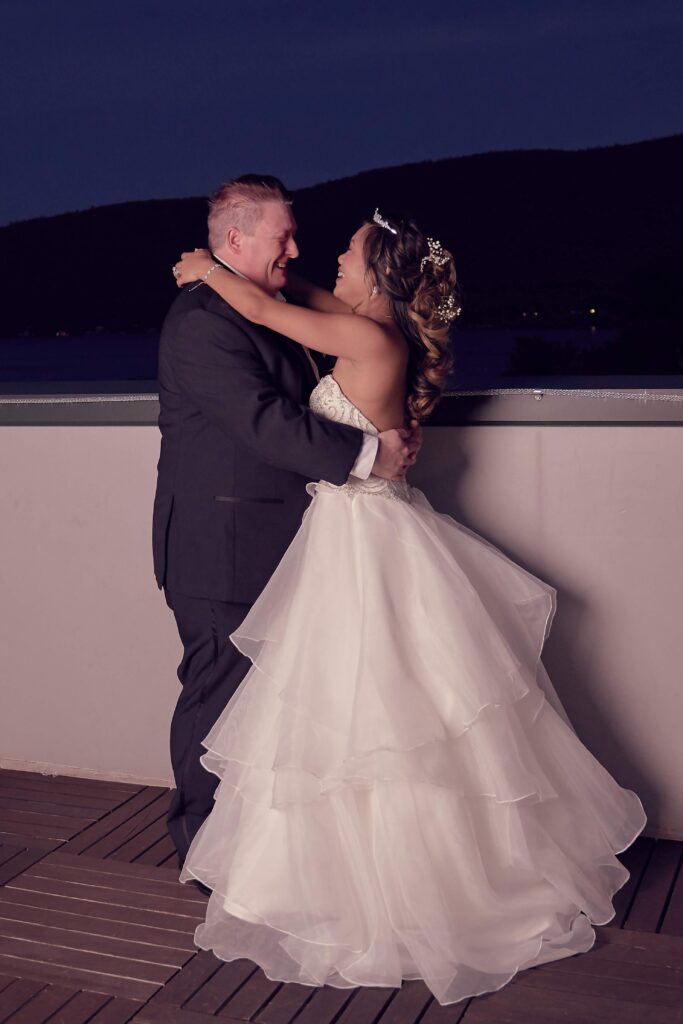 What was your favorite part about working with the Mazzone team?
We loved that we didn't need our own wedding planner as Shana and Lucien did everything for us! They were both really great at supporting us through everything and it took a lot of stress off my shoulders since I wanted everything to be perfect and they did just that! The whole team did an awesome job from beginning to end.
What tip would you give other couples?
Cherish every moment. Planning a wedding can be very stressful, especially the day leading up to it. When that special day ends, you're going to look back and say, "Wow, that went by really fast." That was our reaction by the end of the night. Just live and enjoy every moment from all the planning and right up until the end. Take the time throughout the day to think and reflect about everything, and you will be extremely happy with how it all came together.
Vendors:
Venue: Courtyard by Marriott Lake George
DJ: EAP Productions
Photographer: Brian Wheeler Photography
Florist: Price Chopper
Catering: Mazzone Hospitality
Design: Royal Bloom (Arch decoration for ceremony)
Dress shop: Xenas Bridal
Dress Designer: Beloved by Casablanca
Bridesmaid Dresses: Xenas Bridal
Dress Designer: Allure
Hair/Makeup: Family friend
Jeweler: Philip Alexander Jewelers
Menswear: Men's Wearhouse