Vow Magazine Real Wedding: Faith & Kevin
All photos by YTK Works
Faith and Kevin's intimate fall wedding was a fairytale come to life! With the help of some amazing vendors, Glen Sanders Mansion's patio was transformed into a Tuscan-inspired dream. You can find their Real Wedding in the 2021 issue of VOW Magazine or by visiting https://storystudio.timesunion.com/vow-2021/.
We recently caught up with the bride to hear about her wedding day…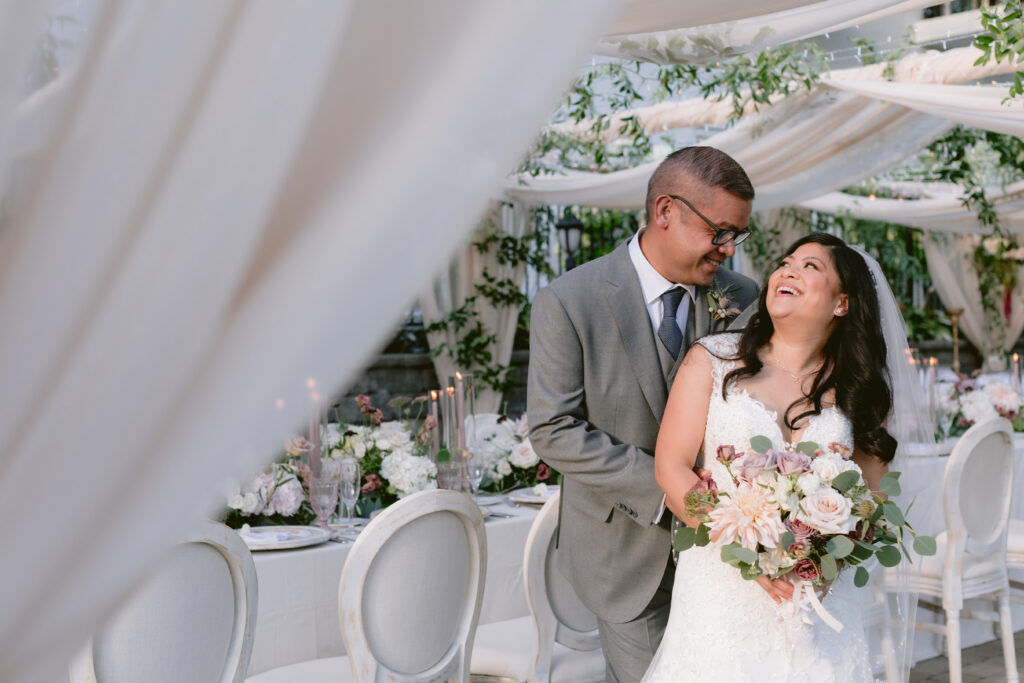 Why did you select Glen Sanders Mansion as your wedding venue?
Kevin and I loved the possibility of getting married at Glen Sanders Mansion. We attended the annual Autism Gala there for our second date. We looked forward to this event every year, in part because of the quality of the food and service from Mazzone Hospitality. When we toured Glen Sanders again at the beginning of 2020 as a newly engaged couple, we were blown away by the recent renovations. From the grand staircase, to the beautiful ballroom, to the neutral and contemporary décor, it was exactly our aesthetic. We also loved the ability to have our ceremony and reception, and an option for accommodations, all in one venue. This convenience for our wedding party, family and guests was very important to us.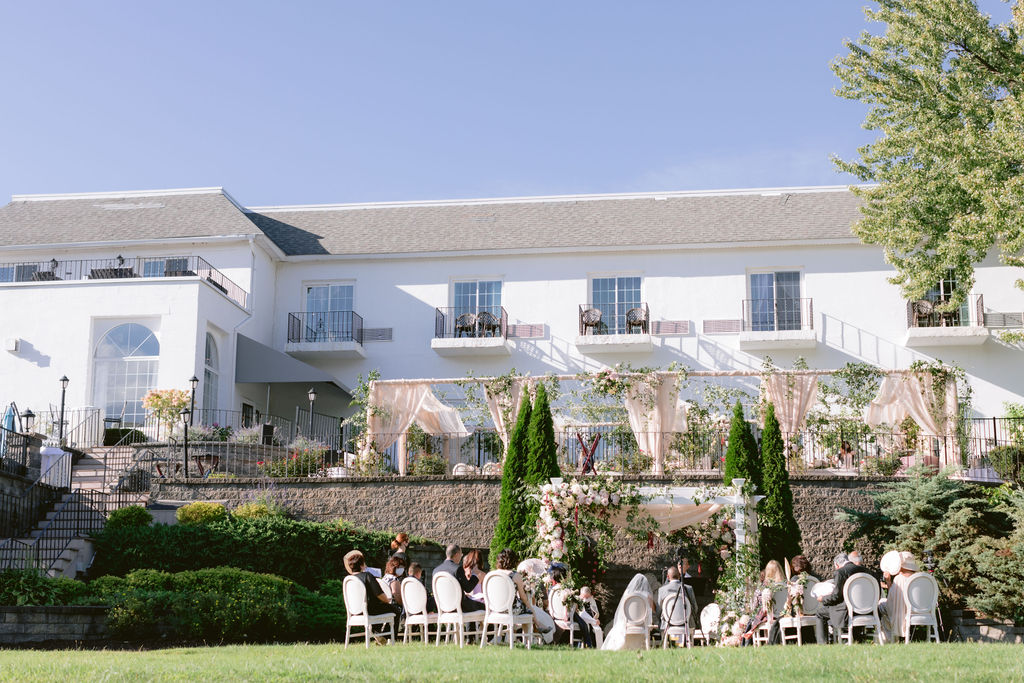 How did you make your day unique / special / personal?
As the pandemic took hold, it quickly became apparent that plans for our September wedding would have to change. Once we knew we wanted to move forward with our planned wedding date, the challenge became how to downsize the wedding from 250 to 25 guests, and still make it the wedding of our dreams. We remember standing in the middle of the grand ballroom, which had been set up to follow event guidelines that were in place and realizing how challenging it would be to make such a large space intimate for our smaller guest count. We felt deflated.
However, later in that same meeting, we discovered the riverfront patio, and our inspiration for a Tuscan-themed wedding reception emerged. Having everyone seated together and properly socially distanced at one long outdoor table, rather than spread out like islands over several different tables, was much more appealing to us. A beautifully decorated table under a large chiffon tent with candles and lights overlooking the Mohawk River would allow for the romantic and airy feeling we wanted all along.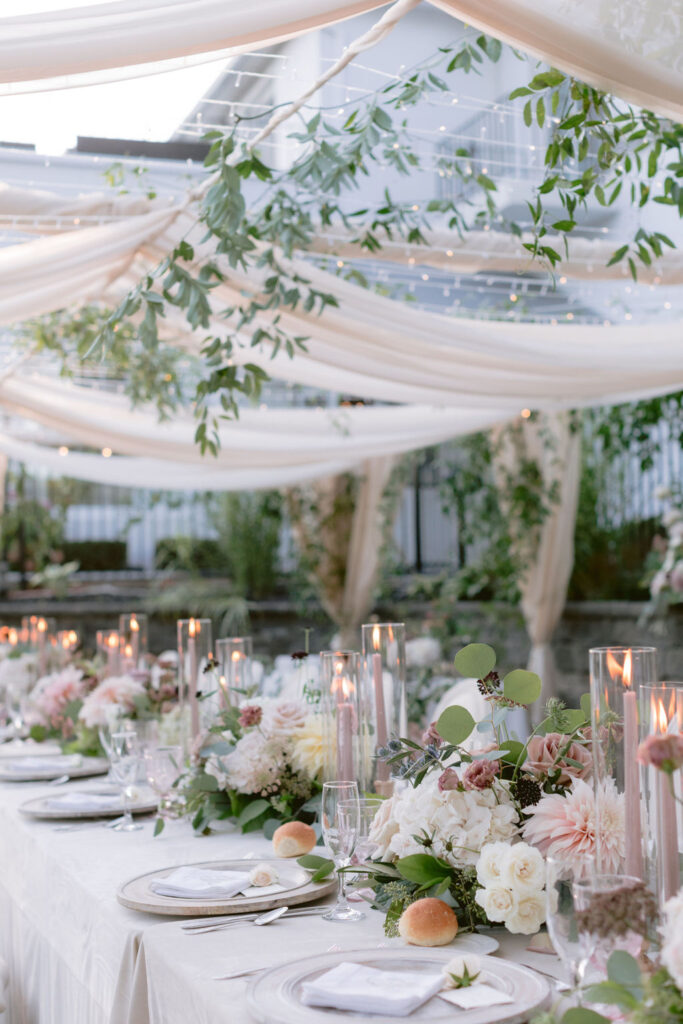 What was your most memorable moment?
More than just a moment, the feeling we had the entire wedding day was what was most memorable. Given the rollercoaster of emotions we experienced while planning our wedding, we never would have imagined that once the day finally came, it would be the most beautiful and relaxing celebration. The squeals of delight from our nieces and nephews running around the grounds in the distance, the laughter of adults mingling together, and the warmth of good food and good company was simply amazing. For a moment the world felt normal, and it felt right. As the night progressed, we could watch the setting sun transform the space and give way to the emerging glow of the candles and lights which illuminated the tent under the starry night sky. It was purely magical.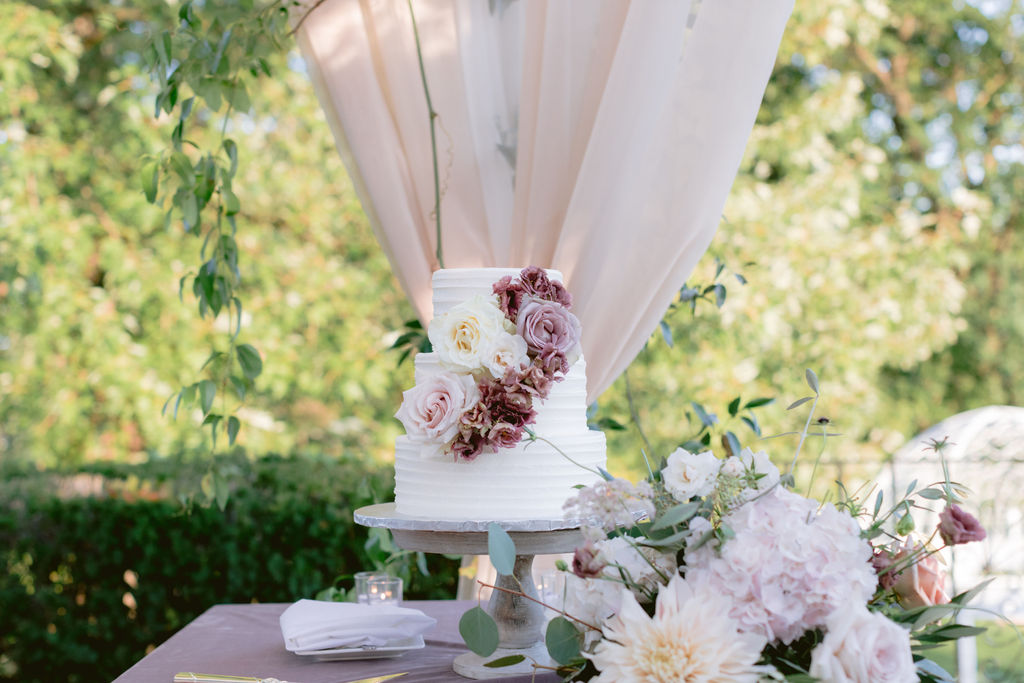 What was your favorite food or beverage item? Or How did you customize your wedding?
The Grand Tasting was something Kevin and I looked forward to from the moment we chose Glen Sanders as our venue. We made sure we were hungry before the event because we wanted to try everything. There was so much we enjoyed. The short rib grilled cheese and the sesame crusted chicken skewers were a few of our favorites. However, on our wedding day, we remember our wedding cake the most. In fact, we loved the wedding cake so much that we broke tradition, defrosted and ate the cake topper only one month later. It was a pleasant surprise to discover it was just as delicious as on our wedding day.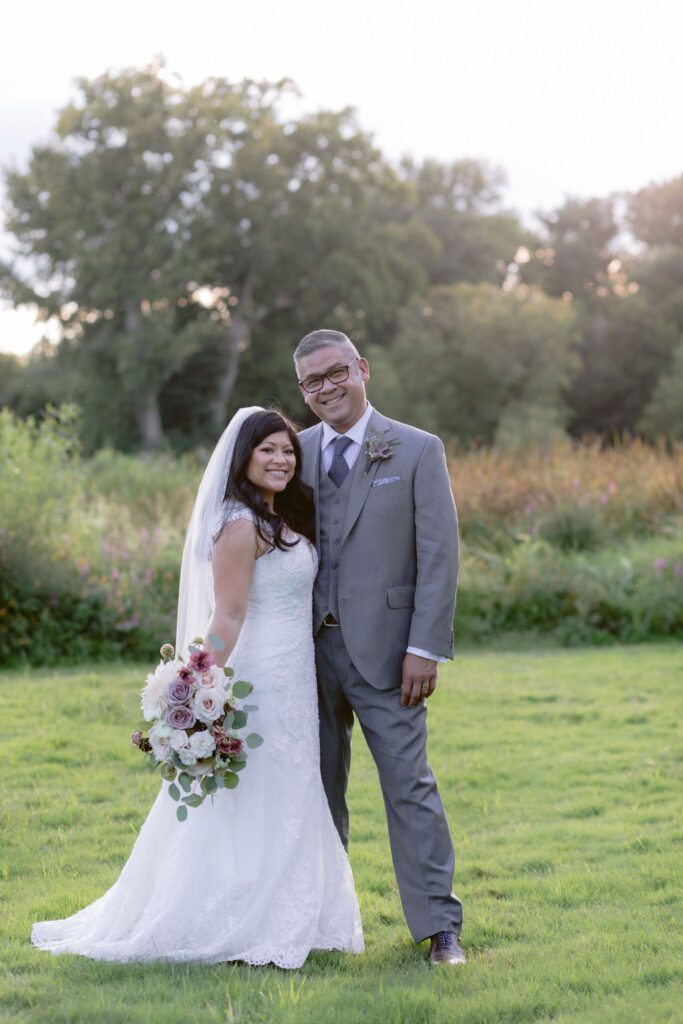 What was your favorite part about working with the Mazzone Team?
We felt well cared for by the Mazzone team. Gabriela Crisorio was our event coordinator and she was an absolute joy to work with. She was with us from the beginning of the planning process and was a tremendous help and an invaluable resource. On our wedding day, Leslie, the banquet manager, and Maki, the bridal attendant, pampered us and our guests. They anticipated our every need and were on top of all the details. We appreciated the ability to just sit back and relax.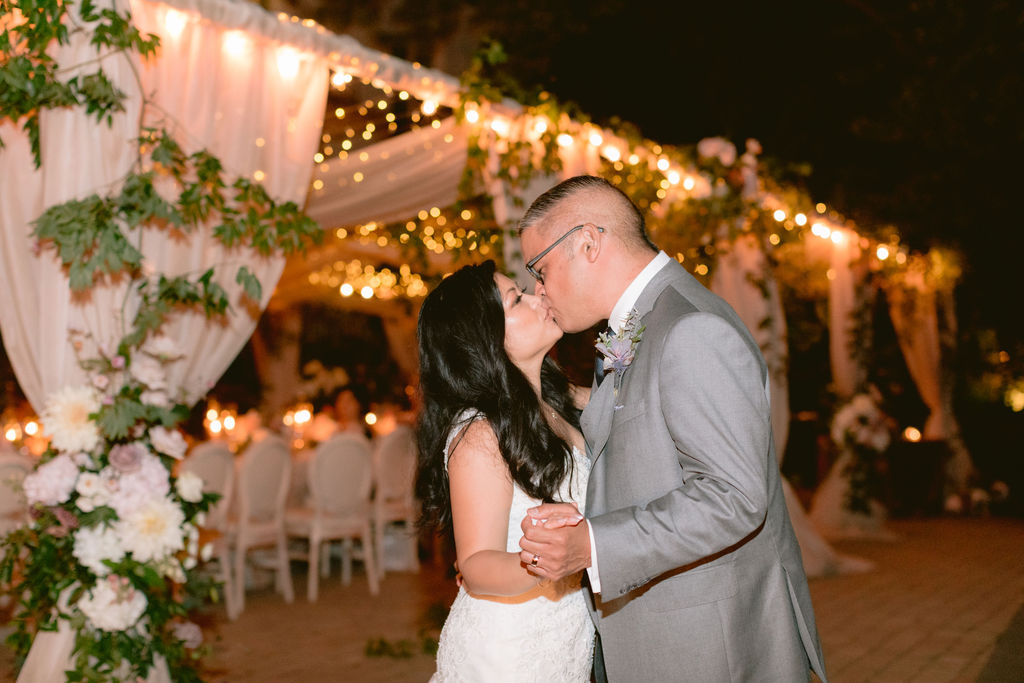 What tip would you give other couples?
It is challenging to plan a wedding while in the middle of a pandemic. It is easy to be overwhelmed with the stress. Remember that you are not alone in this process. It is easy to feel lost and unsure because these are uncharted waters. It was hard to find the guidance and feel the reassurance that everything is going to be ok, because a few people have been in these same shoes and understand.
The reality is that between you and your partner, your team of vendors, and your support system, you are all in this together. Everyone is as invested in making this day successful as you are. Collaborate with your team and know that any bumps in the road can turn into great stories, change can promote creativity, and opportunities are limitless even in a pandemic. And that perfect day you desperately want…well different versions of the perfect day are possible! These redesigned versions can be more beautiful than you originally imagined and just as meaningful.
Vendors:
Venue: Glen Sanders Mansion
Planning and Design: SMB event co.
DJ: Conway Entertainment
Photographer: YTK Works
Florist: Surroundings Florals Studio
Catering: Mazzone Hospitality
Rentals: Rain or Shine Tent Co.
Dress shop: Lily Saratoga
Dress designer: Essense of Australia
Hair: Julie Potter Master Stylist
Makeup: True Beauty Co.
Jeweler: Mayfair Jewelers
Custom Suit: Mark Thomas Men's Apparel