VOW Magazine Real Wedding: Jordan and Alex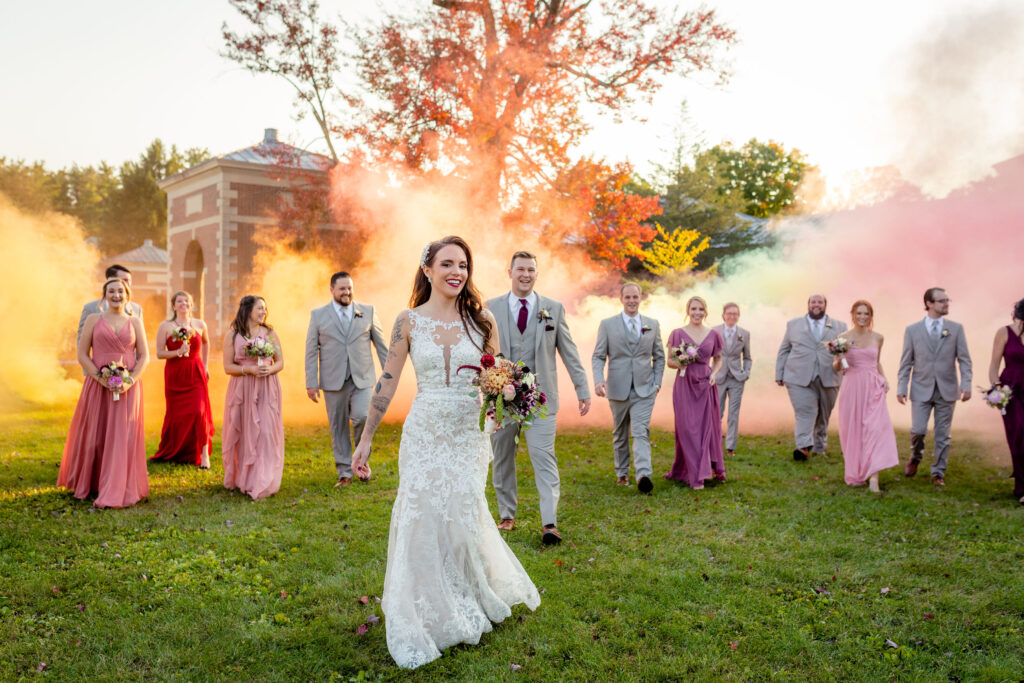 Photography by Romanello Studios
Personal touches took center stage at Jordan and Alex's intimate Hall of Springs wedding. Their Adirondack-themed cake, colorful smoke bombs, and donut wall are just a few of the features that made this wedding day unique. You can find their Real Wedding in the 2021 issue of VOW Magazine or by visiting https://storystudio.timesunion.com/vow-2021/.
We recently caught up with the couple to hear about their wedding day…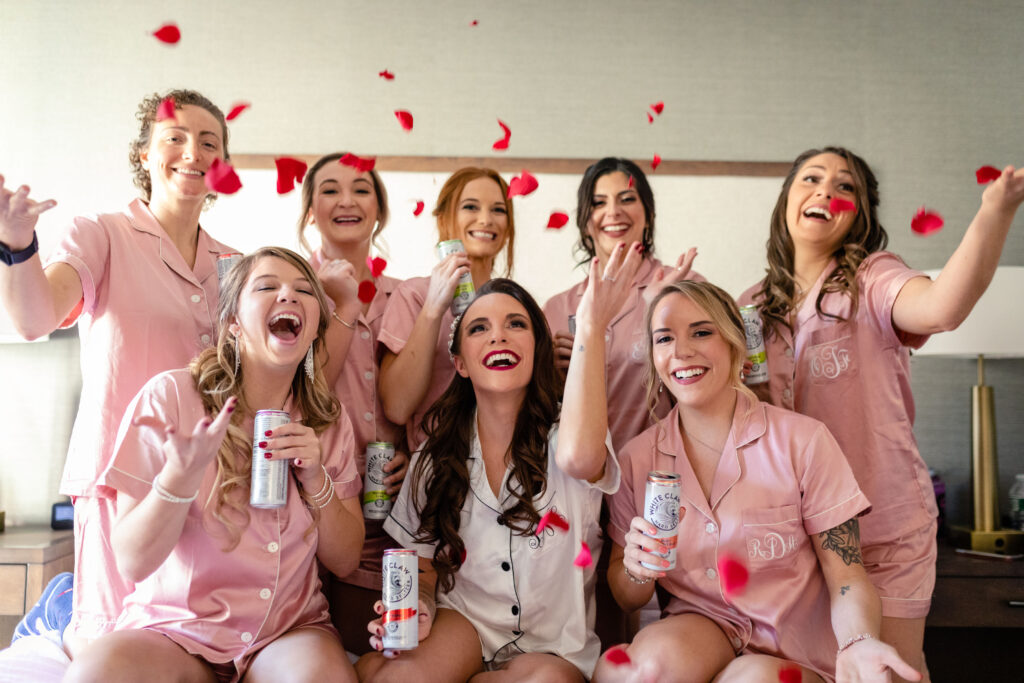 Why did you choose Hall of Springs as your wedding venue?
Our original plan was to get married at the summit of Hunter Mountain. Covid-19 disrupted that plan and we almost gave up hope until my mother reached out to the Hall of Springs. Growing up in the Capital District, the Hall of Springs holds many memories in my heart. We had our high school prom photos taken there, I ran cross country meets there, and my friends and I would gather there to listen to concerts coming from SPAC. It was so special to be able to get married at a place so close to home. The Hall of Springs turned out to be even better than our original plan could have been. We are so thankful things worked out the way they did.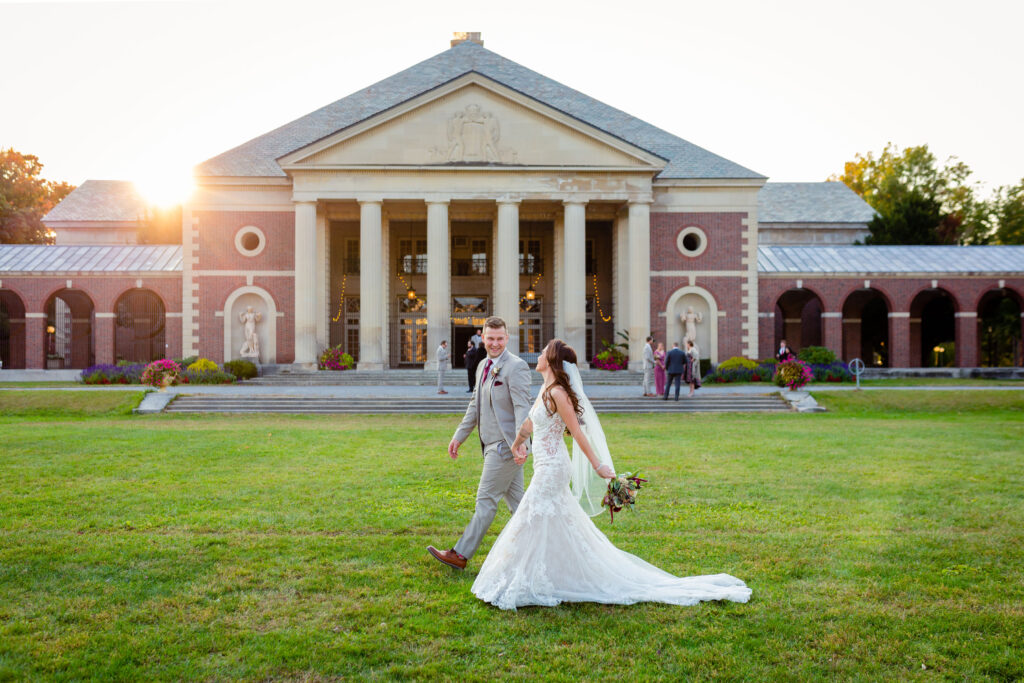 How did you make your day unique/ special / personal?
We made our wedding day unique through a couple of ways. Instead of doing a "first look," we did a "first touch." Alexander did not want to see me until I walked down the aisle. It was really special to hide behind the archways in the portico for a few moments to hold hands but not look at each other. Tears and laughs were shared and we were able to shake some nerves away by being able to have that moment together before the ceremony.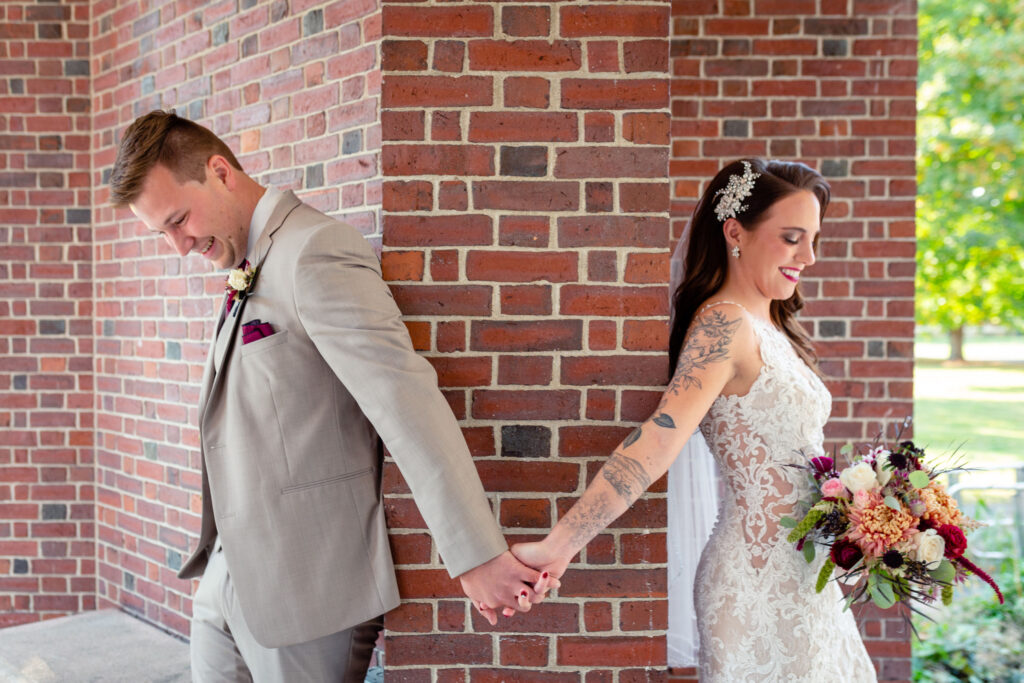 Rather than using sand for our unity ceremony, we used a tree. I put my soil in the pot and Alex put his soil in the pot. We watered the tree together and planted the tree in our back yard to watch it grow. We also used smoke bombs that plumed colorful smoke for a unique photo opportunity with our bridal party.
Our first dance was choreographed by Fred Astaire Dance Studios where we took 5 dance lessons. We kept it a secret until the big reveal. Our guests were so shocked and impressed by our fun, upbeat dance.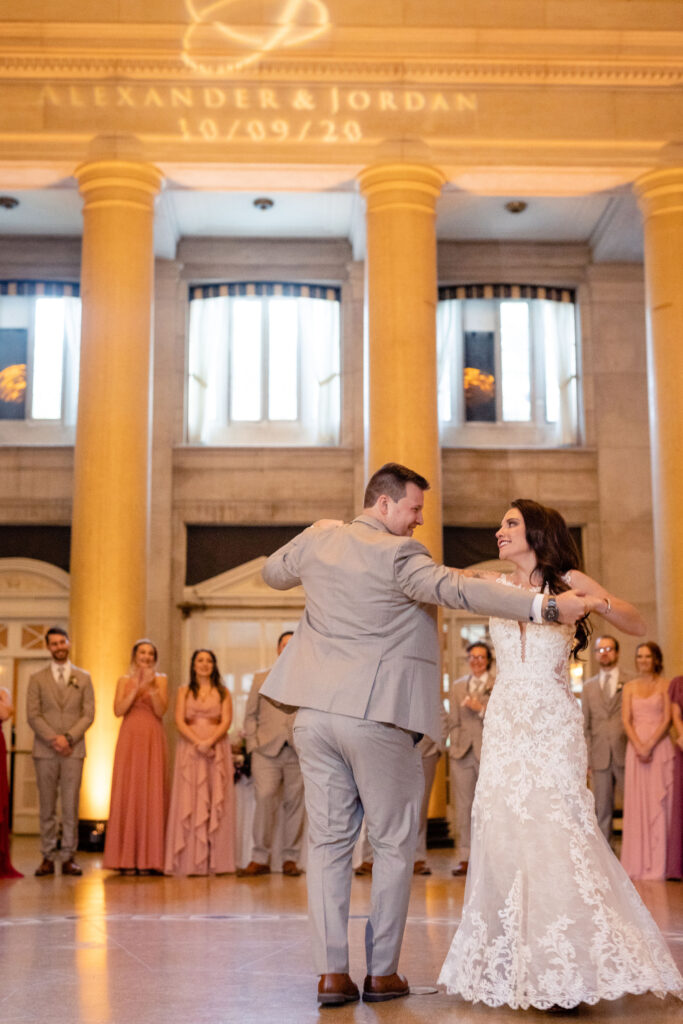 What was your most memorable moment?
The most memorable moment for me was when the ceremony began. My bridal party started walking down the aisle and the line got shorter and shorter and it hit me that the big moment was here. My 4-year-old nephew, who was the ring bearer, was standing with me and looked up and said, "you look beautiful." Right after that, my father took my arm and we were both overcome with emotion as we realized we were about to walk down the aisle together. After composing ourselves, we began the walk where I could see my fiancé filled with emotion and smiles, watching as I got closer. Our ceremony was beautiful and I'll never forget the vows we shared together. That entire 20-minute series of events was my most memorable moment.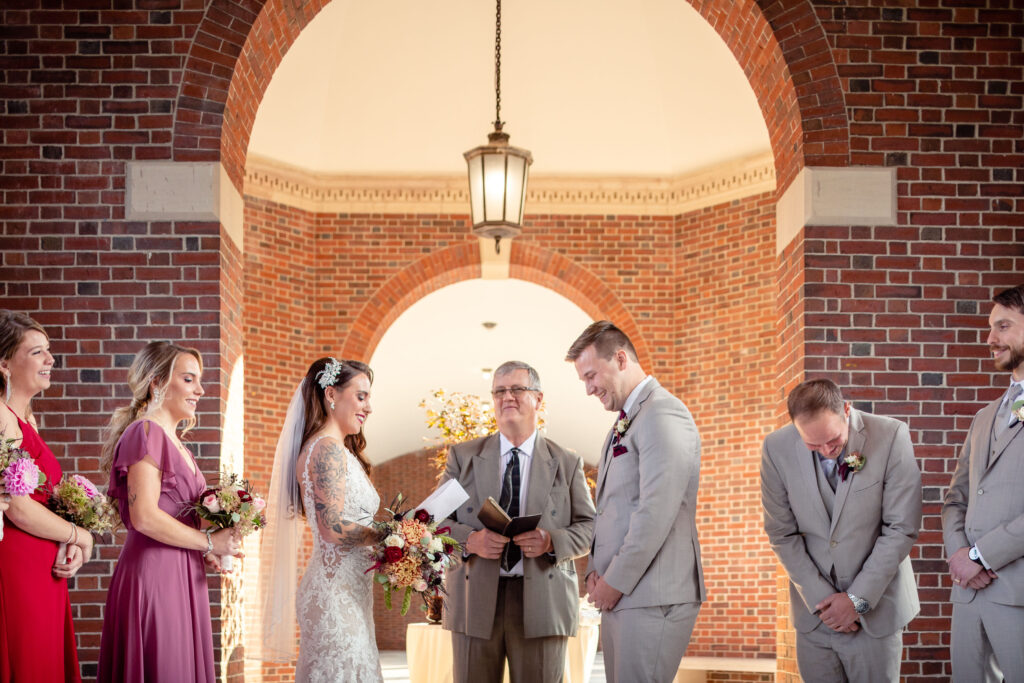 What was your favorite food or beverage item?
Alex and I were served a plate with a sample of each meal option. It was so nice to be able to eat not only one meal option, but all three! The Chicken Scallopini was my favorite.
What was your favorite part about working with the Mazzone Team?
The Mazzone team was amazing from the very beginning. They knew our original wedding plan was changed due to Covid-19 and they were so accommodating and welcoming. From the beginning planning stages to the rehearsal to the end of the wedding day, they were there every step of the way. They promptly answered every question I had leading up to the big day, they allowed me to bring in our decorations and did the set up and breakdown of everything. They were by my side all night during the wedding, making sure I was okay and had everything I needed. I could not have been more pleased. I highly recommend the Mazzone team for any special event. You won't be disappointed.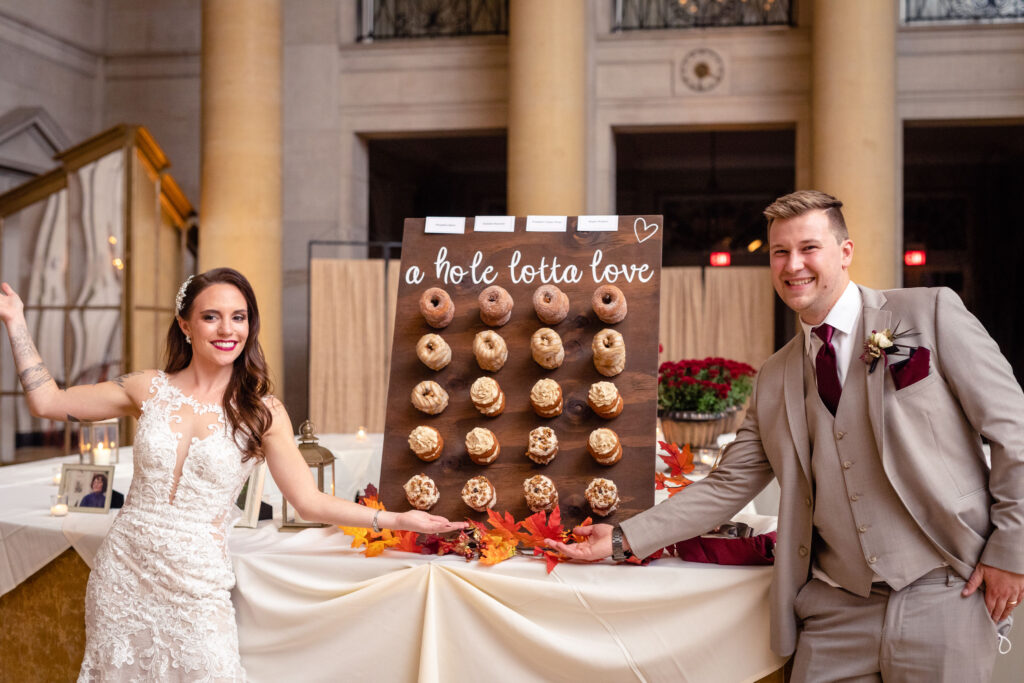 What tip would you give other couples?
Planning a wedding was hard enough but when Covid-19 hit, it became very discouraging. We we're close to giving up hope with having our wedding on our original date. We were limited to only 50 guests which was the hardest part. Although we were faced with the hard decision of choosing only 50 guests, we were determined to still have our wedding. That was the best decision we made. Our wedding was intimate and more beautiful that I could have ever imagined. It all worked out in the end. I recommend going for it! Your big day will be special no matter what you do because at the end of the day, it's about you and your spouse. Family and friends will understand.
Vendors:
Venue: Hall of Springs
Catering: Mazzone Hospitality
Photographer: Romanello Studios 
Videographer: Silhouette Art on Video 
Officiant: Pastor Randy Gross 
Florist: Renaissance Floral Design 
Bride and Groom Cake: Occasions by Dalina
Donuts: Cider Belly 
Dress Shop: Lily Saratoga 
Dress Designer: Essence of Australia 
Suits: Mr. Formal Wear
Bridesmaid Dresses: David's Bridal 
Hair/Makeup: Krystal Rose Studio 
Jeweler: Hannoush Jewlers
First Dance Lessons: Fred Astaire Dance Studios 
DJ: Lee Waddell 
Transportation: Royale Limousine Service