Real Weddings: Emily & Tim
When COVID-19 derailed Emily and Tim's wedding plans this summer, our bride and groom opted for an intimate ceremony with their closest family and friends at Glen Sanders Mansion. We recently caught up with Emily to hear about her planning experience.
Photos by Photo Phrame Photography
Why did you choose the Glen Sanders Mansion as your wedding venue?
We ultimately chose the Glen Sanders because it had that historic vibe and charm with a face lift, which was what we were looking for. We wanted a venue with character, but that also felt luxurious! We had booked an old inn, but unfortunately there was a fire. Glen Sanders was so helpful and accommodating in helping us stay on budget and still create our vision!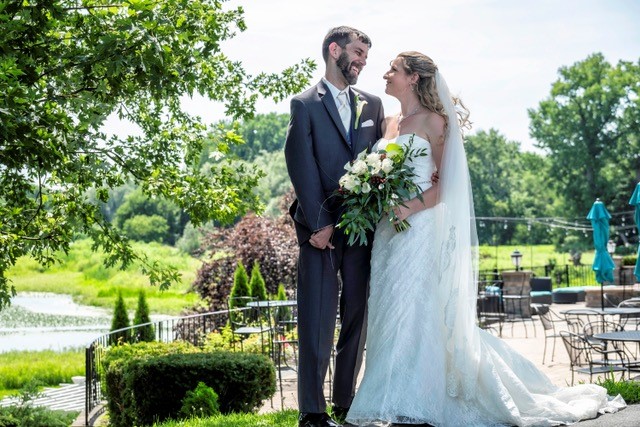 How were your wedding plans altered by COVID-19 and the restrictions in place?
Our wedding was initially supposed to be in April, however we had postponed it to keep everyone safe and healthy, and then everything ultimately shut down anyway. Our postponed date was in July, and we were hoping that would be enough time for things to pass, but there were still restrictions and health concerns. We decided to go ahead anyway with a much smaller group of just immediate family, and we are so glad we did! It was still magical and didn't feel any less special.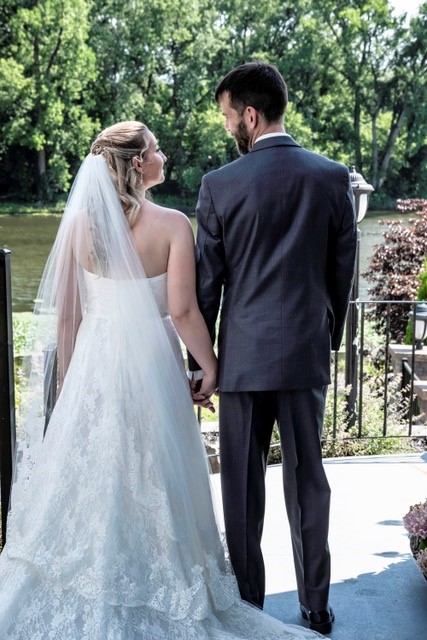 What made you decide to have a more intimate event rather than postponing your wedding?
We went back and forth about what to do, but ultimately we were more than ready to start our lives together. We have a few members of our close family who are older and have some health issues, so it was more important to us to have a smaller wedding safely with them in attendance, than postpone and risk them not being able to be there. Things are still so up in the air, and you never know what the next year could bring, so we didn't feel like waiting was the best option for us. Doing something bigger to celebrate with everyone else when it's safe and getting married now with our closest loved ones just felt right.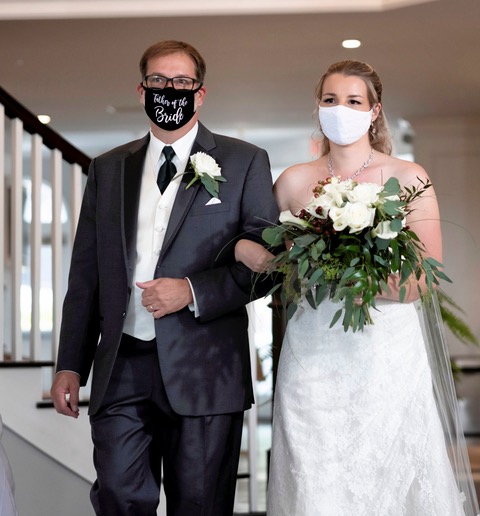 Did you do anything creative to make your wedding day special while keeping guests safe?
We had custom masks made for both the wedding party and the few guests we had. It was a nice touch that added a bit of fun to having to have masks in our pictures!
What advice would you give to other couples getting married during this time?
Do what makes the most sense for you and what is going to make you happy. If having 200 people at your wedding is important, postpone. If the number doesn't matter but the people there do, consider moving ahead. We were anxious leading up to the big day. Were we making the right choice? What if it wasn't as special as we'd hoped? All of that went out the window the day of. Glen Sanders made everyone feel safe. Staff were careful and kept their masks on the whole time. Our guests still cried at our ceremony and laughed and had fun at our reception! Honestly, we had more time to tune into all of that because there were fewer people! We actually got to eat our food!
One tip – while a full on dance floor is still not allowed, consider working in a fun activity or game. We did the newlywed game, and it was entertaining for our guests and fun. We also still had our DJ play so that there was music while folks ate. We played our parents wedding songs and a selection of favorites and people danced in their seats.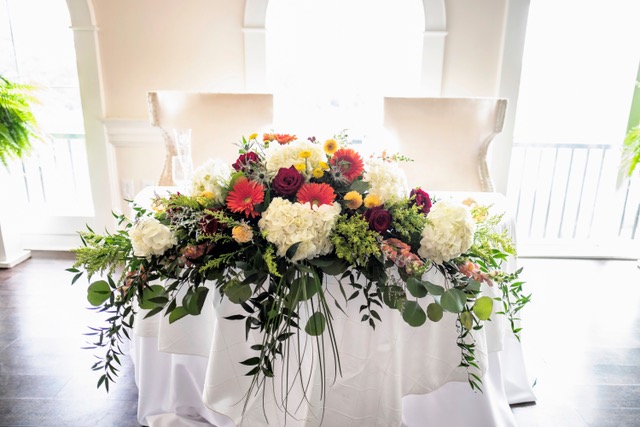 What was your favorite part of your wedding?
Hands down our favorite part of our wedding was doing our first look – seeing each other all dressed up that first time was a great moment. Our family watched from afar, so it was shared but also intimate! Second favorite would probably be the toasts! They had us laughing and crying. The food was awesome too, and the staff was so attentive! Shout out to Maki, who was my bridal attendant – she was always there with exactly what I needed without me having to say a word!
Mazzone Hospitality is currently offering special packages and menus for petite weddings and affairs. To learn about our petite wedding options and how we are prioritizing safety during this time, visit mazzonehospitality.com.