Behind the Scenes with Pam!
A Q&A featured in Vow Magazine, with one of the most well-loved members of the Mazzone Hospitality Team.
It's no secret that Mazzone Hospitality is well stocked with a superhero team of wedding and events professionals. But there's one name that always stands out – Pam!
Pam is a Bridal Attendant, who has earned the love and admiration of many Mazzone brides and grooms. What is a Bridal Attendant you might ask? Each is a highly trained, specialized, member of the Mazzone Hospitality service team. Every Mazzone couple is assigned a Bridal Attendant to offer personalized attention and assistance throughout the big day. We sat down with Pam to get the inside scoop of what it's like to be a Bridal Attendant, and how she makes sure the day goes off without a hitch!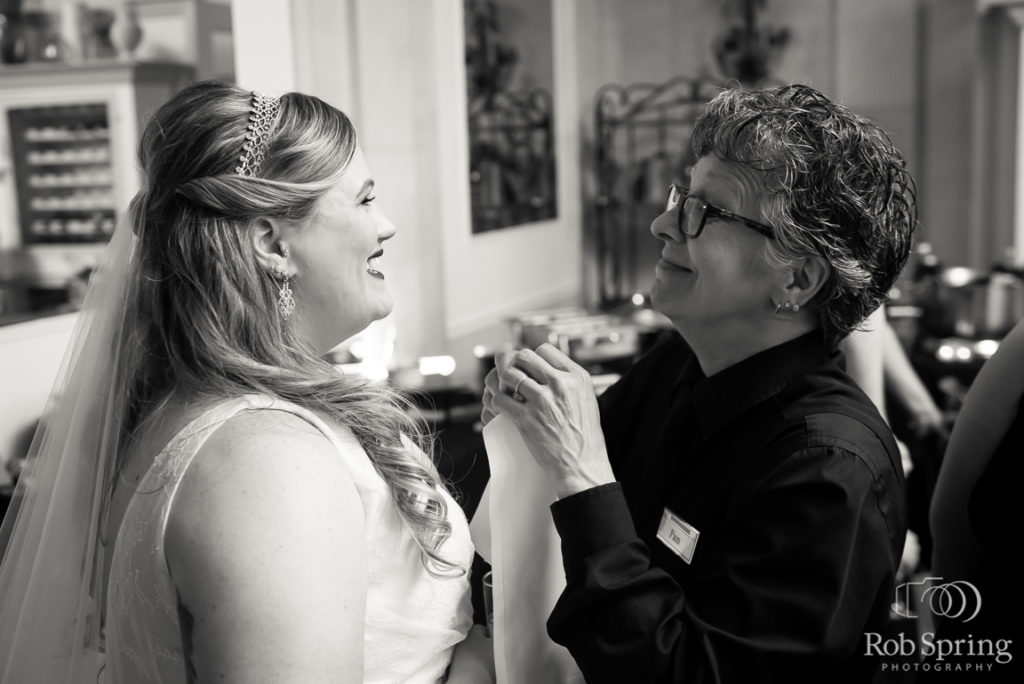 How long have you been with Mazzone?
Since 2000 I've been with Mazzone on and off (because life can get in the way), but mostly I've been on! Three years ago was the last time I was off. I was going to live in New Mexico, but after two months I was back home! Mazzone was good enough to hire me back – there's something about the Hall of Springs that just sucks you back in. It's the feeling of pure joy I get from helping couples have the best experience on the happiest day of their lives! It truly warms my heart.
Do you have an emergency kit prepared for the big day?
Well, that's a funny story. My husband wanted to buy me a bridal bag, so off to the fishing department we go. He finds this nice big bag – I'm laughing, saying that's too big. Jokes on me, because I could probably use a bigger one! I've got anything you could need. Curling iron, blow dryer, earring backs, glue and duct tape – DO NOT forget the duck tape. I once had a bridesmaid say just tape them on…… so I taped her shoes on! Thanks to the tape her shoes didn't fall off walking down the aisle – crisis averted!
What advice do you have for the day of, or to prepare beforehand?
Before the wedding make sure you can sit in your dress, and you have comfortable shoes and flip flops! When it comes to your wedding day, take time to eat and look around at all of those folks who love you. Enjoy the moment, it'll go so fast.
How do you feel about couples doing a first look before the ceremony?
I'd rather they wait, I'm old fashioned! I also love when they don't see each other but want to pray together or say a few words back to back, or on either side of a door or wall. But I also get how doing a first look makes the wedding day schedule run more smoothly.
Do you ever get stressed, and have to take a breather?
Who's stressed? Not me! At least they won't know if I am – everything always works out anyway. We're pretty good at putting out the fires. As far as a breather, I usually take one when they're out on the dance floor or on my break time; and by then I need it!
How do you deal with disasters?
Pray there aren't any! But I deal with them as they come along. Sew that dress, iron those wrinkles, remove the wax – I will make it all good, it's what I do!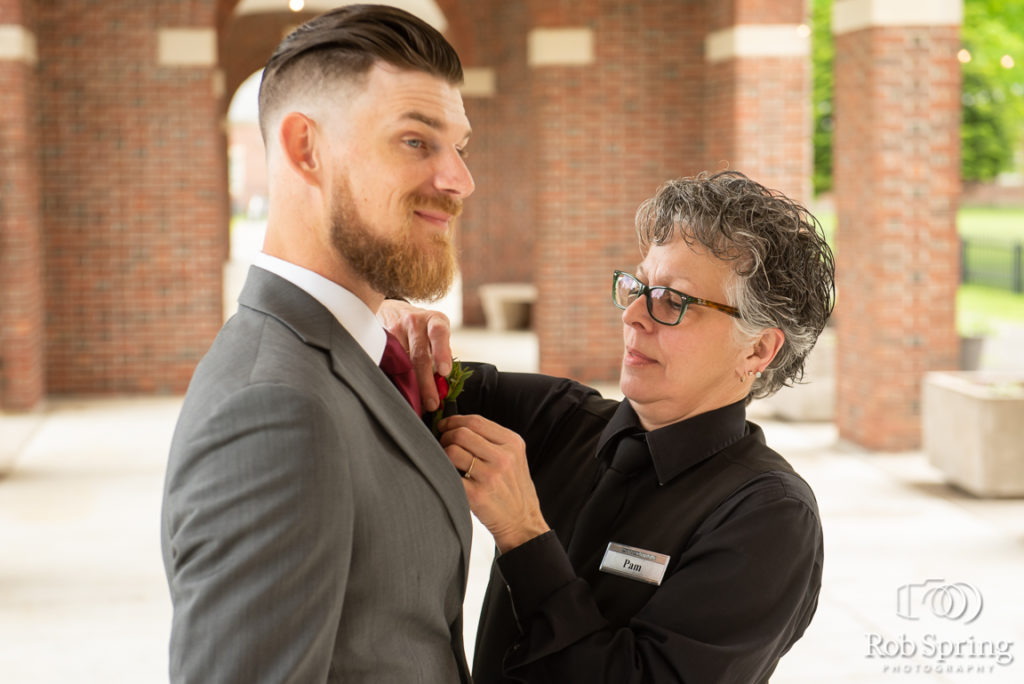 What are your favorite moments of the wedding day?
There are so many things. I love all the things that go on behind the scenes…. I wish I had a camera or GoPro™ to capture it all! That last moment with a bride's Dad is so precious. Then watching her walking down the aisle as a single woman, and becoming a happily married lady. It's the special moments like these that you never forget.
How do you manage a bride's stress?
I talk…… and I'm good at it! I usually ask how long they've known each other and where they're from – just small talk. They'll always tell me at the end of the night that I helped so much with their stress.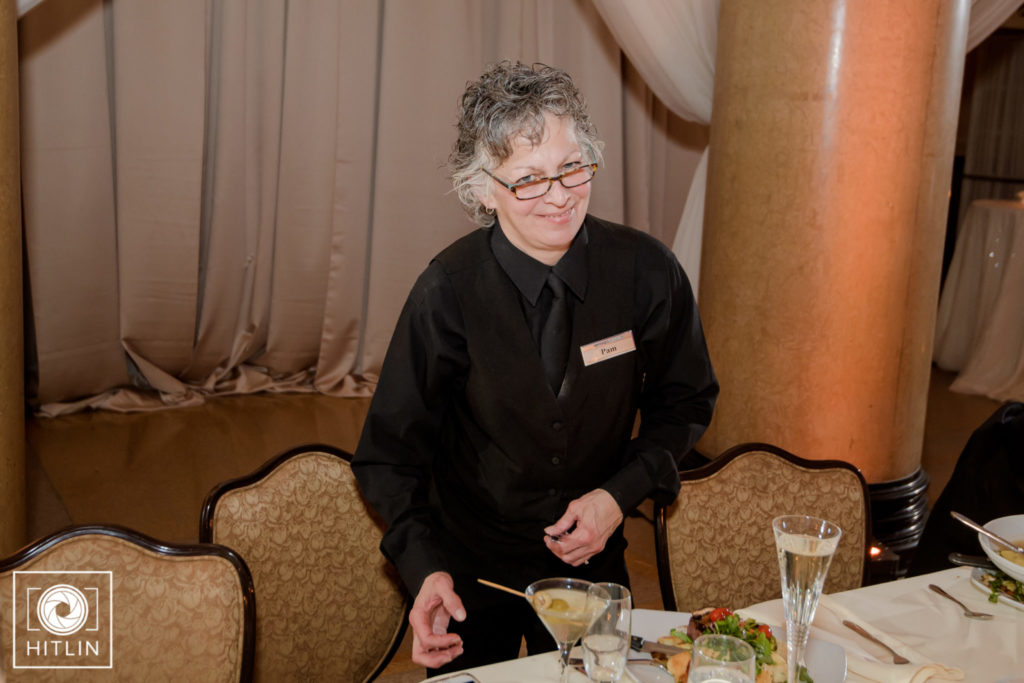 What is the most rewarding thing about being a bridal attendant?
The love I feel at the end of the night. I appreciate Mazzone for letting me do my job the best I can. Each day and couple are different – what worked yesterday might not today. I just had a mom say to me, "wow I thought you just stood there or something, I didn't know you do everything!" We have a good team, and I couldn't do it without them.
Any other memorable moments?
One time I forgot to give the bride her bouquet! I apologized and then we laughed because she didn't even realize it. I could honestly count the bridezillas on just one hand. I love the hugs at the end of the night, and the happy couple leaving saying how great it all was. That's the reason why I keep going back to do it all again.
Pam is famous with the brides and grooms who have worked with her – and we think it's pretty obvious why! She always goes above and beyond to make sure her couples are comfortable, cared for and happy. It's the people like Pam who make a bride and groom's wedding day truly unforgettable. We are so grateful to have Pam as a part of the Mazzone family!