Wedding Spotlight: Lindsey and Brian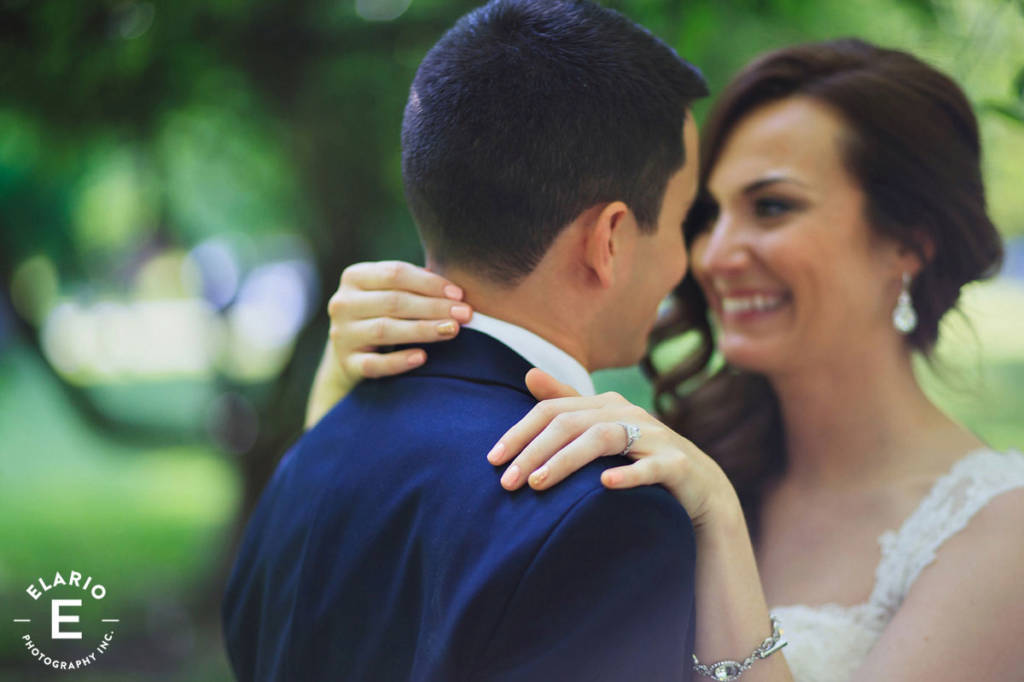 "Last Friday was perfection. We had wonderful weather, a great couple and an awesome venue. Lindsey and Brian tied the knot at 90 State Events in Albany but before that we stopped at Washington Park for first look and all of our pre-ceremony photos. Photographing these two was just easy, they are super into each other and clearly the camera loves them. Lindsey and Brian thank you so much for having us be a part of your big day. We want to wish you the very best in all your years to come. Congrats you two!" – J.P Elario (the incredibly talented photographer for Lindsey and Brian's wedding, as well as one of our preferred photographers ). 
This was such a fun couple to work with but the true star of the show was clearly their adorable chocolate lab!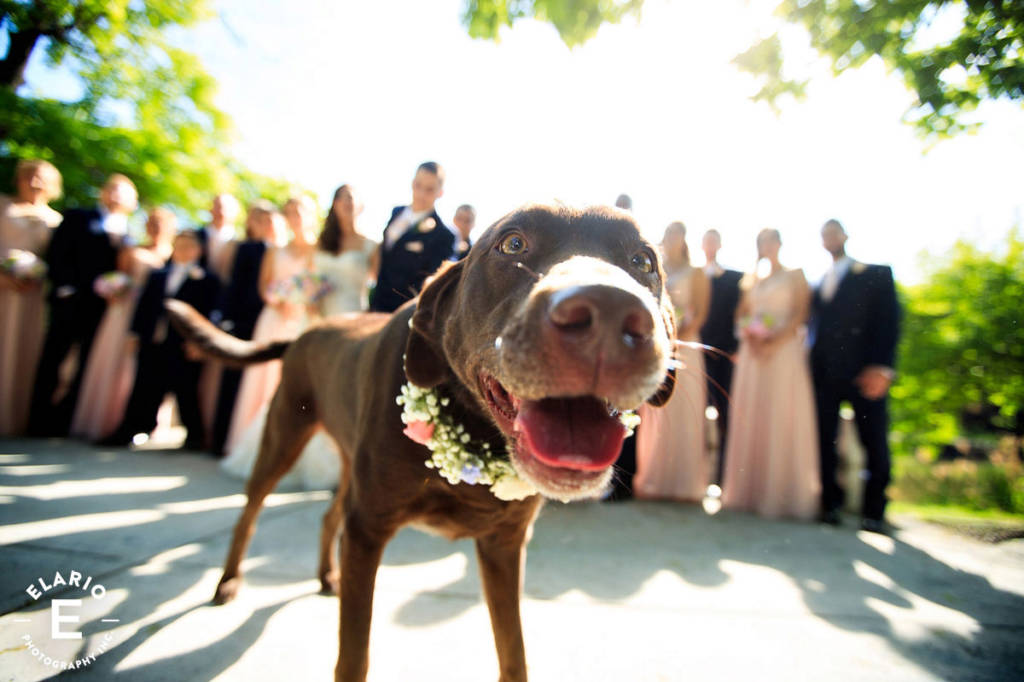 One of our favorite parts of our 90 State Events venue is the location. Couples are able to get the best of both worlds. Chic, urban architecture in the heart of Downtown Albany, NY – yet they're just two streets down from the picture perfect scenery of the Washington Park!
How bright and beautiful are these pictures of the bride and groom?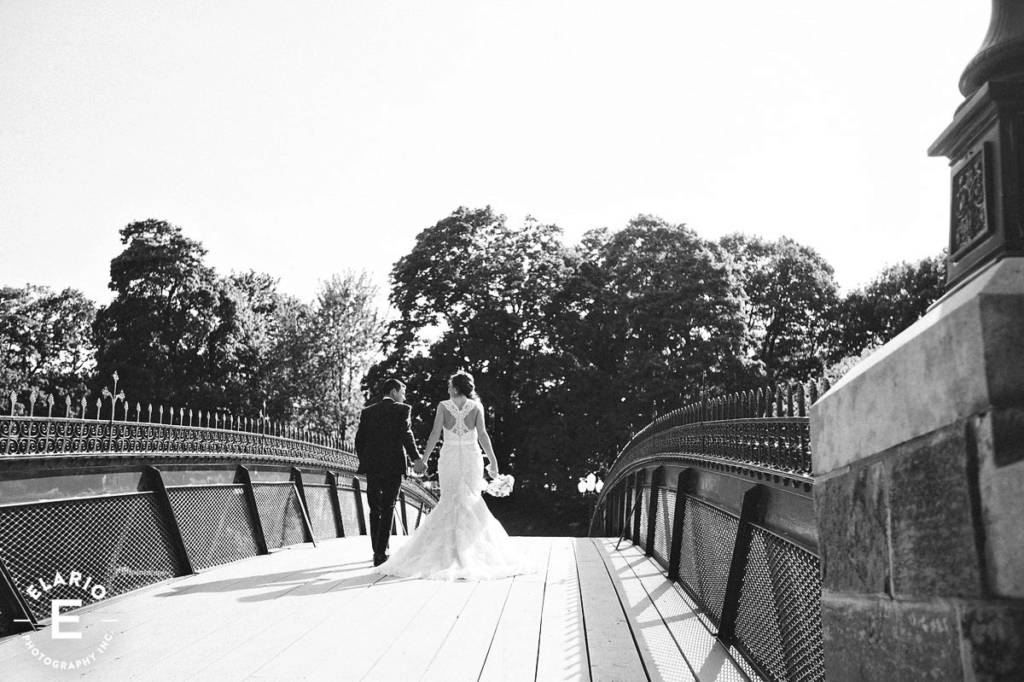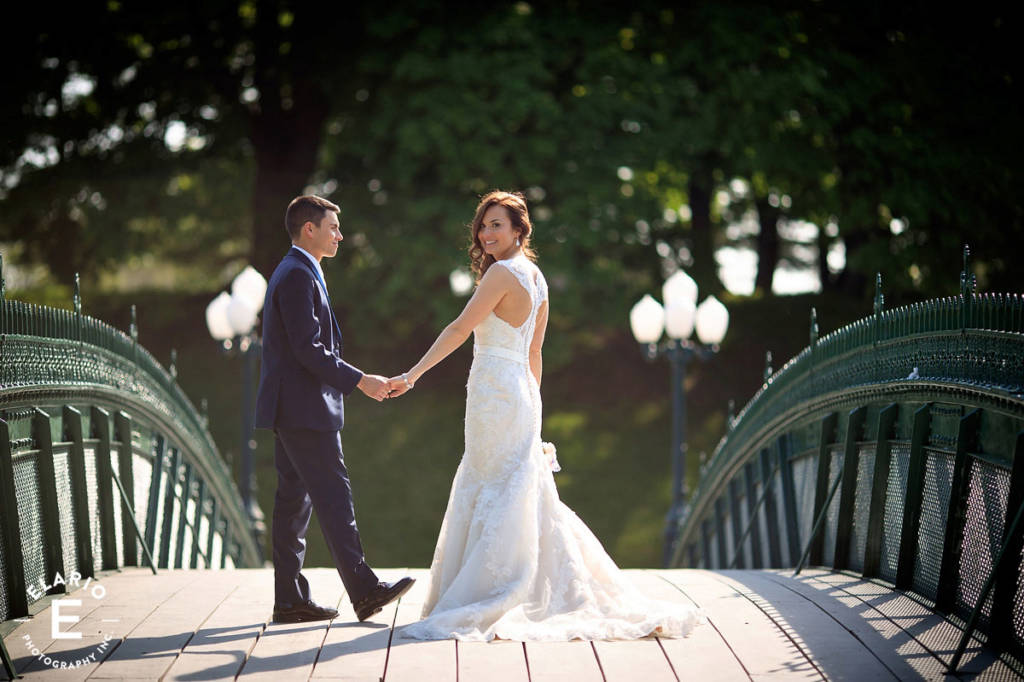 Once the reception started back at 90 State, you could truly feel the LOVE in the air.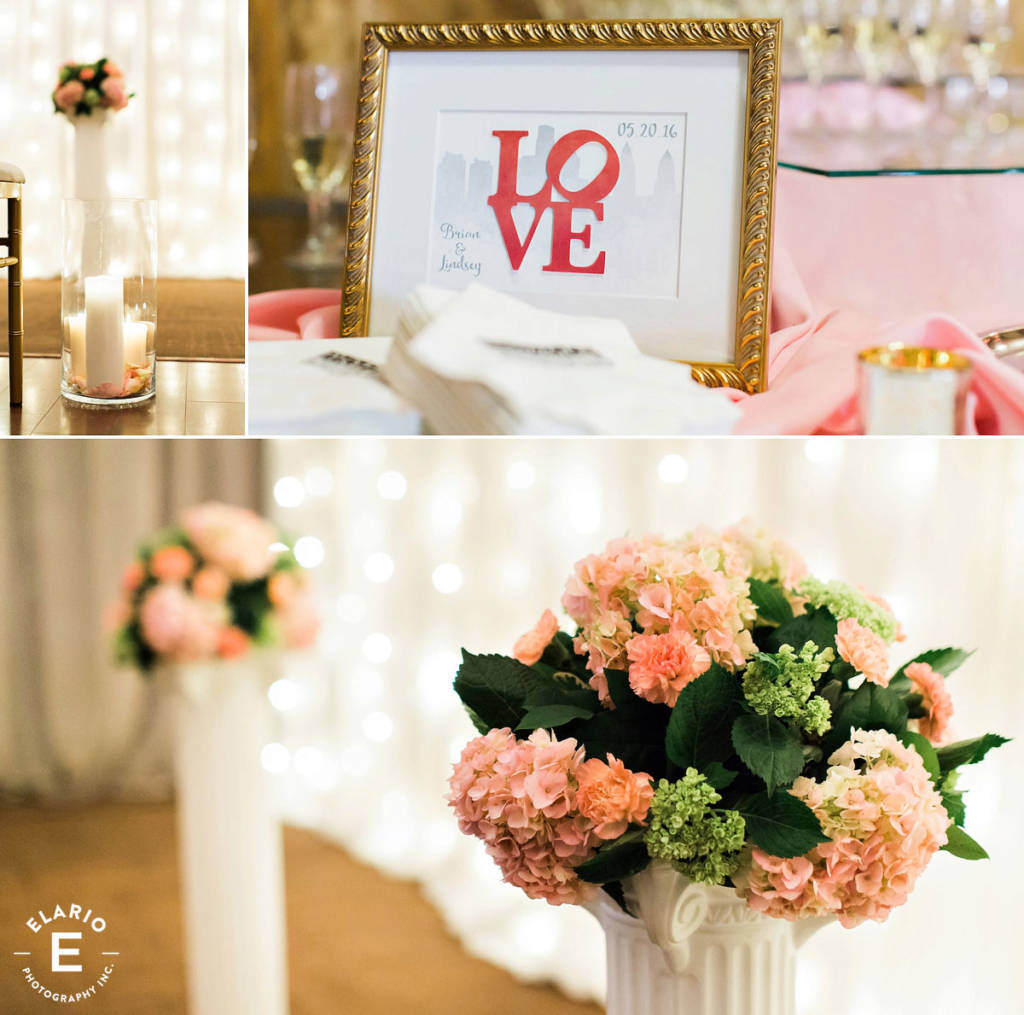 The ceremony and reception took place at the venue and the beautiful stretching ceilings and columns created an effortlessly romantic backdrop to the event.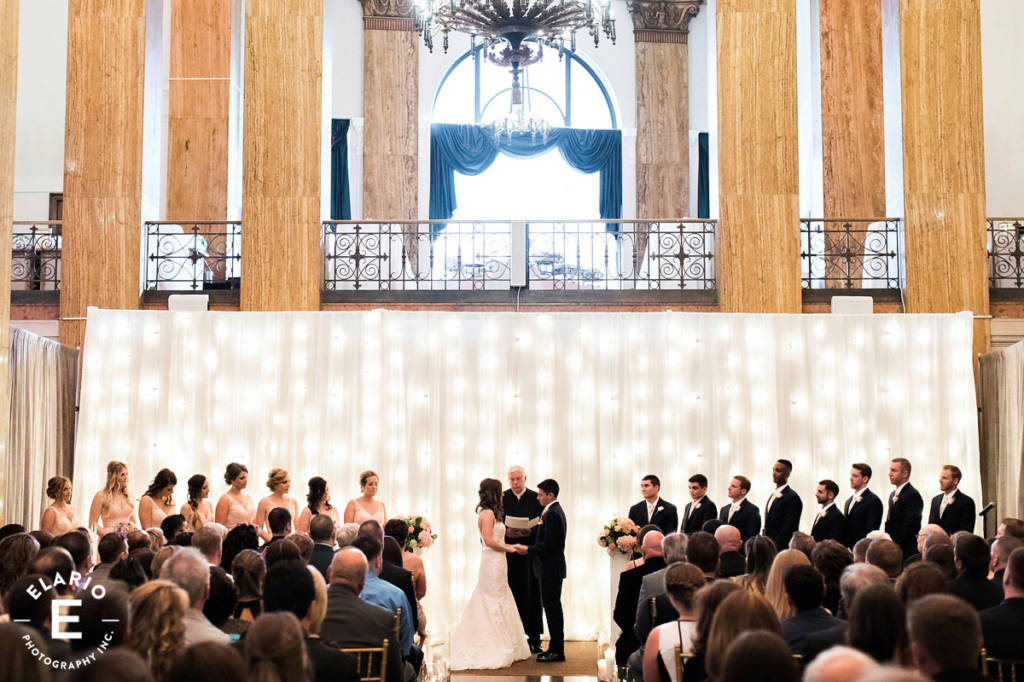 After the ceremony, the party began! The menu included a cocktail hour, sit-down dinner and a late night nosh station.
Passed Hors D'oeuvres
Grilled Lamb Chop with Black Pepper Spiced Mustard Sauce
Short Rib Grilled Cheese with Sharp Cheddar and Caramelized Onions
Shrimp Shooters with Horseradish Cocktail Sauce and Lemon
Edamame Wonton with Sweet Soy Chili Glaze
Onion Applewood Smoked Bacon Turnover
Petite Philly Cheese Steak with Local Artisan Cheddar Cheese, Peppers and Onions
Wild Mushrooms, Shallot and Mascarpone Souffle with Truffle Oil Creme Fraiche
Sesame Chicken Satay with Soy Ginger Glaze
Entree
Rose Petal Salad with Baby Greens, Frizzled Leeks, Warm Goat Cheese Crostini, Rose Petals and Champagne Vinaigrette
Slow Cooked Boneless Beef Short Rib with Maple Whipped Sweet Potato, Snipped Green Beans, Roasted Mushrooms and Chianti Braising Gravy
Chicken Scallopini with Egg Battered Breast, Mini Potato Ravioli, Chive Butter, Caramelized Leeks, Thyme Glazed Carrots and Lemon Veloute
Grilled Eggplant Rollatini filled with Summer Vegetable Caponata, Smoky Tomato Puree and White Bean Garlic Sauce
Late Night Nosh
Burger and Cheeseburger Sliders with Fries
The decor was blush pink and white, which accented the interiors beautifully.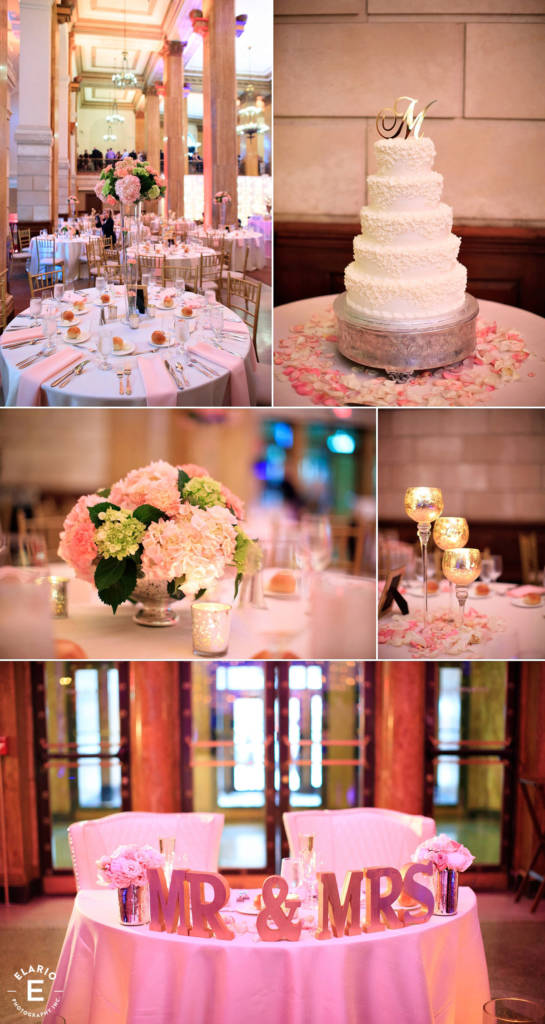 Cheers to Lindsey and Brian!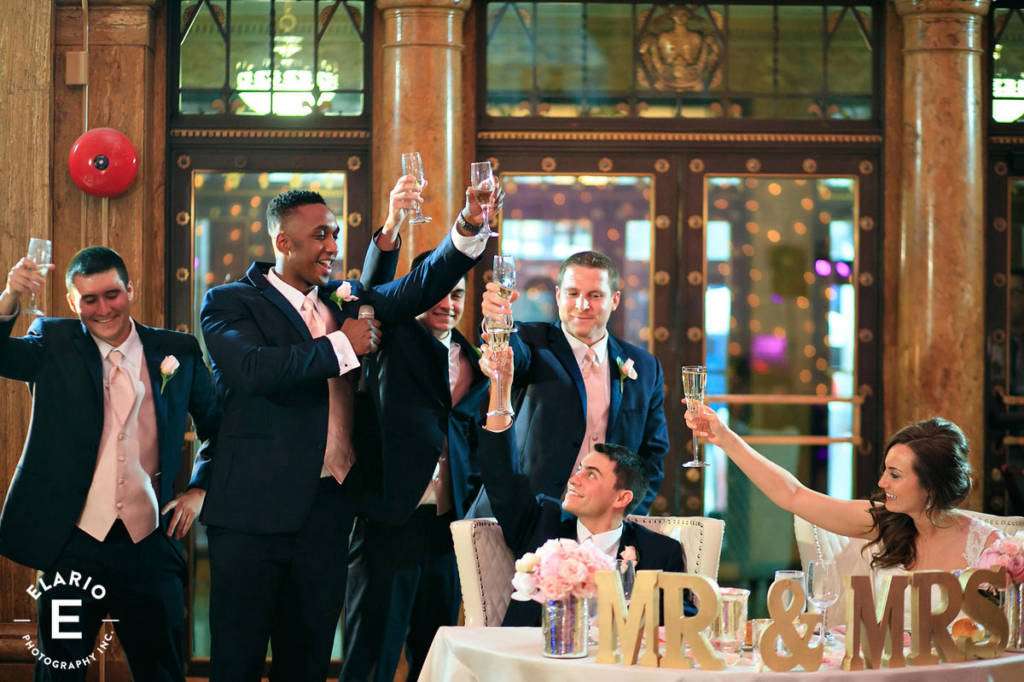 For more photos, check out Elario Photography's Blog!