How to Plan a New Year's Eve Wedding
New Years Eve is always a cause for celebration, so why not incorporate the biggest celebration of all into the holiday—your wedding!  Booking your wedding for New Years Eve will guarantee you and your guests have a celebratory evening and a memorable way to end the year. And what better way to ring in the New Year with all your friends, family, and new spouse by your side?
Since most couples tend to marry on a weekend night, NYE weddings only seem to be possible every few years.  However, since the following day is a designated holiday, your guests won't have to worry if you choose to have your ceremony on a Sunday night.  It just so happens that NYE for both 2016 and 2017 just so happen to fall on Saturday and Sunday evenings!
Once you've settled on the date, the next step is figure out the timeline of your wedding. Since many people stay up later than usual on NYE, you have to think about keeping the bar and dance floor open later, if permissible.  Talk to your venue about the possibility of an extended bar and DJ in your wedding contract.
THE DÉCOR
The first things that come to mind when you think of New Year's Eve are glitter, sparkle, and glamour, which are all elements you should incorporate into the theme of your wedding.  Whether it's a decked out glamorous tablescape, or the subtle sparkle of a glittery hairpiece accent for the bride, there are thousands of way to make your night sparkle and shine!
When it comes to NYE weddings, the popular color palette that couples go with is black and gold. These are also the colors that are common in champagne bottles, coincidence? We think not. This color combination tends to give off total Gatsby vibes aka lots of glamour, elegance, and the feeling your party is going to be talked about for years to come.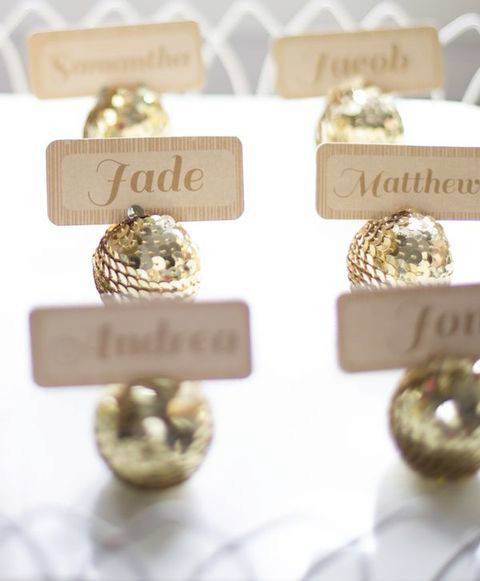 We love how this wedding played into the New Year spirit with their table escort card holders being little disco balls that reminds us of the infamous one that drops one the clock strikes midnight.
Wedding favors are pretty standard these days. If you're strapped for ideas on what to give your guest to show how happy you are that they're here to celebrate with you, give them something to celebrate the New Year with! Whether it'd be a noise maker, or something to cheers with, you never want to start the upcoming year empty handed.
We personally find the little bag of Hershey kisses hilarious for a wedding favor, now everyone can get that New Years kiss at midnight. You also won't regret it the next day!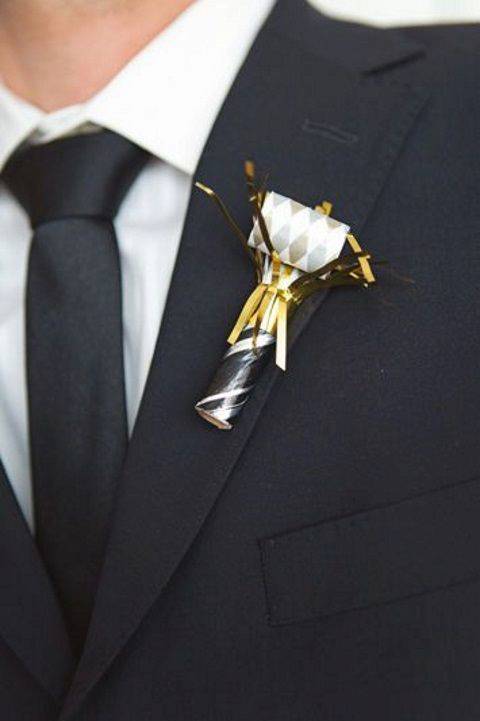 This is one is solely for the essential gentlemen of the big day: the groom and his men. Instead of going the flower route, have your party favor right by your side as a makeshift, yet creative, boutonniere option. With all the colors these noise makers come in, your bound to find one that fits the color palette of your wedding.
A Little Something Extra…
Festive Photobooth
Enhance your photo booth with some glittery accessories and signs to get guests in the mood to count down till Midnight!
Champagne, Champagne, Champagne
Champagne and NYE go hand in hand, so why not create a special midnight toast by poppin' your favorite bottle of bubbly?
 Champagne towers is straight out the Roaring 20's. They're over the top, glamorous, and all around so mesmerizing to look at. However, if you want to incorporate one in your wedding, there is a fine art in how to build one properly. Luckily, the wedding guru herself, Martha Stewart, has a easy step-by-step list on how to recreate one on her website here.
Midnight Hour Noshes
If you're planning a sit-down dinner in the early evening, chances are your guests will be hungry come midnight. This is a perfect time to bring in some late night snacks to the party.  We've mentioned how Late Nigh Nosh stations are becoming a staple rather than a trend in the wedding industry due to the fact of their popularity and the amount of options couples have. From sweet to salty, you can select your late night menu to whatever your late night craving will be.
From our Retro Malt Station to our delicious pizza fresh out of a wood-fired oven, we know what we're talking about when it comes to creating Late Night Nosh stations for our brides & grooms. Plus from all the champagne poured over the course of the celebration you and your guests will be super thankful you put this late night treat on the menu.
The Grand Finale!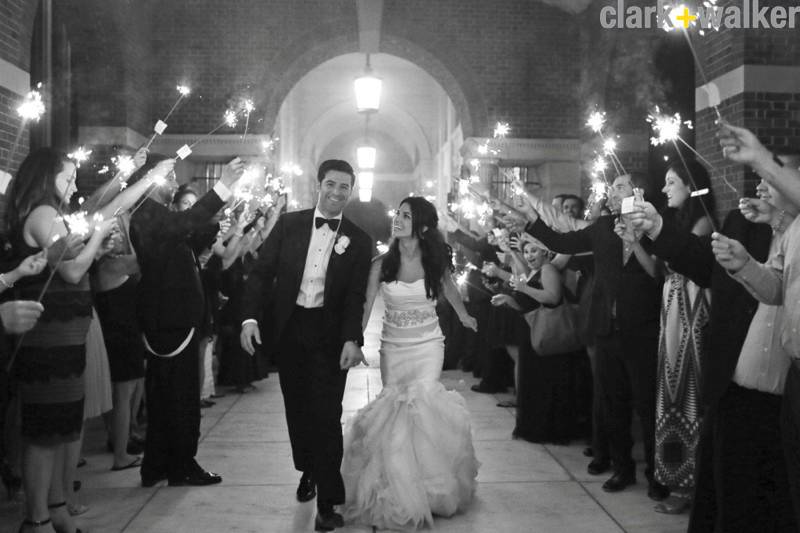 After everyone counts down to midnight and dances the night away, you and your new spouse still have to the end with a bang, it is the New Year after all! Give some sparklers to your guests as they light up your exit and night!
We hope that these tips & tricks for an awesome New Years Eve wedding inspire you for 2017 and years to come. Have a Happy New Year and an amazing 2016!
· Follow us on Instagram for latest wedding scoop at @AisleFilesBlog ·