Preferred Pros: Bisou Wedding & Events
With the amount of time, effort and even stress that goes into wedding planning you'd think it'd be considered a full time job! I mean, it does comes with full benefits; you do get to marry the love of your life once all the planning is compete. Except, why deal with the stress in the first place? Wouldn't it be nice to have someone who knows your wedding vision just as well as you and your partner do and can act as a helping hand? That's where Bisou Wedding & Events comes in.
Creating beautiful and unique events is what Bisou Wedding & Events does best. Founded and owned by Sarah Fichtman, she established the company to assist couples in turning their wedding dreams into realities, whatever they may be. You know that amazing Wedding board full of decor and theme ideas you have on Pinterest? Well, Bisou Weddings can bring it to life and execute it flawlessly.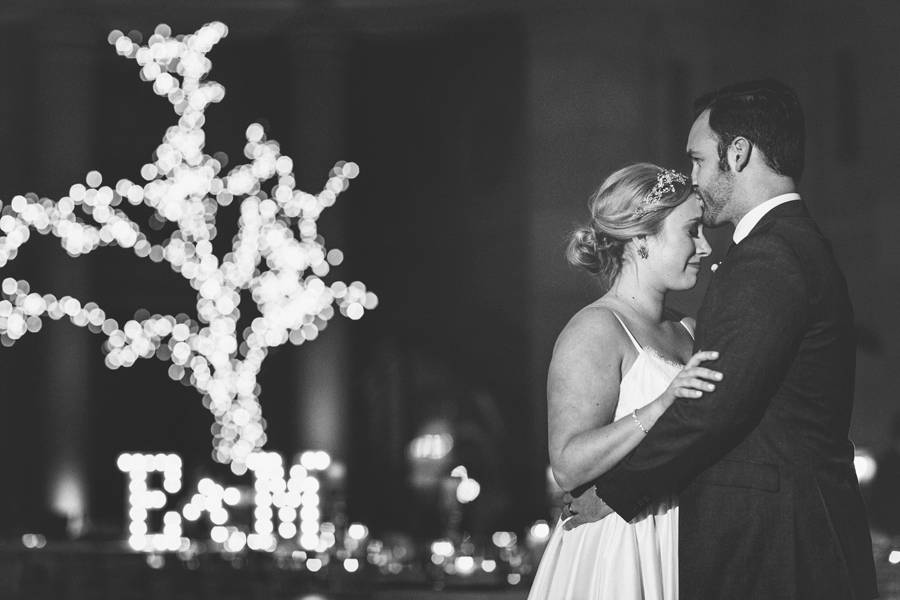 Bisou W&E created a romantic ambiance for this winter wedding at the Hall of Springs
Before becoming a successful businesswoman and wedding planner, Sarah was an actress in New York City. Her previously profession made her comfortable with putting on productions and paying attention to the fine details, which when you think of it, is basically what planning a wedding is all about. When Sarah moved to Upstate NY, she realized the skills she possessed on top of her love for weddings made her a perfect fit for the wedding industry. According to Sarah, her first step when working with a couple is getting to know them. By that she means getting to know their personalities: what foods they love, where they've traveled before, the tidbits that can lead to ways to personalizing their wedding and making it their own.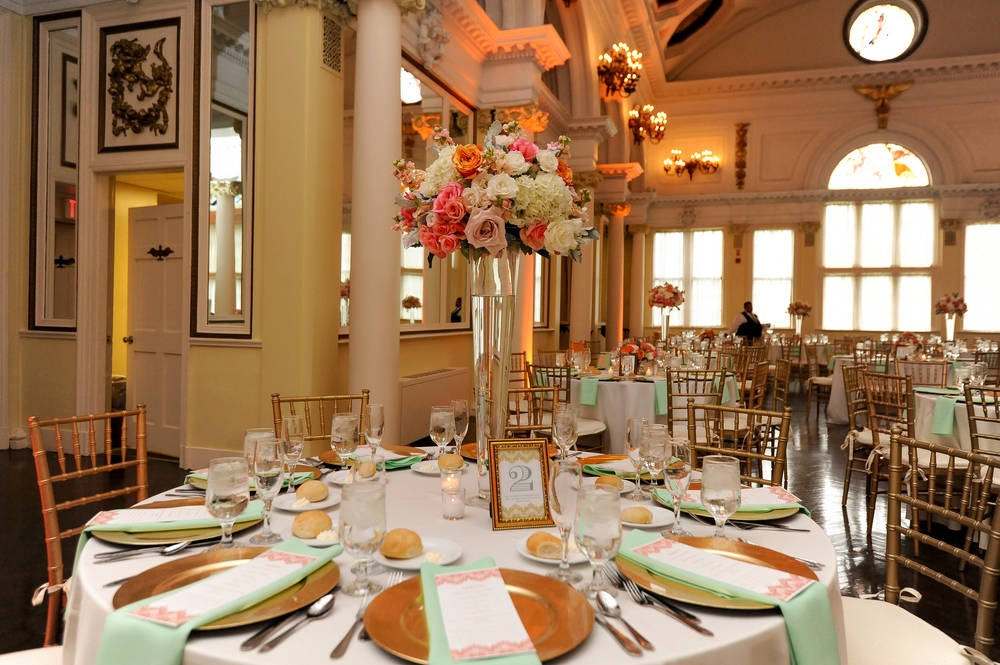 Elegant meets understated in this summer wedding at Canfield Casino by Bisou Weddings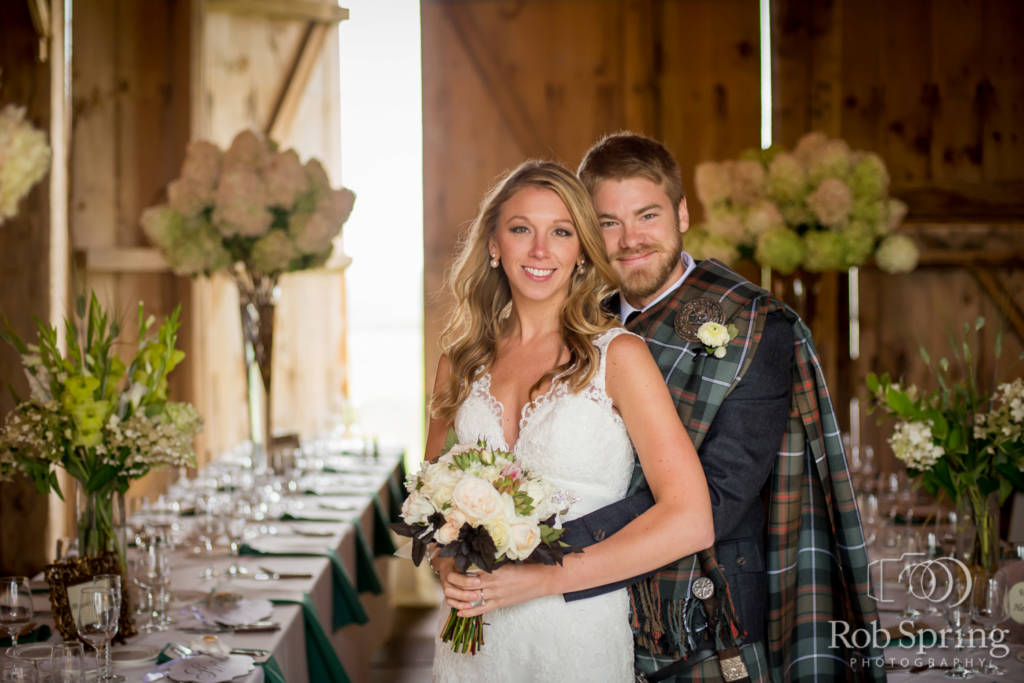 A combination of rustic and modern elements come together in a wedding at The Barns of Nipmoose
Bisou Weddings isn't your standard wedding planner, they offer a wide array of services since not every couple has the same needs. They do offer traditional, full-service wedding planning & design services where the wedding planner works closely with the couple from the first sit-down meeting all the way to the end of the wedding reception. If you have your wedding already planned out, you can still use Sarah and her team's services on your big day if you want! They offer a package for the day of your wedding where they take care of all the final details and make sure your wedding goes off without a hitch, a la Jennifer Lopez in The Wedding Planner.
There is a special service that Bisou Weddings offer that caters specifically to every client, A La Carte. If there's one aspect of your wedding that needs handling, whether that'd be helping establish a budget, designing table settings, even planning the rehearsal dinner, it's handled. Sarah believes that the beauty of having a wedding planner today is that it isn't a luxury and now more attainable than it was considered to be in the past since her company works with all kinds of budgets.
It was all about having fun at this modern style wedding at the Glen Sanders Mansion
When I spoke to Sarah, I wanted to know what the latest wedding trends were most likely going to be this year, straight from the expert herself. According to Sarah, naked cakes, which is nixing the outer layer of buttercream so that the texture of the cake and the colors inside are shown, is huge right now in the dessert aspect of weddings (Here at Mazzone we can definitely verify this, Naked cakes requests are coming in like hot cakes)! That old saying where bridesmaids can't look good on the wedding day is no more because some of the latest trends involve them. Whether that'd be ombre colored dresses, bridesmaids mixing & matching styles, and now top + bottom separates for a more modern look are taking over. The coolest trend I heard was that bright color palettes were being switched out for neutral ones, but to spice them up, they were being accented with metallic. I, for one can not wait to see what Sarah and her clients come up with for the  next year!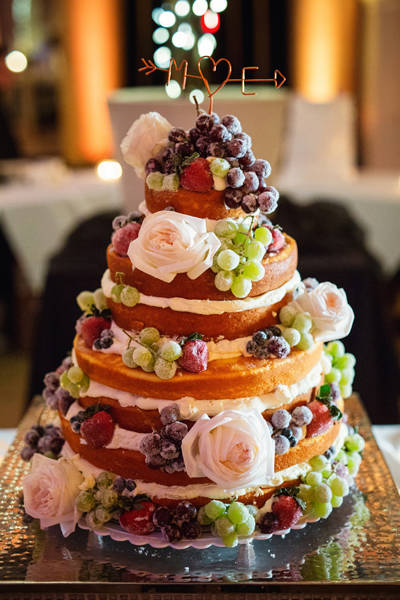 A "naked cake" at the Hall of Springs
Even though all her success is hard earned, Sarah really credits this area of Upstate NY because of how much it offers the wedding industry, whether that'd be the city landscape in Albany or the country aspect in the Adirondacks. She loves her job because every day they're are new clients, new venues, and new ideas that they bring to the table. You can see why here at Mazzone Hospitality we believe Bisou Wedding & Events is one of our Preferred Wedding Vendors because we can relate to their passion for wedding and creating amazing events.
For more information on Bisou Weddings & Events, go to : http://www.bisouweddingsandevents.com/
Aisle Files is now on Instagram! Follow us at: https://instagram.com/aislefilesblog/