Fun Find: Welcome Bags
Depending on where you hold your wedding reception, many guests will try to make a weekend of all your wedding festivities!   The first part of their stay during the weekend would be checking into their hotel room.  Why not kick off the weekend with a fun, and thoughtful welcome bag??
 Here are some cute ideas that your guests will absolutely love!!
Personalize you're welcome bags around you and your sweetie's favorite childhood candies, music and common items that you grew up with!  This is where a disposable camera would be fun to pack for guests to bring to the reception and after party, pixie sticks or pop rocks, a small personalized bottle of soda with your wedding date and photo as the label, and throw in some favorite tunes from when you were younger!  Your friends would really appreciate this flashback!!
(Photo Credit: RealSimple.com)
Having a hometown wedding?   Pack some of the local's favorites into a decorative bag for your guests!  Perhaps you have a brewery in town or a vineyard close by, or maybe the town is famous for producing a certain type of food?  Pack everything in, along with a site seeing map and list of "must see" places to visit during their stay!
(Photo Credit: Elizabeth Ann Designs)
(Photo Credit: Pinterest)
Destination Wedding? All the more fun creating your welcome bags!!  Pack a nice tote bag with different ite
ms that your guests can find useful during their weekend visit!  Traveling to somewhere warm, and under the sun? Pack a beach tote with some sun screen, a pair of sunglasses, a bottled water, and a pair of flip flops!  Planning a weekend up in the snowy mountains? Prepare your guests for the chill with some mittens, hand warmers, and hot chocolate mix!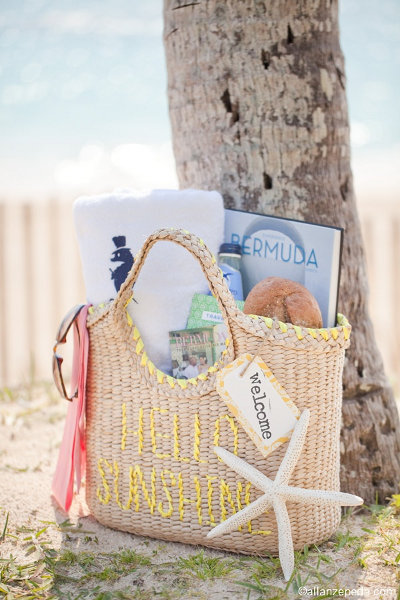 (Photo Credit: IntimateWeddings.com
Are you both avid sports fans? Create a welcome bag surrounding your favorite sports teams!  Supply munchies such as popcorn, peanuts or cracker jacks, and either customize water bottles, or supply them with a personalized beer coozie!
(Photo Credit: RealSimple.com)
Don't possess the creative spark or the time to put together elaborate welcome bags?  Anything that coordinates with your wedding theme and colors would make putting your bags together effortless!  Add munchies, water bottles and/or miniature wine bottles to your specified colored bag, along with color coordinated tissue!  Tie on a nice welcome and thank you note for attending your wedding.  You're guests will appreciate your thoughtfulness!
(Photo Credit: Pinterest)