Hot Trends: First Look
First Look… Yes or No?
What is a first look? A first look is when the bride and groom see each other before their ceremony.  This moment is only shared by the bride and groom in a private setting. Some say the first look is taboo while others say it is a moment to capture true and intimate emotions! Having trouble deciding? Here are a five reasons to consider having a first look!
1.       Wedding Timeline…
As we all know, your special day is full of activity! When planning and coordinating the timeline of your day, you must consider timing for your wedding photographs. By having first look photos, your photographer can work with your timeline capturing personal bride and groom moments and arranging time for any additional photographs you would like including: family & bridal party photos!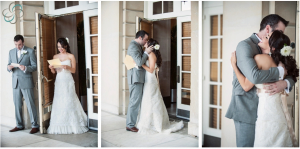 2.     Natural Light
Depending on the season you are getting married, natural light can cause disruption in photo opportunities.  If you have a first look, you can have capture important photos with a beautiful/natural outdoor setting.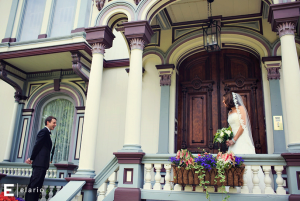 3.  Romantic
Those who have incorporated first looks into their special day will testify the moment they saw each other was both romantic and genuine. First look allowed them to see each other alone without the distraction of others.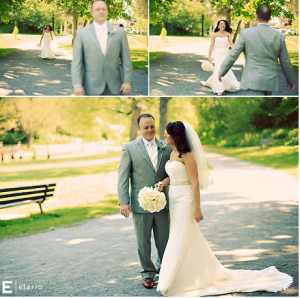 4.       Stress-Free
Those who have a first look are said to be less anxious before the ceremony.  Although couples have already seen each other before the ceremony, the experience is completely different when a bride proceeds down the aisle. Nothing can replace a bride and groom seeing each other at the end of the aisle knowing in moments they will officially be married!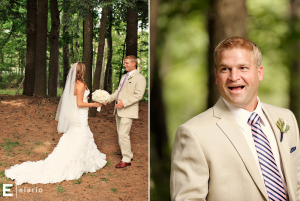 5.       More Reception time
By having first look photos allows more time to spend with your loved ones during the reception, after all they came to celebrate you! Reception time should be filled with great food, beverages, laughs, & dancing!