Fun Find: SoleMates
I am so excited for this fun find! Particularly for Spring and Summer weddings, it is hard to stand straight and take pictures if you are sinking into the ground with your heels or standing on uneven surfaces like gravel.
These heel protectors will spread out the surface area of your heel, allowing you to stand without sinking or falling!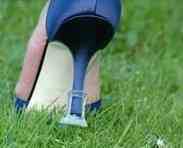 What a great gift for bridesmaids!!  Available in clear, black, silver, gold, and now glow in the dark, they will match any pair of shoes.  They are available here, or at local retailers like David's Bridal.