Fun Find: Horseshoe Table Numbers
I have noticed more and more weddings here in Saratoga with table numbers named after famous horses, be it past Travers winners, past Kentucky Derby winners or what have you.  I have seen a lot of placecards with horse heads, horse silhouettes, etc.  Here is something I have never seen.  I found it on theknot.com and I think they add a little something extra to the tables, horseshoe frames!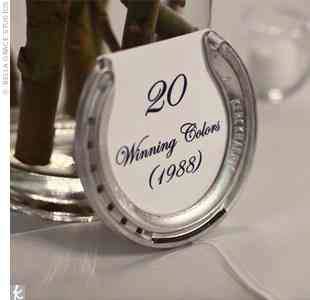 Thinking about having tables names after horses?  You can buy the frames here.