Expert Excerpt: Tom Wall Photography
Every few years, the buzz in wedding photography completely changes.  It was just a few years ago that brides and grooms were asking all kinds of technical questions about film vs. digital.  It's safe to say that that question has been answered pretty convincingly, to the point where most of today's clients assume that pros shoot only digital. 
One of the latest trends represents a major shift in the photography industry, and I feel that it can result in a real disservice to many clients!  Since digital imaging has now come so fully into its own, many people are now representing themselves as "wedding photographers" who never would have been able to do so back in the "old days" of film.  Buy a digital camera and a computer, and presto!  You're a wedding photographer!  Or are you?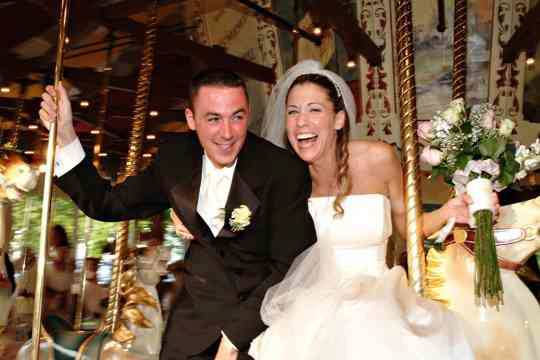 Everything that made a pro a pro in the film era, still applies today.  Training, ongoing education, top quality equipment, staff, liability insurance, real-world experience—you know, all the things that constitute a "real" business—are just as essential as ever to provide a top-quality product for a once-in-a-lifetime event.  All the best intentions in the world are no substitute for a real pro, especially at a fast-paced event such as most weddings, where thinking fast can be the difference between getting a great shot and getting no shot at all.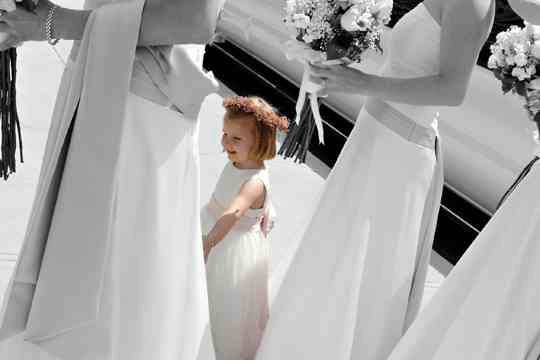 One of the things that has always struck me about a client's decision in hiring their wedding photographer is that it's the one area of their planning that they generally have no experience in at all.  Everyone knows what kind of food and music they like, and most of the other major areas involved in putting a wedding together are things that they can see, and decide if it's right for them.  But in choosing a photographer, couples go from studio to studio, looking at pictures of people they don't know, at events that are wildly different from their own.  On top of that, they're hearing terms that they're not too familiar with, and trying to assess how it will all play out at their own wedding.  Obviously, it's a difficult decision!
Now add to that yet another complication.  Pricing among photographers is all over the map these days, and this is largely due to the "semi-pro" photographers I mentioned above.  Let's say you're a groom-to-be (and your fiancé is letting you participate in this decision), and you're seeing prices from $800 to $8,000—this is where it gets really difficult!  Look at the value of each package, taking into account all the things I've already mentioned—and don't forget that you also want to choose someone you're confident you'll enjoy working with.
One of the reasons I'm sitting at my computer right now writing this is because of a conversation I had with a young woman the other day—she's a stay-at-home mom with a (barely) part-time business, doesn't have an account with a professional lab or album company, has a pretty marginal camera (and no backup!), and has no idea how to design an album.  And yet, she's booked a few weddings for this year, with prices in the $1,500-$2,000 range!  Wow!  I also saw a fair amount of her previous wedding work—well, I want to be careful here, so I'll just say she has lots of room to grow!  Of course, I hope her clients end up happy with her work, but I really wonder.  I couldn't help but laugh to myself at her own account of how she tells people she's not a "traditional wedding photographer"—well, I guess that's one way to put it!  My point?  Be a smart consumer, and be sure you're hiring someone who will provide all the quality and range of services you'll want.
Be aware that there are very substantial differences between the true professional cameras (costing $5,000 and up) and the "prosumer" versions.  A good assistant and/or second photographer can be a huge asset to any photographer, no matter how experienced he or she is.  Spending time with the clients before the wedding, and working out a schedule for the photography, always makes the day go more smoothly,  and assures that the bride and groom will enjoy their day more.  And then, working with the newlyweds to turn their memories into a spectacular album that they will cherish for a lifetime is yet another area that is essential to doing the job right.  As a matter of fact, do you know what all this adds up to?  It's just good customer service.  Be sure all your vendors care about every aspect of your big day!
Being a great photographer is still all about hard work and experience, just as it always was…and just as most things are!  And being a good consumer is all about doing your homework—if you do it right, you'll end up hiring a real pro, who will blow you away with stunning work, and who will be worth every penny!
Tom Wall
518.463.0445
All images in this post are the property of Tom Wall