St. Patrick's Day Wedding Inspiration
St. Patrick's Day is a celebration of Irish culture and religion. Parades, parties and festivals take place all over the world to commemorate this day. No matter your heritage, what better way to celebrate this elated day than with a celebration of love. For all the lovers of beer, bangers and mash; we have some inspiration for your St. Paddy's Day wedding extravaganza!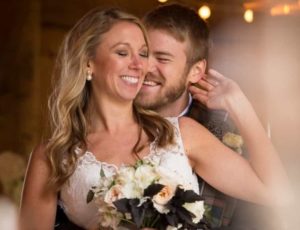 Sham-Rocking Out
Nothing rocks quite like a traditional Irish band. Forget a DJ or string quartet and hire an Irish band to play at your unforgettable reception. Your Irish rockers will keep the energy high, and your guests on their feet. Make sure to tell your guests to bring their dancing shoes….or as a party favor have green flip flops waiting for your guests in heels!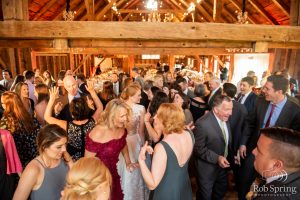 To keep with the Irish theme, ask the band to play some traditional Irish songs at your ceremony. Just make sure to tell them not to rock out too hard while you walk down the aisle!
Something Green….
Green is the official color of St. Patrick's day; it would be a shame not to incorporate it into your wedding theme! The green came from the Shamrock, a symbol of Ireland and St. Patrick's Day. Gold is also often associated with St. Patty's Day, for that lucky pot of gold; and it pairs perfectly with green. Pay homage to these color traditions with your decor and attire. Green or gold dresses for your bridesmaids, and ties to match on the groomsmen. Use gold as your accent piece, or green; either way, you'll love the look of this theme!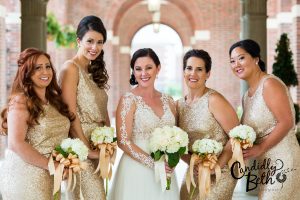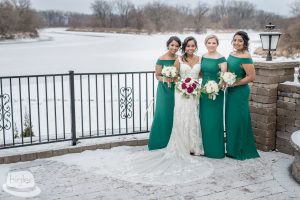 What St. Patrick's Day bride is complete without her something green? Make a statement by walking down the aisle holding a bouquet of green; succulents or green carnations will do the trick. Go even further and say your vows under a beautiful green canopy. At your reception incorporate shamrocks into your centerpiece, or have a moss wall to add some natural green. The moss wall also doubles as a gorgeous backdrop for a St. Patty's photo-op!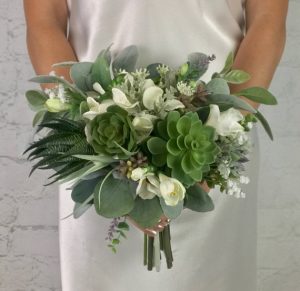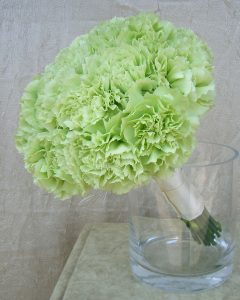 Luck O' the Irish
As a special gift to your groomsmen, give them a little luck to wear as they stand with you at the altar. Gold shamrock cuff-links are the perfect gift to share with your best buds to help them get as lucky as you!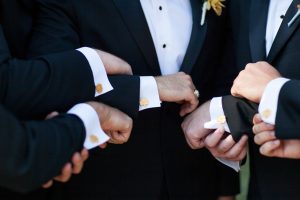 Make sure you share the luck with your guests too. As a party favor, give them a lucky key chain with a rabbit's foot, or a horseshoe to keep with them on their travels. The key chain will always be a reminder of the celebration they shared with you on such a special day!
Irish Treats
There are endless possibilities for St. Patty's inspired treats. Go traditional with your tastes and serve up a buffet-style smorgasbord of Irish classics like corned beef and hash, Shepard's Pie, and potatoes fried, boiled and mashed. After dinner bring out the treats! Serve up cupcakes with Bailey's frosting, whiskey caramels and green macaroons.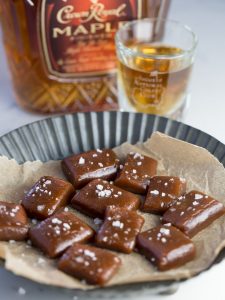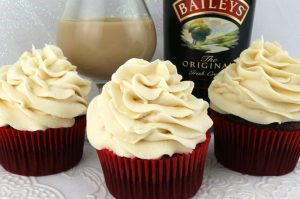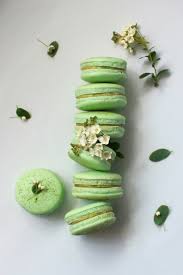 No St. Patty's Day celebration is complete without drinks. To satisfy your inner-Irish bring on the beer! Serve some classics like Guinness and your favorite Irish Stout. For your guests who prefer cocktails to beer, make a signature green-themed drink. Try a Cucumber Mint Mojito for something refreshing, or Spicy Matcha Margaritas if you're looking for a little kick!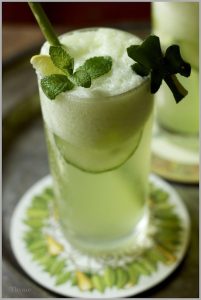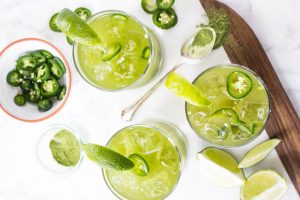 No matter how much or little you incorporate St. Patrick's Day into your wedding theme, the spirit will be with you and your loved ones as you celebrate your special day!