Fun Finds: Painted Shoes
Being that we love shoes here on the Aisle Files blog, this was a great find from Pinterest!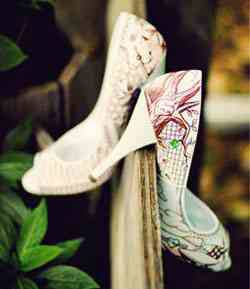 Figgie Shoes based out of Canada will custom paint any pair of shoes (as long as their not patent leather) according to your personality, your wedding colors, things you like to do together as a couple, etc.  It could be anything!!! What a great keepsake to wear on your wedding day.  They even do group orders if having your bridesmaid's shoes done is something that you would be interested in.  What a cute gift to your bridesmaids!
These make a great idea for a wedding, but they can be done for anyone, not just weddings!