Ethnic Wedding Series: Indian Mehndi
Mehndi is an integral part of Indian weddings. Mehndi are the temporary Henna Tattoos that are applied to the bride at Indian Ceremonies.  This ritual of Mehndi signifies strength and power of love in a marriage.  Typical bridal motifs are flowers, conch shells, peacock, doli and baraat patterns.  We have had a few Indian Weddings at The Hall of Springs recently.  Remember Sonia and Carlos?  Here is what Sonia's Mehndi looked like.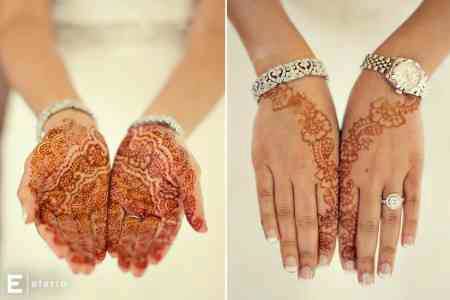 A Bride's Mehndi also usually includes her husband's name somewhere hidden in the intricate design.   The groom must find his name as evidence of sharp eyes and an active brain to impress his bride with.
The application of Mehndi is done typically on the eve of the wedding.  The bride, dressed in light colors with light jewelry, usually is at her house or at a banquet hall.  The mehndi is either applied by a professional artist or her family.  The first motif, in Indian culture,  is typically applied either by the sister-in-law or the bride's mother. This is a very festive night with women dancing and singing traditional songs and dances.  The party surrounding the ritual is usually just the brides family and is for blessing the bride and amusement.
The Mehndi itself symbolizes the adoration of the bride and epitomizes her transformation from a virgin girl to a temptress for her husband.  According to the Karma Sutra, henna is one of the 64 arts of women.
Mehndi is not permanent, but does stay for a few days to a week.  It is said that the deeper and darker the stains, the more the bride's in-laws will love her. As well, the longer the bride retains her henna after the wedding, the more prosperous and bright her future will be.