Just Jen…and James!!
At one of our latest event planner pow wows over cookies and coffee (a must have for any successful pow wow), we were discussing the blog and things that may be interesting for people to read about. Our Director of Sales (and your favorite HOS event coordinator) Kevin Sykes, came up with this brand spankin' new series.
Jennifer Grogan is Banquet Manager extraordinaire based at the Hall of Springs. Not only that but she is a soon to be bride this December 31st!  Kevin thought, and we all agreed, that she has a really unique perspective on the planning process because she sees around three different weddings every weekend all year round and she is smack dab in the middle of her own fabulous wedding planning process.
What we want to accomplish with this series is to take you a bit deeper into the planning process.  We will touch on inspiration, vendors, attire, hurdles, time lines, decor, anything else these two love birds are willing to share with us.
First things first our stellar intern Emily volunteered for the task of interviewing the soon to be couple to find out how it all began….here is their story….
AF: How did you two meet?
JG: Believe it or not, we met online while I was living in Las Vegas! I  was supposed to go out with friends one night and since I got stuck late at work, they all went out without me. I decided to stay in and when I checked my email I had a message from a guy named James. Newly single, I never opened messages from guys I didn't know because I thought "Who looks for someone on the internet??"  HOWEVER, I couldn't see his face on the profile pic attached to the email and something told me to click on it. It brought me to his page and everything was about his friends and family. Not to mention I thought he was VERY cute! Very different from my usual 'type' with his piercings and "West Coast" style but none the less, he seemed like a really genuine person.
I emailed him back (all the while thinking, WHAT AM I DOING??) and he responded within minutes. Fast forward three hours later and he had walked me through a very frustrating installation of instant messenger where we talked non-stop about everything.  Usually the stuff you cover on dates 1 through 5! I asked questions I normally never would because I thought, what the heck? I had nothing to lose and in a city as big as Las Vegas. I knew I'd never run into him to feel embarrassed over asking his thoughts on marriage, religion and children!
What surprised me was everything about him was EXACTLY what I wanted in a man. We just clicked. I then had to put it in perspective: Was he lying? Was it a trap? Las Vegas can be a very scary place, and I of course began wondering if he was a murderer trying to lure me to meet him. I never revealed anything over the next couple weeks about where I lived or worked (or even my phone number!) so we just enjoyed emails back and forth while getting to know each other.
AF: What was your first date like?
I finally gave him my number so I could hear his voice. Again, perfect. We decided on week three to meet. I told all my friends the plan and drove out to his house, again so he wouldn't know where I lived. I pulled up and he was exactly who he said he was. Tall, dark and handsome and wearing board shorts and a t-shirt. We drove to Sunset Station Casino and he was so quiet I started to have doubts. Later he told me he kept stealing glances at me while I drove because he couldn't believe how beautiful I was!
When we arrived at the casino we ate a very casual meal at Fatburger where he ordered a Turkey burger. That was hilarious to me; so California! We headed in to see a movie (Gridiron Gang, fitting since he played football) and I remember when he reached over to hold my hand…we just fit. He was perfect and I felt like I couldn't breathe.
I am normally a Type A, fast talking girl and being near him in that moment made me feel like time had stopped and nothing else mattered. I always believed in love at first sight but thought it would never happen to me. Sitting there watching that movie, I just knew I was living a moment most people would kill for. From that day on, we were inseparable.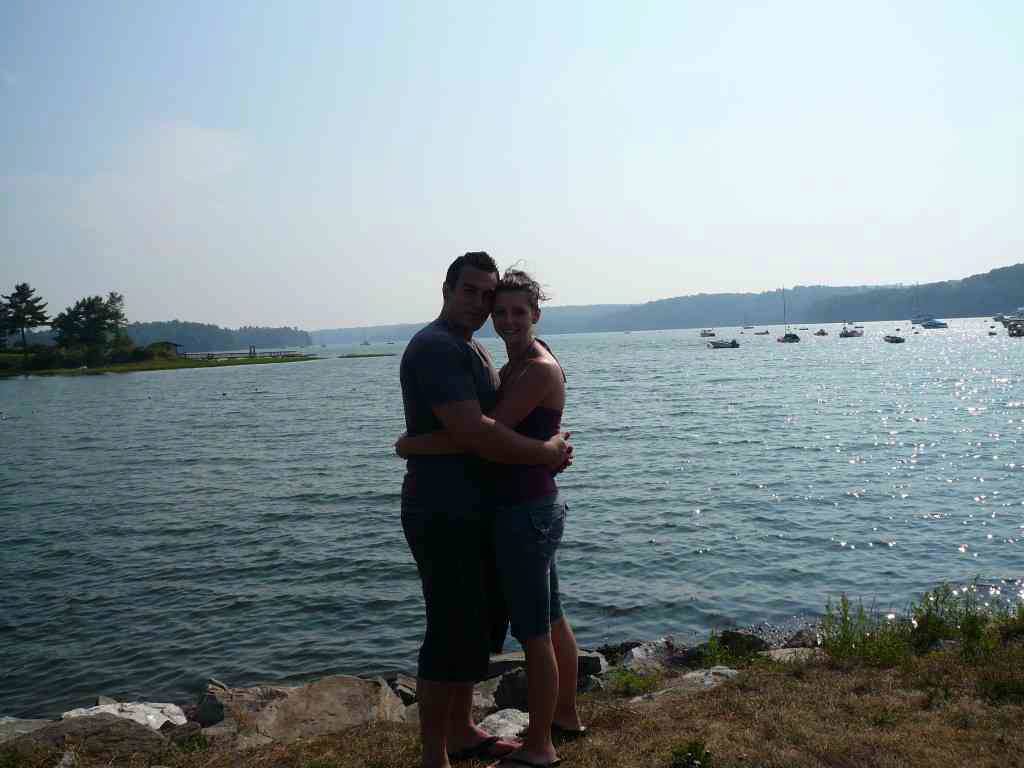 Stay tuned AF readers for the adorable proposal story…..