Dressed to Impress at Tuxego
I hate to say it but sometimes our grooms get overlooked.  Of course they are an integral part of the day (you do need someone to meet you at the end of that aisle), but often details pertaining to them are pushed off until the last minute as we work on seemingly more important things like food, music, photography, our fabulous gown, shuttles for guests, the list goes on and on.
I spent an enjoyable afternoon last week with my now good friend Anthony  Commisso at Tuxego in Latham and during my visit we discussed this very point.  These poor grooms and their tuxes are so often an afterthought instead of treating their attire with the same level of importance as our gowns.  Well I will never look at tuxes in the same way after meeting with Anthony and I am sure anyone who knows him can see why.
This guy is passionate.  He is blunt. He is entertaining.  He is precisely who you want helping you with a decision like this because he will not let you walk out of the store looking anything less than perfect.
Anthony walked me through a consultation as if I were a bride.  We started chatting in his shop on a comfy sofa while he talked about the history of the tuxedo and the various styles available.   He also pointed out the photo hanging behind him-it was Anthony and his beautiful wife on their wedding day.  What he was quick to point out was his tux (of course!) which looked timeless.  His attire didn't date the wedding at all-it could have been yesterday, it could have been 10 year ago.  Classic and elegant.  "My adage is that less is more, and simple is better and the more consistent the more elegant, hence timeless fashion."
The process is pretty straightforward and easy-which is always a plus!  First things first-you just need to call ahead to set up an appointment to meet with him.  During the consultation you are able to look at samples throughout the store and discuss colors and styles.  Once a decision is made on the style and colors for the groom and the rest of the party, the groom is measured and Anthony sets you up with the tools you need to outfit all the guys in your party.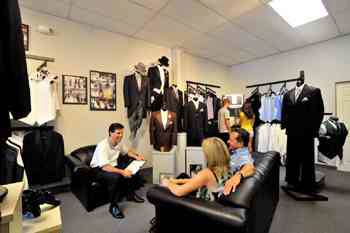 There are easy to follow instructions right on his website which means all of the gentleman in the wedding party have easy access to the information they need.  If you have guys from out of town-no problem!  There are measurement instructions on the website that they can take to any tux shop to get professionally measured.  The measurements are then all submitted to Tuxego and the order is placed.
Once the tuxedos arrive in the store the guys head in for their second fitting.  This gives Anthony and his team the ability to make any minor adjustments necessary to ensure everyone looks as dapper as can be on the big day!
Bonus: Tuxego is not only rockin' tuxes;  The store boasts gifts for groomsmen as well as a fully stocked humidor for those last minute cigar purchases! It is also great for guys coming in from out of town.  They can stop in on their way into town, grab their tux and take advantage of the guy's suite in the back with shaving supplies and hair products before rushing to make the rehearsal!  Anthony certainly thought of everything.
What is great about Anthony & Tuxego is the family like atmosphere.  Anthony was excited to talk about the families that he outfitted for prom and then later did their weddings and their brother's wedding and then their cousin's wedding-you get the idea.  He even once did a triple wedding for three sisters and took care of all three grooms for that day!
"It makes sense to deal with a tuxedo shop that has been serving the community for many years and has a good reputation. Many such stores are managed and operated by the owners, and are therefore personally committed to your satisfaction. Choose a formal wear professional you feel comfortable dealing with and a shop that best meets your needs!"
So if you are in the market for a great tux, an honest opinion and stellar service check out Tuxego in Latham and meet with Anthony Commisso!