Hotel Highlight: The Saratoga Hilton
I get a ton of questions about local accommodations and what each hotel has to offer in the area so I thought I would start a Hotel Highlight feature!  Each month I will visit a local hotel and give you the inside scoop on what they have to offer brides, grooms and their families for the big wedding weekend!
This morning I met with my pal Kate Bunn at the Saratoga Hilton on Broadway in Saratoga Springs.  I got a personal tour of all three room types, the fantastic spaces for brunches and rehearsal dinners as well as a sneak peak at the brand new Union Grille that celebrated their grand opening last night!  Here is what I found out….
Contempo Casual

First things first…the lobby is fantastic!  Not only is it contemporary but it is also cozy with a wonderful gas fireplace located right next to the front desk.  You can hang out in style in the comfy chairs and bask in the natural light streaming in from the windows throughout the space.  You can also grab a latte (and I am always up for a cup of coffee) at The Brewing Boutique which not only serves specialty coffee drinks but houses a great spread of Saratoga gear, trendy jewelry, and anything you may have forgotten at home!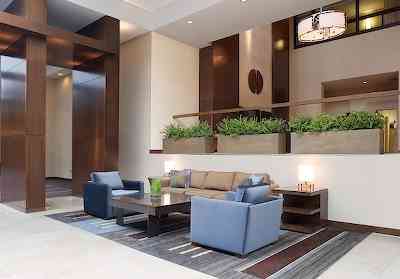 The Suite Life
The Saratoga Hilton has three levels of rooms (though all were larger and nicer than most of the apartments I have lived in!!) for you and your guests to select from.  The first is the standard which comes as a double or a king and is incredibly spacious.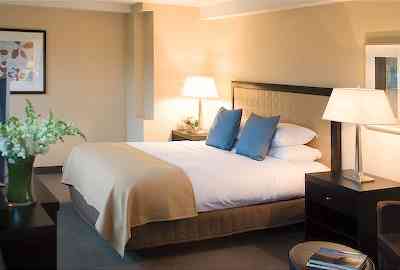 The signature suites are perfect for families traveling with little ones as it has a sitting area (which doubles as a pull out bed) in addition to the king bed.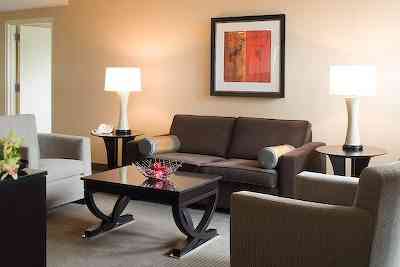 If you are looking for a place for you and your groom to stay you will want a luxury suite for sure!  This is the perfect place to get ready with your girls the day of-there is plenty of room and has a fantastic large dining table perfect for your hair and make up team to set up shop.  There is a sitting area, a wet bar, and a separate room for the master suite.  Some of these suites even have a balcony!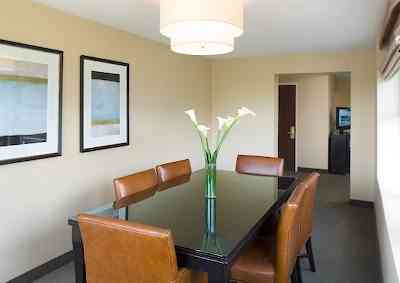 The one thing all of the rooms have in common is their Manhattan loft feel.  The carpeting is modern along with all of the light fixtures and the furniture is a great dark wood with clean lines.
Celebrate in Style
If you are looking to host any pre or post wedding parties where your guests are staying you have a few different options at the Hilton.  The Union Grille is the in-house restaurant that serves breakfast, lunch & dinner and also provides room service for the entire hotel.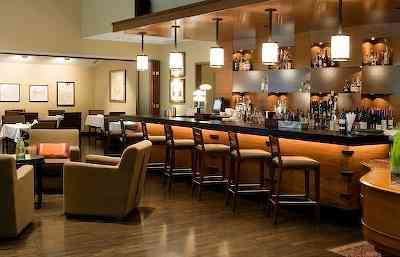 The staff was incredibly friendly and the space is perfect for a rehearsal dinner or late night cocktail.  Kate even mentioned that the Grille can be rented out for after wedding parties which means your guests won't have to go far to get back to their rooms at the end of the night!
If you are looking to host an after wedding brunch there are three spaces available: The Broadway Ballroom, The Gallery or the Saratoga Ballroom.  The Broadway Ballroom is perfect for groups of 100 or less while the Saratoga Ballroom can accommodate larger parties.  The Gallery is an open space off of the lobby that has beautiful skylights and high ceilings.
Deals & Details
If you book a block of rooms at the Hilton there is a discounted rate available which changes depending on the season.  Each couple can start with a max of 20 rooms and add on more once you fill up the first 20.  Kate even offers a complimentary room for every 50 rooms booked! Another great perk is that when you set up your block Kate will create a personalized group web page that you can put on your save the dates and wedding website which allows guests to reserve rooms directly-and you can see who has (and who hasn't!) reserved their room already.
The Hilton also works with All Occasion Limo to provide shuttle service to and from Saratoga National Golf Club or the Hall of Springs in Saratoga at a great rate.
If you are doing gift bags, boxes or baskets the Hilton will hand deliver them to your guest rooms for a small fee of $3 per bag.  This charge is standard at hotels (as it covers the staffing/labor/time) and the Hilton's hand delivery system is fabulous-your guests won't have to fumble with luggage, keys and a gift bag at the front desk at check in…it is brought right to their door!
A big thanks to Kate for giving me the inside scoop and be sure to check out the Saratoga Hilton for your upcoming wedding room block needs!