Fun Find!!
Our in-house expert on everything vintage, trendy and fabulous (Kristin Campbell) pranced into the office yesterday with a drop dead gorgeous necklace that was custom made for her by one her of friends, Sara Vaccarielli from Twinkle Studios.  Well, she is always nice about sharing her fashion tips and once I saw the pieces at Twinkle Studios I had to share as well!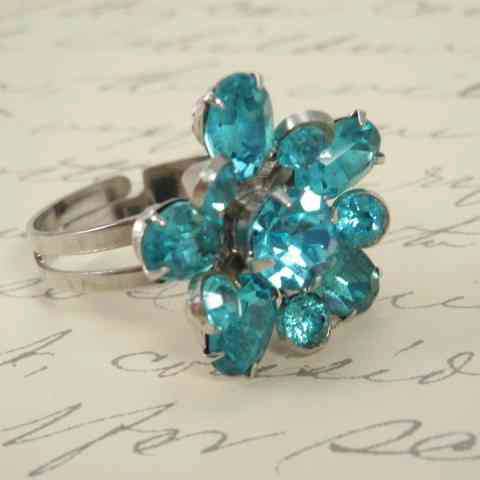 Not only would these pieces be great to pair with any ensemble for pre-wedding parties, wedding day festivities and beyond, they would also make the most fabulous bridal party gifts!
How does it work?!  Well she accumulates all sorts of vintage pieces then puts them together with a modern twist and voila-you get a great piece like the aqua cocktail ring above!
Another cool service is her ability to recycle heirlooms that you have.  Maybe you have pieces of your grandmother's necklace or a few stones from your mom's cocktail ring.  She will take those and make a unique and updated piece that you can wear today!
Get more details at her blog or get right down to it with her Etsy site.  Enjoy!