Expert Excerpt: Megan Albright, Total Events, LLC
Megan Albright is the Director of Events at Total Events but more importantly she is a soon to be BRIDE!  Megan wanted to talk about the importance of a clear vision and how it can help you achieve a wedding that truly reflects your style.  We will be following up with Megan after her big day so stay tuned!
Here is what this expert bride (and wedding professional) had to say:
I am a wedding professional, and this year I am also getting married.  Just like the rest of you I have every bridal magazine that has gone to print since the day I got engaged.  I have spent more hours than I would like to admit searching The Knot, Brides.com and local wedding sites.  Surprisingly I found that the harder I looked, the more confused I became.  My showroom alone houses hundreds of linens, dozens of sample centerpieces, half a dozen chair cover options and over 10 varieties of chairs.  If variety is the spice of life, Total Events is the habanero of event rental companies!
After a few weeks of second guessing myself, I decided to throw caution to the wind, recycle the stack of photos I had printed and get real about what I had wanted all along.  It is so easy to become influenced by what other people have done.  Yes, we all love crystals, feathers, satin ribbons and exotic flowers, but that doesn't mean they should be put together in one centerpiece.  It's better to focus on one element that you love and place it throughout the event.  So I went back to the drawing board and I started with the colors because they help determine the gown, the attendant's outfits, the flowers and the venue.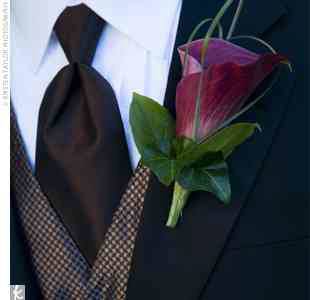 I saw myself in a room that was filled with candlelight and wanted it to feel like midnight in the Garden of Eden.  Everything is so lush and full in August and that needed to reflect in the décor.  I knew that I wanted a romantic reception with a lot of different colors.  We found the perfect Melissa Sweet bridesmaid dress and chose a deep purple for the bridesmaids and a rich cassis for the maid and matron of honor.  The next step was flowers.  I told my florist I was looking for colors that were warm and vibrant, but that maintained a classic style.  We chose dark purple Dahlias, ruby red Roses, tangerine Orchids and bold green Bells of Ireland as a starting point.  Once the flowers were picked, a gorgeous pintuck linen accompanied by Gold Chiavari chairs were easy choices.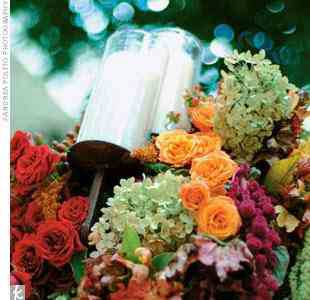 My fiancé will never forgive me if he has any idea what I am wearing.  Without giving away too much I will say that I wanted a vintage flair to my wedding day fashion.  I chose elements that were timeless like a crystal broach that had belonged to my great grandmother as a bouquet adornment and a birdcage veil that I updated it with an oversized Peony headpiece.  The guys will all be in a classic Black three piece tuxedos, set off by a sophisticated Orchid boutonniere tied with Bear Grass.  This is the fabulous thing about weddings, combining a classic idea with a splash of your own personal flair.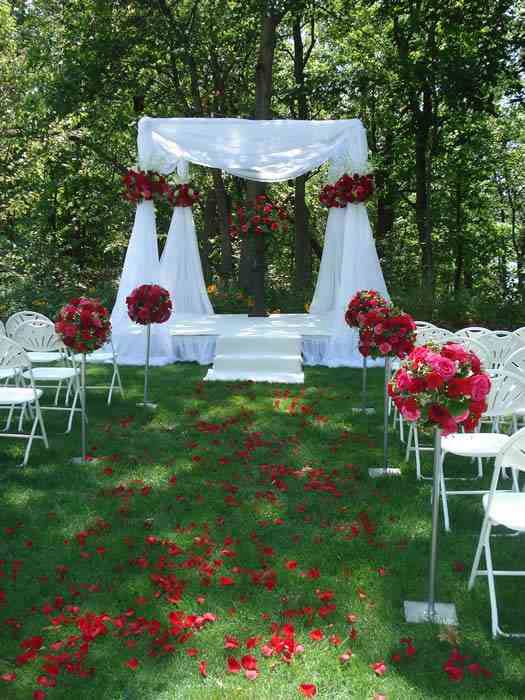 I meet with bride's everyday and am told all the time that the amount of choice is the most difficult part of the process.  My advice is to close your eyes and picture your ideal wedding.  Keep all the other factors out of it and focus only on the details that play out in your head.  Write down the colors that you see, the light in the space, the flowers in the centerpiece and most importantly the way it makes you feel.  Are you looking for your reception to feel like a hip Miami nightclub or do you want a fabric draped tent that you can enjoy the stars under?
The hot button for most brides is budget.  Budget is a concern for all of us but there are ways to getting what you want without taking out a second mortgage on your home.  I recommend that the largest investment be placed in the reception because that is where the majority of the event happens.   I see again and again that lighting, linens and chairs make all the difference in the world.  They are the elements that make the biggest impact because they change the whole color scheme and customize the tone in the room.
Always listen to the advice of the professionals you are working with.  Their goal is to make the best event they can and their guidance and experience are priceless.
Lastly, I would like to encourage you all to go with your instincts.  So what if everyone doesn't love the colors you have picked or the style of dress you want. The most important thing is that you love the elements of your day.   This is your wedding and your vision is the one that matters most.
Megan Albright
I will be sure to follow up with Megan after her big day to see how her unique vision came together!
Happy planning Megan!!