Expert Excerpt: Cora Burns, PaperDolls of Saratoga
Your wedding day is a very special occasion and from the moment you announce it to your family and friends, it should reflect the style and feel of the occasion.  Whether your going for a traditional black tie or a casual outdoor affair, the options are endless.
So when it comes to conveying the type of wedding you are inviting your guests to, many socially conscious couples are also starting to wonder how do they keep the feel of the invitation while integrating eco friendly concepts into their decision making.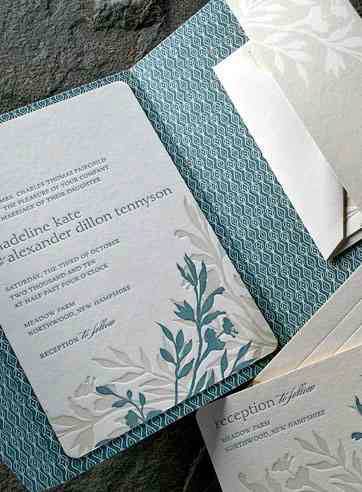 While your options for eco-friendly printing are limited, there are other things you can do to help save the environment while still throwing a fabulous affair.
REDUCE
The amount of paper products one uses when throwing a wedding is actually staggering. However, small simple choices here can make a big impact on how you effect the environment and also your budget.  By reducing even a couple of items, you can save hundreds of dollars and make a difference.
Minimize your mailings
Do without the save the date card.  Save the date cards are essential if many of your guests are traveling, your wedding takes place on or around a holiday, you are planning a destination wedding, or your wedding will take place in a seasonally busy or tourist locale.  If none of these apply, then we just recommend sending out your invitations at least eight weeks in advance.  However, if you do need a save the date card send them only to guests who are traveling and forgo your co-workers or friends you talk to on a regular basis.
Lose the envelope
You can also reduce your waste by sending a save the date postcard.  Postcards are a quick and easy way to get the information out there and you save money on postage.  Another place that postcards work well is for the reply card.  Instead of the typical card and return envelope, put it all on a postcard.  You can also do without a double envelope.  Often wedding invitations come with an inner and outer envelope, you can always say no to the inner and use the outer envelope to indicate if children or guest are included.
Less is more
With all the information you are trying to convey to your guests, do not feel the need to put it all on their own separate cards.  Often reception information can fit on the invitation and while it is nice to provide directions, accommodations and area attractions, use a website to convey this information.  Then print a simple website card and include that with your invitations.
RECYCLE
While wedding invitations will always be a social necessity, we are fortunate enough to have options for high quality papers that have a high-recycled content.  Using one ton of 100% recycled paper saves 4,100 kWh of energy — enough to power the average home for six months — and 7,000 gallons of water. It also removes more than 60 pounds of pollution from the air and saves 3.3 cubic yards of landfill space. In addition, one ton of recycled paper spares an estimated 17 trees.
One person's waste is another person's paper
A great company that has wonderful color options and unique prints is greenpapercompany.  They offer post-consumer recycled paper that looks, feels and costs the same as premium non-recycled paper.  With eighteen different colors and a suite of card stocks, envelopes, liners, and sashes, you are sure to find something you like.  While all of their papers are 30 to 100 percent post consumer, a lot of other paper companies have some stock with post consumer content.  All you need to do is ask to see those options.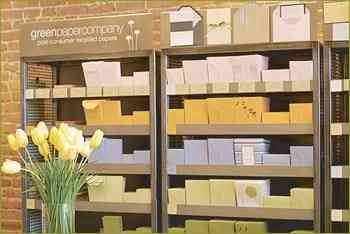 It's all in the fiber
In addition to recycled papers you can also choose to use from an alternative fiber, such as hemp or bamboo.  Smock creates beautiful invitations from bamboo paper.  Bamboo is the fastest growing plant on the planet, growing without pesticides, fertilization and with very little water.
REUSE
Make something old new again
Use old maps or extra sheet music to line your envelopes.  If you're having a destination wedding, go to used bookstores and buy classic travel books as favors or scour antique shops and find vintage ornaments for your winter wedding.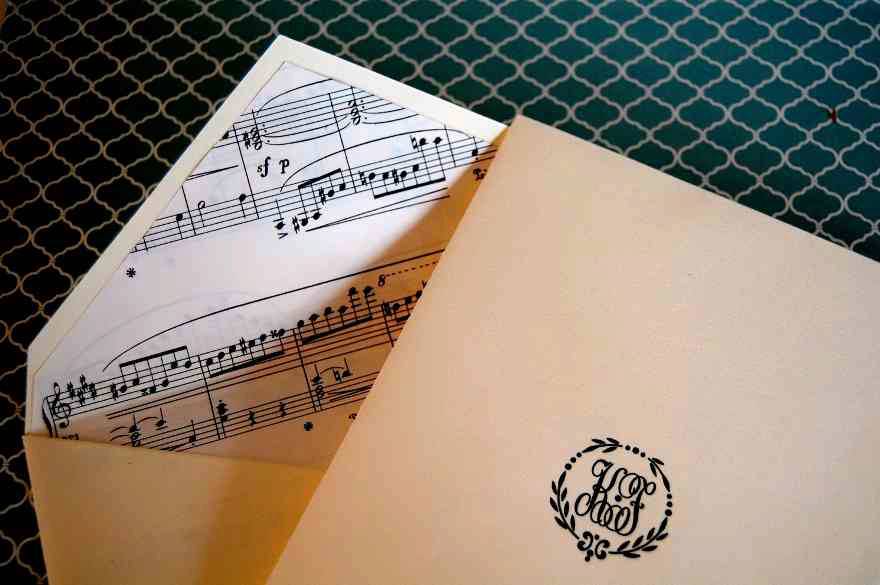 Double Duty
Have your favors also act as place cards.  By creating a new label for a tiny wine bottle, you can present your guests with a gift while having it also act as a place card.  Instead of doing menus for every place setting, you can only have one or two at each table and use them as table numbers as well.  Or place the directions to you reception site on the back of your programs.
Being eco friendly means taking into consideration the environmental and social impacts of the occasion.  This includes everything from invites, to catering and even how you and your guest travel.  While our advice deals mostly with the paper aspects of your wedding and the concepts of reducing, recycling and reusing there are other choices you can make.  So when you consult your wedding professionals ask about how to be eco friendly in all areas of your wedding planning.  Just remember even small local choices have global impact.  For other eco friendly options and ideas, including eco friendly print processes and reducing your carbon footprint come visit us at PaperDolls of Saratoga.
Cora Burns
PaperDolls of Saratoga
80 Henry Street
Saratoga Springs, NY 12866
Photos: smockpaper.com & greenpapercompany.com