What's even more romantic than the movie The Notebook? 
A Notebook-themed marriage proposal!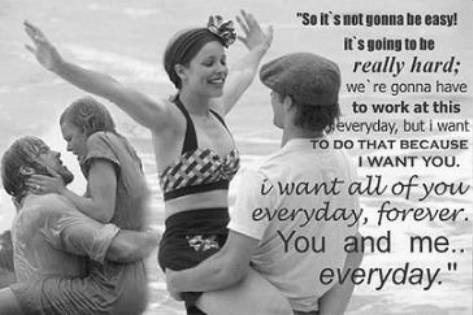 An Italian man named Angelo Piccini popped the question in an epic way when he recreated a famous scene from Ryan Gosling and Rachel McAdams' classic love story The Notebook to his now fiance Chiara Grimaldi. With the help of a team of romance planners, Piccini rented out a lake in London's Alexandra Palace and took his future wife on a rowboat ride, just as Noah and Allie do. He added special touches like a gorgeous bouquet of flowers, surprise cocktails, and an acoustic guitar player, before nodding to the film with hundreds of paper origami swans floating on the water to represent the birds in the movie.
As Piccini continued to row, an unsuspecting Grimaldi began to spot her friends and loved ones, who had been hiding in the foliage surrounding the lake for the big moment. They revealed themselves, holding signs reading, "You are the one. Chiara, will you marry me?"
Check out the this great proposal as it was all caught on tape!